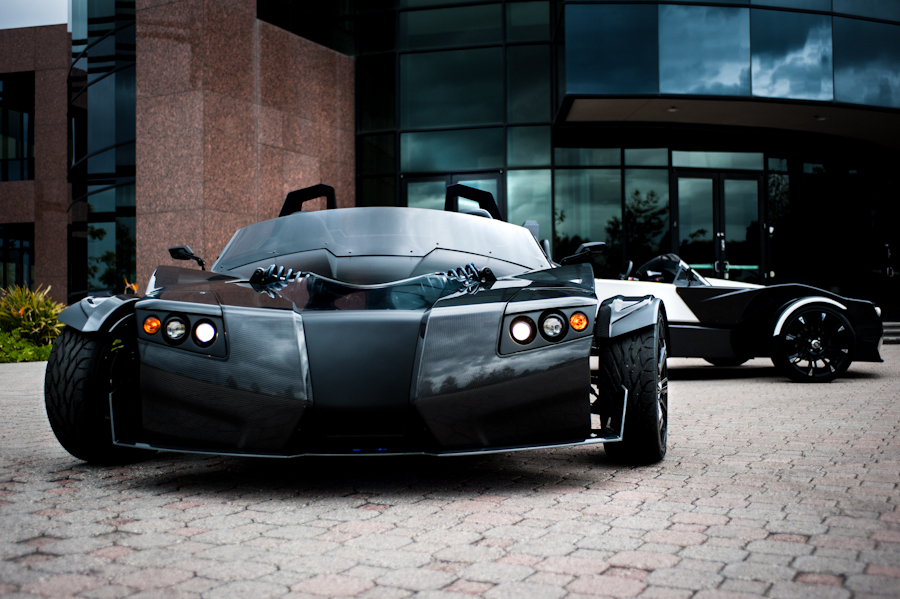 It does 0 to 60mph in an astonishing 4 seconds and it has a 3 wheeled architecture. Epic EV's new Lithium Powered TORQ Roadster is world's fastest 3 wheeled electric vehicle. The TORQ's advanced lightweight chassis is built by Magnum Offroad, while the aggressive styling comes from Motive Industries and Eleven Design.
TORQ can achieve over 1G of lateral acceleration. Its electric motor provides over 600ft/lbs. of peak torque with a peak instantaneous horsepower of over 400. In addition the TORQ features powerful Wilwood 4-piston race proven brakes and a Formula 1 style high-performance custom cam suspension and chassis, designed by Palatov Motorsports.
While seeking record breaking MPGe with the 3 Wheeled Aptera Electric Vehicle I often found myself longing for a more aggressive styled and track worthy adaptation. The TORQ will create a class of its own with its perfect balance of power, handling and aggressive styling," said Chris Anthony, Epic EV's founder and co-founder of Aptera, the world's most efficient commuter vehicle. "The TORQ Roadster confirms that you don't have to compromise performance to embrace efficient vehicle technologies."
Epic EV announced it will be producing approximately 50 TORQs in this first year, followed by a substantial increase in 2014. The TORQ Roadster starts at $65,000 in the United States and €50,000 Europe. Deliveries begin in April 2013.
San Diego, California-based Epic EV designs and manufacturers EVs, the world's first electric sport boat, as well as EV Powertrain Components for partners such as Delorean.