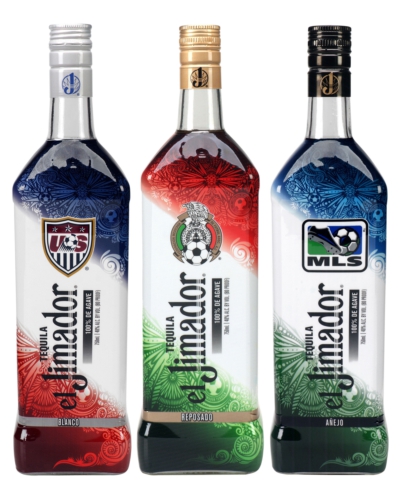 As the official tequila sponsor of Major League Soccer (MLS), the U.S. Men's and Women's National Teams and the annual U.S. Tour of the Mexican National Team, authentic 100 percent agave tequila el Jimador released second limited-edition soccer bottles created by Jesus Ostos.
The bottles will be available in all three expressions, Blanco, Reposado and Anejo, each featuring the team colors and logos of MLS, Mexican National Team and U.S. National Soccer. Meant to emulate the movement of flags swaying and capture the passion of soccer fans during matches, the bottles feature a stylized soccer theme that weaves soccer ball motifs, the team colors and the brand's iconic graphic designs of agave plants in the background.
"Soccer is el Jimador's top platform and a great vehicle to engage and create a deeper relationship with our consumers," said Jesus Ostos , brand manager for el Jimador. "Given the success of last year's commemorative soccer bottles, we continue offering aficionados the opportunity to bring their passion for soccer to life with Tequila el Jimador."
el Jimador tequilas have earned gold and double gold medals at the 2012 San Francisco World Spirits Competition, the most reputable and recognized competition in the spirits industry.