Take a glance behind the scenes at where Peter Lindbergh creates his art.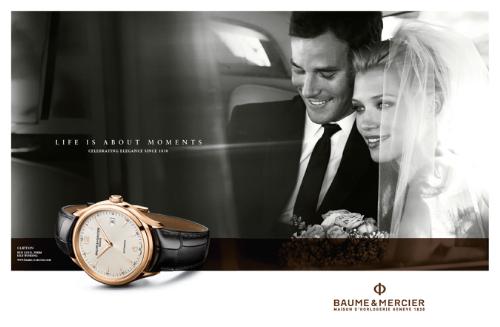 Time is far more than a succession of seconds. It is marked by rare moments. The gift of a watch is a way to commemorate a precious moment and to carry it within ourselves; in the same way one wears a cherished object, says Swiss luxury watch manufacturer Baume & Mercier.
This month, luxury Swiss watch brand, Baume & Mercier unveiled a new ad campaign shot by world-renowned photographer, Peter Lindbergh. Under Lindbergh's sensitive eye, Baume & Mercier reveals universal photographic stories, such as a commitment, a wedding, a birth, an achievement, a birthday and a holiday. Each of these captured moments mark great celebrations in an individual's life and in this new campaign, it reveals yet another pictorial of Baume & Mercier's "Life is about moments" signature adage.
Baume & Mercier, a brand rich in history and watchmakers since 1830, has always been a Maison that expresses watchmaking excellence through a simple, consistent belief by its founders: "Accept only perfection, only manufacture watches of the highest quality."
This global ad campaign was shot in southern California and will feature a selection of best selling men's and ladies watches. The campaign will debut in US media in May 2014.