Enniskillen and the Fermanagh Lakelands offer a wealth of attractions to suit every taste – historical monuments, mythical landscapes and modern museums come together to present the story of Fermanagh's waterways and people. So, why not moving there?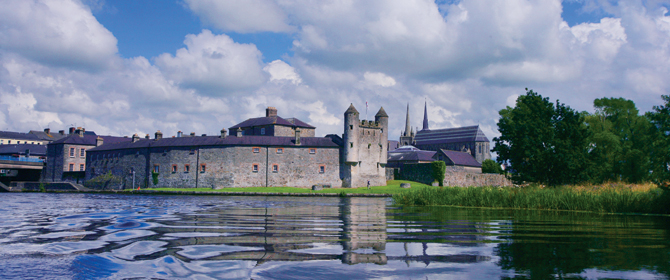 ---
This article titled "Let's move to Enniskillen, County Fermanagh" was written by Tom Dyckhoff, for The Guardian on Friday 25th October 2013 15.30 UTC
What's going for it? Can you think of any other UK towns built on islands? Bristol's got half a one around the Floating Harbour; London has a few tiddlers in the Thames. Enniskillen, though, is the real deal. Life is pretty squelchy here in the Fermanagh Lakelands, land peeking gingerly above the loughs. The Erne gurgles around the city centre on all sides, enclosing a delightful streetscape. Enniskillen is too often synonymous in popular consciousness with the Troubles, rather than lovely-historic-market-town-jam-packed-with-Georgian-town-houses-and-on-an-island-too! Maybe recent years of relative peace will start to change that. This place deserves better. It's a gem. There's not much to it, mostly just a handsome main street curving over the island's backbone, but there's something rather energising about crossing bridges to pop into town for your shopping, as if you're entering a magic kingdom en route to pick up some black bacon at O'Doherty's.
The case against A touch grey around the gills; a bit of colour wouldn't go amiss. The old centre is too small to sustain serious culture vultures.
Well connected? No rail, but good buses locally, and further afield, such as Omagh (70 minutes), Belfast (130) and Dublin (165). Driving: Omagh is 45 minutes, Sligo and the edge of Donegal an hour, Belfast two hours and Dublin two and a half.
Schools Primaries: Jones Memorial is "good", says Etini, Holy Trinity "very good" and Enniskillen Integrated "outstanding". Secondaries: Devenish College and Erne Integrated College are "satisfactory", while St Michael's College (boys) is "very good".
Hang out at… The Jolly Sandwich for tea, cake and smiley service.
Where to buy A few lovely, especially Georgian, town houses in the centre, on the island and roads to and from. There are few Victorian terraces; the city expanded swiftly after 1945, so lots of suburbs. Poshest are on and off the Dublin and Belfast Roads, in the south-east, and Tempo Road or Castlecoole Road, and Irvinestown/Chanterhill Roads farther north. Luxury lifestyle concept apartments on the river; lakeside views (and high prices) on Lough Shore Road.
Market values Large detacheds, £200,000-£500,000. Detacheds, £100,000-£200,000. Semis, £60,000-£130,000. Terraces, £55,000-£120,000. Flats, £50,000-£250,000. Rentals: three-bed house, £450-£600 pcm; one-bed flat, £350-£450 pcm.
Bargain of the week Handsome, four-bed Georgian town house near the centre, with outbuildings, needing refurbishment, £175,000, with Montgomery Finlay.
From the streets
John Stephenson "The epitome of a small rural town with a thriving high street that looks great, thanks to the G8 money spent on painting every shop/office. Very friendly: nearly everyone makes time to chat."
Patricia Martinelli "My pet hate is the small airport in Enniskillen. It would be great if you could use it to fly to England and France, but it's just for private flights."
• Live in Enniskillen? Join the debate below
Do you live in Ashtead, Surrey? Do you have a favourite haunt or a pet hate? If so, please email lets.move@theguardian.com by Tuesday 29 October.
guardian.co.uk © Guardian News & Media Limited 2010
Published via the Guardian News Feed plugin for WordPress.