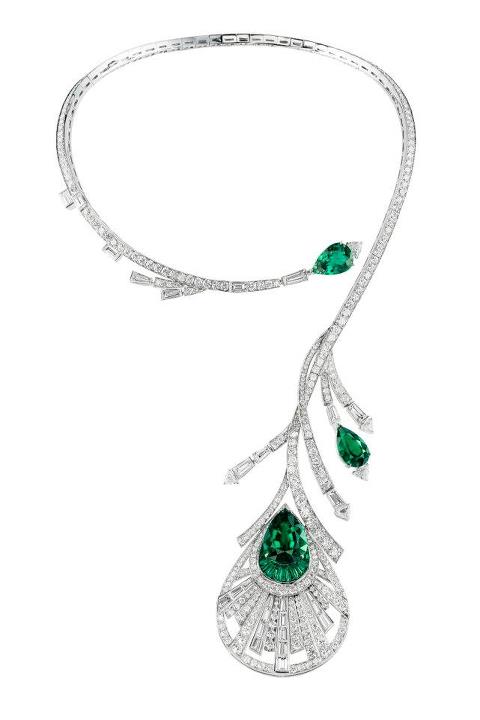 Boucheron is entering a vibrant new chapter with L'Artisan du Reve, a collection that marks the return of the house to the Biennale des Antiquaires after an absence since 2004.
A celebration of the Maison's savoir-faire, L'Artisan du Reve plays with the snake symbols (one the most iconic of Boucheron's animals), the Delilah woven gold motifs and the chameleon.  The High Jewelry collection was revealed during the last Haute Couture Fashion Week in Paris, in Boucheron's private salons Place Vendôme.
The colourful stones, emeralds, sapphires and diamonds assembled via 'en tremblant' technique give a rainbow of exuberant colours.
1883 Point d'Interrogation, Bouquet d'Ailes and Serpent (diamond, opal and rock crystal) necklaces are set to become the favorite of the public.
 The Plume de Paon set is an interpretation of the Point d'Interrogation necklace created in 1883 and which has become emblematic. The necklace is sublimated by its minimalist style and its magic lies into its wearing and lightness. The use of different stones and cuts creates a gradient of brightness, which is a true singularity of the Maison.
Save the date :
26° Biennale des Antiquaires
Grand Palais, Paris
14-23 septembre 2012