Terzo Millennio: Grand opening of the new Lamborghini showroom in the heart of Paris. A 1200 square meters, state-of-the-art location, exuding unmistakable Lamborghini style. And to mark the special occasion, Urus, the world's first SSUV, made its French debut.
Automobili Lamborghini officially opened its brand new showroom in Paris in the presence of Stefano Domenicali, Chairman and Chief Executive Officer of the company. Lamborghini Paris inauguration signed the French premiere of the new Super SUV Urus, whose market introduction in Europe will start in spring 2018.
With a total surface of over 1200 square meters the new Paris showroom and service centre is the first French showroom to feature the brand's new design. The environment dimension also reflects the need for increased space as Lamborghini expands its model line-up with the new Urus and plans to double its sales by 2019.
The new showroom and service centre, located at 2 Rue Bellini, Puteaux, is the 5th Lamborghini sales point within the dealer network in France, together with Lyon, Mulhouse, Cannes and Monaco. The commercial partner chosen for Lamborghini Paris is Schumacher Group, a long-established French family company with 70 years of experience in the car business.
Lamborghini's new showroom concept includes a client lounge inclusive of a car configuration system to guide the customer through specifying his Lamborghini; a display area large enough to accommodate all product range available and a state of the art service centre. The Collezione Automobili Lamborghini range of clothing and accessories has also a dedicated area in the showroom.
"In 2017 we achieved a sales record with a total of 127 deliveries in France and Monaco, which represents an increase of 35% in comparison to 2016. France has now become our 3rd strongest market in Europe after UK and Germany. With Urus market introduction we forecast a new record year in France in 2018," said Automobili Lamborghini Chairman & Chief Executive Officer, Stefano Domenicali.
On a global scale Automobili Lamborghini set another historic sales record in 2017. With 145 dealers serving 50 countries, worldwide deliveries to customers increased from 3,457 to 3,815 units. This represents a double digit sales growth of 10% compared to the previous year. With a sustained sales growth performance over seven years, the company has almost tripled its sales numbers since 2010 (1,302 units).
Lamborghini Urus features a 4.0 liter V8 twin-turbo engine delivering 650 hp (478 kW) at 6,000 rpm, maximum 6,800 rpm, and 850 Nm of maximum torque already at 2,250 rpm. The Urus accelerates from 0-100 km/h in 3.6 seconds, 0-200 km/h in 12,8 seconds and with a top speed of 305 km/h it is the fastest SUV available.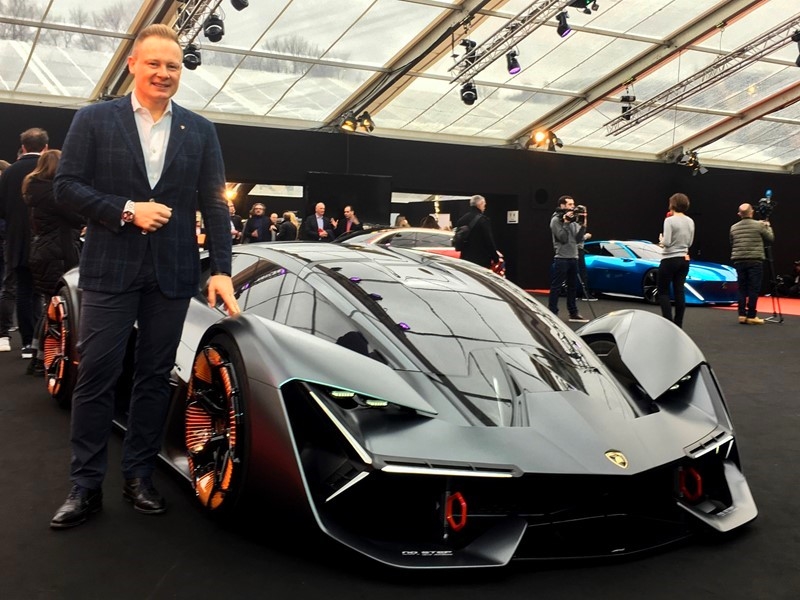 The Lamborghini Terzo Millennio is also in Paris.
The Lamborghini Terzo Millennio, the design concept of a possible future Lamborghini electric super sports car, is displayed at the 33rd edition of the Festival Automobile International in Paris from 31 January to 4 February.
Presented last November in the USA, the Terzo Millennio, realized by the Lamborghini Centro Stile, physically imagines design and technology theories of tomorrow, while sustaining the visual intrigue, breath-taking performance and, most importantly, the visceral emotion found in every dimension of a Lamborghini. It is made for future super sports car enthusiasts.
The technological goal of the project is to enable Lamborghini to address the future of the super sports car in five different dimensions: energy storage systems, innovative materials, propulsion system, visionary design, and emotion.
The first two dimensions are conceived together with two laboratories at the MIT (Massachusetts Institute of Technology) in Boston.