Automobili Lamborghini launched its third model the Lamborghini Urus, the first Super Sport Utility Vehicle, and created a new niche in the luxury segment. With a top speed of 305 km/h, Urus it is the fastest SUV available, but we hope you will never have to reach these extremes.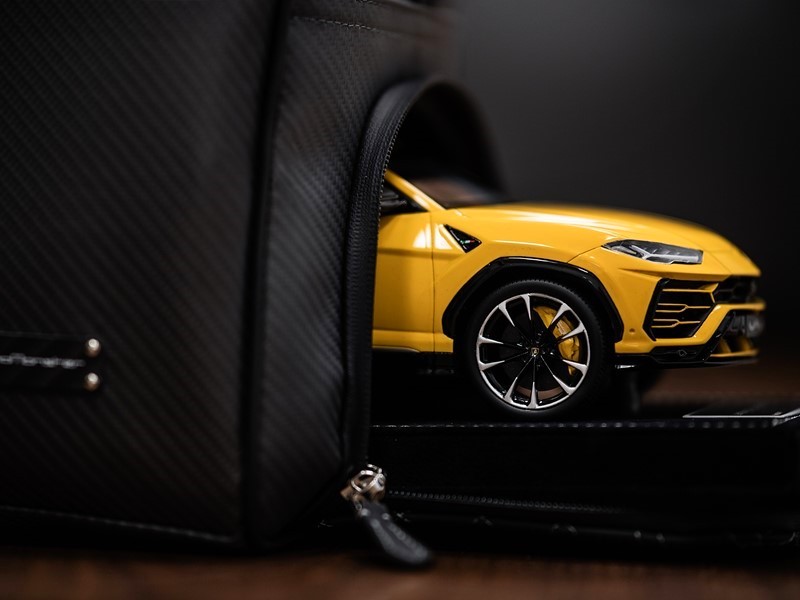 The Urus elevates the SUV to a level not previously possible, the Super SUV. A Super Suv needs a super clothing collection.
Collezione Automobili Lamborghini presents special editions in collaboration with Enzo Bonafè, Hettabretz and Tecknomonster, celebrating the newly launched Lamborghini Urus Super SUV.
Enzo Bonafè, presents two super-comfortable moccasins from its luxury handmade shoe collections, each offered in three different colors.
Hettabretz, the fashion house in Bologna famous for leather outerwear, takes inspiration from the Super SUV for an elegant, customizable suede jacket, available in a limited run of just 30 pieces.
Carbon fiber luggage manufacturer Tecknomonster creates two travel sets, each consisting of four suitcases, designed specifically for the Urus' trunk.
The environment in which clients can select and customize these collections also reflects their exclusive tailor-made qualities.
The special editions are shown at Lamborghini's Sant'Agata Bolognese headquarters in the dedicated Collezione Ad Personam show room.
The Urus features a 4.0 liter V8 twin-turbo engine delivering 650 hp (478 kW) at 6,000 rpm, maximum 6,800 rpm, and 850 Nm of maximum torque already at 2,250 rpm. With 162.7 hp/l the Urus claims one of the highest specific power outputs in its class and the best weight-to-power ratio at 3,38 kg/hp. The Urus accelerates from 0-100 km/h in 3.6 seconds, 0-200 km/h in 12,8 seconds.
images: Automobili Lamborghini