A limited collector's edition of the iconic Joy fragrance. Each bottle is filled by hand and sealed.

The original Jean Patou's Joy perfume bottle was recreated by the famous French couture and perfume house for a collector's edition.This 2015 version of Joy is the "purest, richest and most concentrated" of all the variations of Patou's signature fragrance. The best known of Patou's perfumes is a a heavy floral scent, based on the most precious rose and jasmine, that remained the costliest perfume in the world, until the House of Patou introduced "1000" in 1972. "Joy" was voted "Scent of the Century" by the public at the Fragrance Foundation FiFi Awards in 2000, beating "Chanel No.5".
The original Joy flacon was created by Jean Patou himself in 1932 and was inspired by couturier's collection of Chinese snuffboxes. Joy black bottle is topped by a "rouge capucine" dome-shaped stopper and wrapped in "gold" thread.
"Having received many requests from our loyal customers, we decided to bring back the Joy fragrance in its iconic bottle, thereby celebrating the centenary of the Jean Patou house", explained Dilesh Mehta, Jean Patou's president.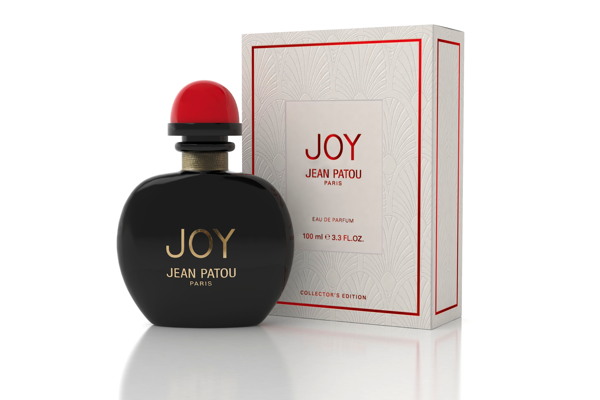 Patou remained a family-owned business until September 2001 when it was bought by P&G Prestige Beaute a division of Procter & Gamble. In 2011 Patou was acquired by UK-based company Designer Parfums. Thomas Fontaine is the house perfumer.
Of the 35 fragrances launched by the company in its nine-decade history, only five remain in production: "Joy" (1936), "1000" (1972), "Sublime" (1992), "Enjoy" (2003), "Sira des Indes" (2006).
The limited collector's edition is on sale at the Espace Jean Patou boutique and Printemps Haussmann department store in Paris, France.