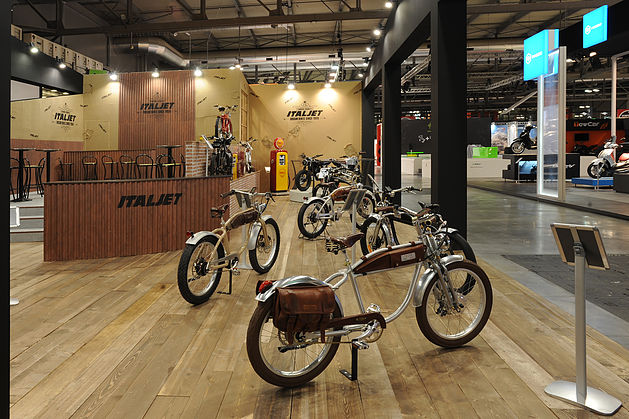 Italjet, Italian manufacturer of motorcycles since 1959, is always on the border between design and technology. Italjet motorcycles and e-bikes are identified with quality and maximum originality.
Among the many new ventures of the company in recent years, is the ever expanding e-bike collection, lauded for the singular design, halfway between a bicycle and a motorcycle. The retro-styled e-bike trio models, the Ascot, Diablone and Angel, are all designed and built in Italy.
These e-bikes are inspired by the early motorcycles of the 20th century, with distinctive hand-crafted leather and paint details.This year's new models include the whole new "Adventure". The new premium e-bike is based on the familiar Ascot frame and features a central motor with an integrated controller.
The design was inspired by the early adventurers, the exploration of Africa and the Safari style. This e-bike features a handmade leather and canvas battery bag, brushed aluminum hand-clinched mudguards and large, 24 * 4 tires that can handle rugged terrain.
At 2015 EICMA Milan Bike Show, Italjet announced its return to Motorcycle production, presenting two Café Racer / Scrambler models. These concepts mark a pivot point in Italjet's recent history, paving the way for more exciting news down the road.The Café Racer and Scrambler are a duo developed around the same 250cc V Twin engine, a full duplex cradle frame and 17″ rims.
These models are inspired by the classic styles of Café Racers and Scramblers, while integrating futuristic and rugged elements, in line with Italjet's edgy design tradition. These two motorcycles provide a glimpse into the future production of the historic Bolognese brand.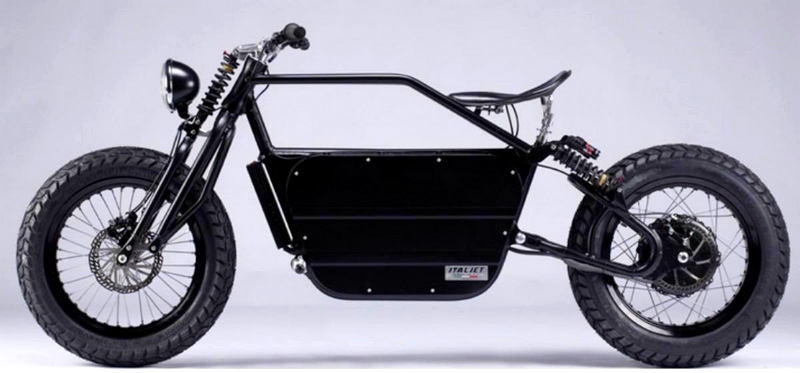 2015 also saw the renewed Bulldozer, an all electric bike, aimed at short to medium range commute, but mostly for pure riding fun.The Bulldozer sports a rear hub Cristalyte motor and twin rear shock absorbers.
The recent history of Italjet is made of creativity and innovation along a past full of extraordinary success stories. On February 14, 1980 comes the recognition that alone is worth a career. The Design department of the Museum of MODERN ART of NEW YORK, the prestigious MOMA, notifies Leopoldo Tartarini of the decision to exhibit Pack 2 in the permanent collection. It is the only motorized vehicle on two wheels housed in museum. But, in 1998, when The Guggenheim in New York decides to select some specimens of motorcycles and scooters, the museum assigns the only prize which will then be the only scooter exposed: the Formula 50, liquid cooled and already nominated four times scooter of year, Germany, Spain and Italy twice. In 2000 it was the turn of Velocifero.