Veuve Clicquot presents eco-packaging from grapes.

French champagne Maison Veuve Clicquot unveiled the third version of the groundbreaking "Naturally Clicquot" eco-packaging made of a byproduct of its own winemaking process. Veuve Clicquot was able to create eco-packaging using grapes. 100% biodegradable and recyclable. This latest eco-responsible innovation follows two previous generations of biodegradable Veuve Clicquot boxes.
French champagne producer has since 1990 worked continually to reduce its carbon emissions and waste. This mindset led the celebrated House to invent 100% recyclable packaging. Made from potato starch, the first Clicquot containers developed in 2013 and 2014 were path setting environmentally-responsible innovations in packaging.
In 2015, Veuve Clicquot unveiled this exciting new sustainable development initiative that uses an unfamiliar material: transformed grape skins from the champagne-making process, mixed with recycled paper. The result is an elegantly discreet champagne container made in partnership with Italian agro-industrial waste-based paper producer Favini.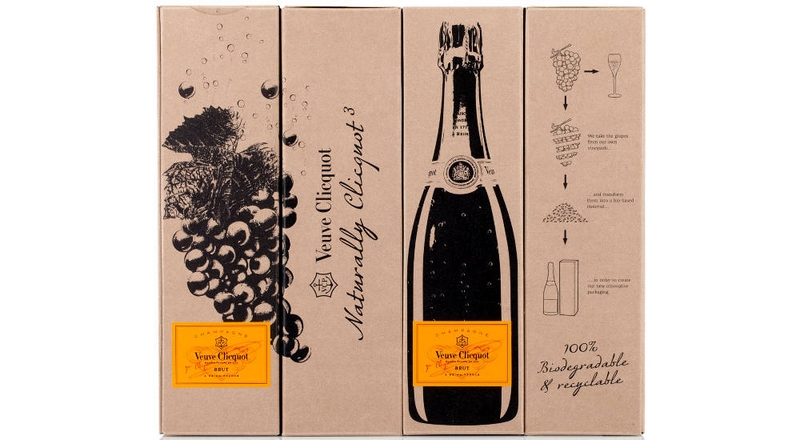 "The innovative paper-production process designed by Favini takes the grape skins and residues left from the pressings and transforms what was nature's own protection into the new product. This is now used to create a prestigious and protective presentation box for the resulting exclusive champagne. The entire grape is being used," explained Favini.
After the pressing of the grapes, through an environmentally friendly process, the skins of the grapes are given a new life: they are dried and milled to become a raw material that can be used to produce a unique ecological paper that uses 25% less virgin fibre.
"Favini's experience in the field of alternative raw materials combined with DS SMITH capacity to develop customer-specific packaging are the natural partners for Veuve Clicquot. It is the joint vision of this partnership and its unified focus on innovation; their constant desire to find new and environmentally friendly solutions which has enabled the creation of this unique fully biodegradable and recyclable pack," added Favini.
"With four fresh designs for each of its four sides, the rectangular packages can be lined up to combine their shapes and the grape illustrations, or to display a sketch of the bottle inside. Understated yet revolutionary, the natural-colored package has a sole splash of color with the yellow Veuve Clicquot label," explained the champagne house.