Jean Paul Gaultier's costume design for Madonna's MDNA tour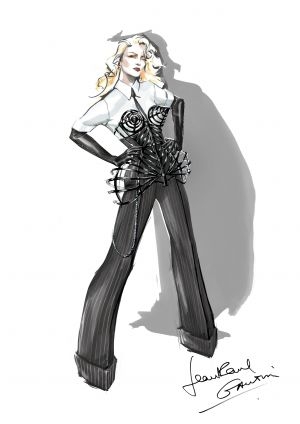 Jean Paul Gaultier, Jeremy Scott, Dolce & Gabbana, Alexander Wang and Prada all contributed to Madonna's 2012 Summer Tour Costumes. In the wardrobe for MDNA World Tour is a corset-style top by Jean Paul Gaultier.
"We played with the ideas of a suit and a corset. But the corset is now like a cage," explained Jean Paul Gaultier. "What I have done this time is a nod to the conical bra corset of the Blond Ambition tour but reinterpreted in 3D, in patent leather on the outside with metallic leather on the inside. It's all about masculine and feminine, Madonna and Jean Paul Gaultier classics reinterpreted for 2012."
The MDNA Tour, also known as the 2012 World Tour, is the ninth concert tour by Madonna. It will promote her twelfth studio album, MDNA and will visit Asia, Europe and the Americas. The tour is expected to be extended into 2013, with shows in Australia. It features the singer's first concert appearances in the United Arab Emirates, Ukraine, and Colombia. It will follow her record-breaking Sticky & Sweet Tour.