IWC Schaffhausen teams up with MERCEDES AMG PETRONAS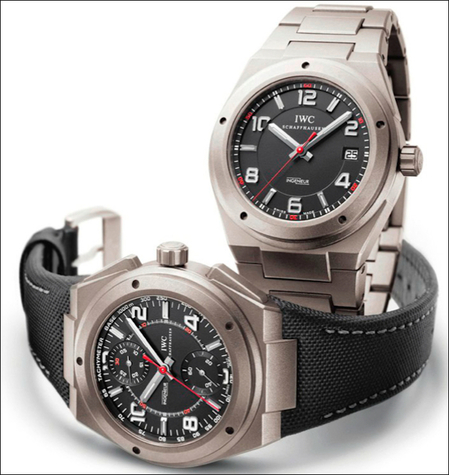 The MERCEDES AMG PETRONAS Formula One Team announced a new partnership with IWC Schaffhausen, with the Swiss watch manufacturer becoming the Official Engineering Partner of the team from January 2013. The link between IWC Schaffhausen and AMG, the performance brand of Mercedes-Benz, dates back to 2004, when they reached a partnership agreement.
IWC Schaffhausen have been producing luxury watches since 1868, and are renowned for their pursuit of perfection and technical innovation in the design and engineering of their timepieces, a perfect match for the principles of the team.
Ross Brawn, Team Principal of MERCEDES AMG PETRONAS said: "It is widely recognised that motorsport serves as a testing ground for technologies that ultimately benefit us all. As the pinnacle of global motorsport, Formula One is at the forefront of such development, and that leading role is set to continue in the years ahead. It is a privilege to find another company that espouses the same principles as our own, with the same insistence on absolute perfection. We firmly believe that the partnership with IWC Schaffhausen will be enormously beneficial to us both."
Georges Kern, CEO of IWC Schaffhausen commented: "The partnership with MERCEDES AMG PETRONAS will enable us to share our passion for high-level engineering, our quest for ultimate perfection and our aim for top performance with a global audience through the medium of Formula One. This is a win-win situation for everyone involved. Both of our companies attach importance to craftsmanship and innovation, and are driven by a pioneering spirit that underpins all we do. We are looking forward to being part of the MERCEDES AMG PETRONAS team and the sport of Formula One."
The news comes against a backdrop of speculation that Mercedes executives have completed a study of how they could withdraw the team from Formula One, wrote sportspromagazine. Mercedes are reported to be unhappy with the terms of the new Concorde Agreement, the commercial contract binding the teams to the sport, which could see rivals Ferrari, McLaren and Red Bull gain seats on Formula One's board.