High Speed Intermarine 48 by Viviane Nicoletti.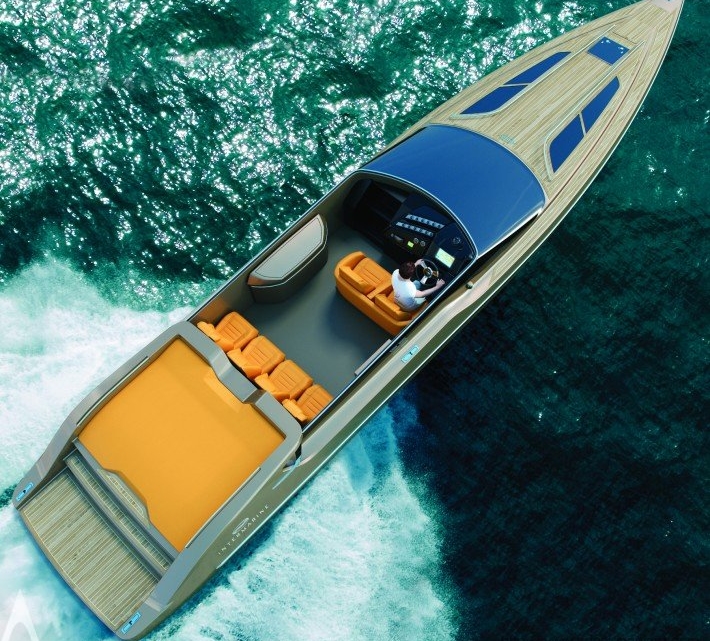 Sport boats are part of Intermarine's history, that gave the brand a myth status in the Brazilian nautical market. Designers Viviane Nicoletti and Matheus Santiago conceived a boat design that brought Intermarine, a leader in luxury yachts in Brazil, a Golden A' Design Award in Yacht and Marine Vessels Design Competition 2015. The project was presented at the end of last year at São Paulo Boat Show.
"The shipyard gave us the challenge to create a design that epitomizes what a high speed boat should be," commented the design team.
"The design was inspired by the dynamic lines of super sport cars that can be seen on the air intakes and on the helm station, for example. The universe of luxury products and architecture is also present on the teak flooring applied throughout the deck, on the upholstery and on the feeling of being at a unique atmosphere," explained Viviane Nicoletti and Matheus Santiago.
The external area has swiming plataform, solarium, cabinet (barbecue grill, cooktop, sink, refrigerator 80L), folding table and 5 places plus 1 pilot. The internal area has a cabin (2 berths), bathroom, 7 sofa places (option A) or 4 sofa places and galley (option B).
There are two engines options, the A has 2x MAN R6800 with the maximum speed of 56Kn and cruise speed of 46Kn, the option B has 2x Volvo Penta D11725 with the maximum speed of 53Kn and cruise speed of 45Kn.
The lamination of the vessel is through infusion method. Compared to the traditional manual method, it reduces the quantity of resin and consequently the weight of the boat. It provides higher efficiency, using less fuel, reducing the environmental impact, besides providing better work environment, since it keeps workers away from toxic gases.