Explore the captivating intersection of shadow and light: Perrier Jouet's latest collaboration with Ritsue Mishima at Design Miami/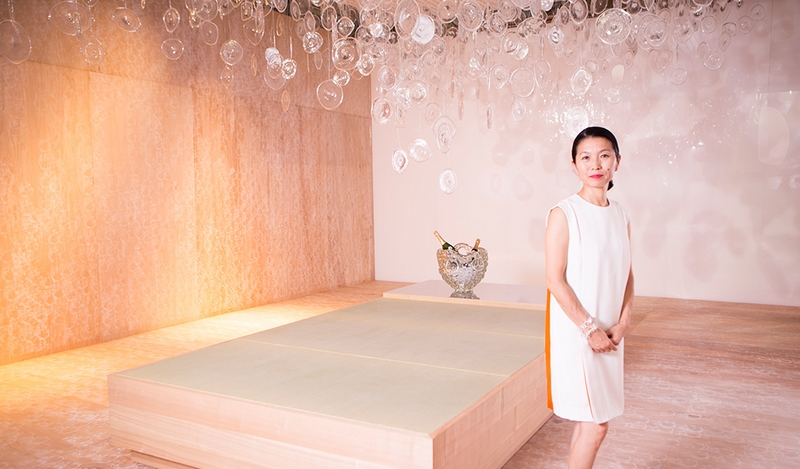 Miami glitters and enchants. 2015 Design Miami/ kicked off with a brand new artistic collaboration between Perrier-Jouët and Japanese Artist, Ritsue Mishima. All'ombra della luce is a truly immersive experience in which light and shadow are the protagonists.
Every year at Design Miami/, the House of Champagne Perrier-Jouët is bringing a taste of its unique Art Nouveau heritage to the art and design fair. In a continuation of this creative exploration, the House unveiled two unprecendented works by Japanese artist Ritsue Mishima.
Maison Perrier-Jouët has been collaborating with artists and designers since it commissioned its first designed champagne bottle in 1902. A huge installation along with an original piece mark the beginning of this creative partnership that will continue through the end of 2016. The experiential installation in Murano glass, entitled All'ombra della luce (In the shadow of light), was partly inspired by the garden of Perrier-Jouët's historic Maison Belle Epoque in Epernay.
The champagne Maison also unveiled L'Eden by Perrier-Jouët – Miami, a place playing with contrasts between style and substance, night and day, city and nature.
Perrier-Jouët inaugurated L'Eden by Perrier-Jouët with a dazzling party for 200 guests, featuring a stunning performance by singer Andra Day, one of the most exciting one-to-watch American singer. L'Eden by Perrier-Jouët became also the Miami base of famous Parisian nightclub Raspoutine for 2 nights.
Inspired by the power of nature to transform the urban landscape into a unique and enchanting world apart, L'Eden by Perrier-Jouët is a preview of an original concept destined for cities around the globe. It is named after Perrier-Jouët's mysterious Eden cellar in Epernay, where the House's rarest and most prestigious champagnes are kept, and to which the Cellar Master possesses the only set of keys.
Guests arriving at L'Eden by Perrier-Jouët were welcomed into the exclusive penthouse suite, transformed for the occasion by luxuriant vegetation. It was scheduled to remain open throughout the duration of Design Miami/ 2015.