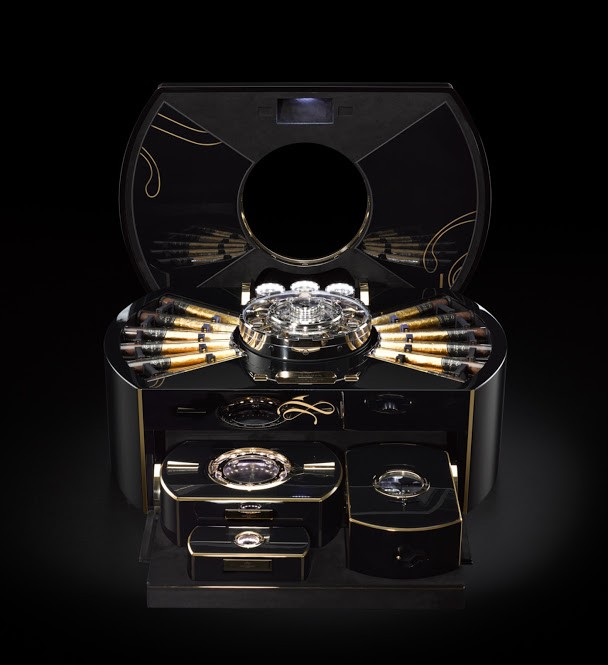 With a price tag of one million Swiss francs/ €917,975, Imperiali Genève's Emperador is the most prestigious cigar chest in the world. Combined with a timepiece featuring a tourbillon, this utterly unique object limited to just 12 units produced per year, is the fruit of the ambitious imagination of Imperiali Genève, "a young company aspiring to reinvent existing objects by transcending the bounds of reason."
Produced in Switzerland using noble materials, the Emperador chest with humidor measures 70 cm long, 45 cm wide and 30 cm high.
The chest is crowned by a tourbillon timepiece made up of 323 parts and a 'Clous de Paris' guilloché dial – the work of a master watchmaker from the Swiss Jura. Meanwhile, access to the 24 exceptional Grand Cru cigars, which are wrapped in four gold leaves and arranged in individual glass tubes around this most sophisticated of creations, is protected by a personal secret code. The user simply brushes a finger over one of the nine touch buttons on the cover spelling the name 'Imperiali' to activate the integrated LCD display, which is invisible when the device is sleeping. He then enters his code using the golden touch buttons.
Only three indicators with mechanical hands are visible to the user. These display, in real time, the relative humidity and temperature inside the chest, the power reserve and the number of cigars remaining.
According to Imperiali Genève, the chest is equipped with the world's first self-regulating humidity system, which requires neither water nor human intervention. It guarantees a constant humidity level of 70% and a temperature of 16 to 18 degrees Celsius, regardless of external environmental conditions. These variables can also be easily adjusted according to the user's wishes. Three exceptional accessories combine technology and mechanics: the cigar cutter, the table lighter, and the ashtray opening whenever an Emperador cigar is brought near.