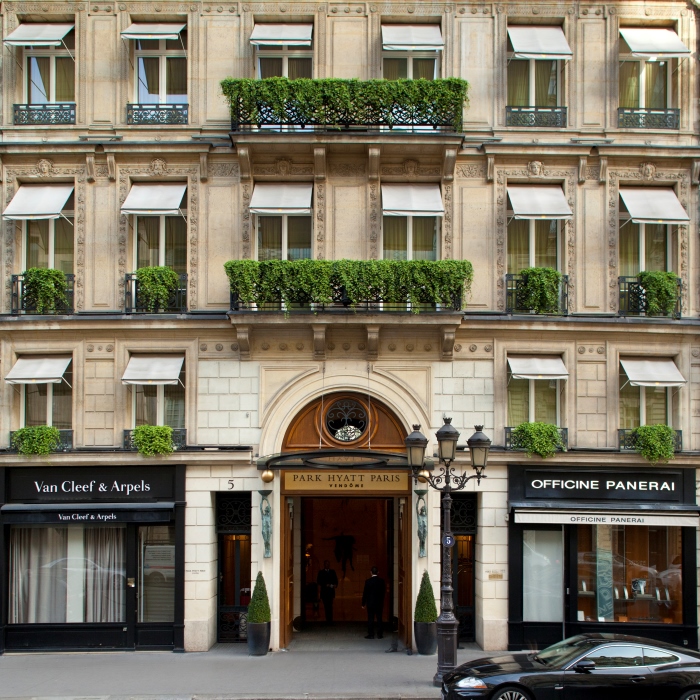 Park Hyatt and NYTimes announced "The New York Times TasteMasters" live talk series with chefs, artists and designers.The collaboration will feature three events around the world that bring together a pair of cultural trailblazers in an intimate live conversation moderated by a New York Times journalist. Each duo will be an unexpected pairing of talent and skill and will represent the best of their crafts, including art, cuisine and fashion, among others.
The TasteMasters collaboration debuted with an event at Park Hyatt New York. The event paired celebrated chef, restaurateur and food writer Yotam Ottolenghi with chief curator-at-large for the Museum of Modern Art (MoMA) and director of MoMA PS1 Klaus Biesenbach in a discussion moderated by New York Times Dining reporter Julia Moskin. In addition to this debut, TasteMasters events will be hosted in Park Hyatt hotels in Paris and Tokyo later this year.
Directly following these intimate discussions, guests will engage with influencers and journalists in attendance on a more personal level through a special edition of the brand's signature Park Hyatt Masters of Food and Wine experience, which will feature locally sourced and in-season menu pairings curated by Park Hyatt hotels and The Times.
Beginning Oct. 26, there will be a digital extension of the TasteMasters conversations hosted on NYTimes.com/TasteMasters that will feature in-depth Q. and A. with additional masters of food, art and design from many locations around the world where Park Hyatt hotels are located.
"From art and style to fashion and cuisine, The New York Times TasteMasters event series combines some of The Times's most thought-provoking lifestyle content with Park Hyatt hotels' sophistication to create an exceptional audience experience," said Meredith Kopit Levien, executive vice president and chief revenue officer for The New York Times Company.
A conversation at Park Hyatt Paris-Vendôme will take place on Nov. 23 with owner and co-founder of the Paris fashion and style boutique Colette, Sarah Lerfel Andelaman, and gallerist Emmanuel Perrotin. The talk will be moderated by New York Times European Styles correspondent Elizabeth Paton.
The final event for 2015 will take place at Park Hyatt Tokyo on Dec. 2. It will feature Tomorrowland president, CEO, founder and designer Hiroyuki Sasaki and another TasteMaster in a discussion moderated by New York Times Tokyo correspondent Jonathan Soble.