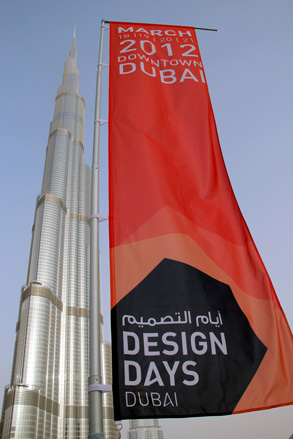 In front of the Burj Khalifa, the world's tallest building, Design Days Dubai gathered a total of 22 galleries from around the world. The four-day inaugural edition of Design Days Dubai, the Middle East's and South Asia's first fair dedicated to collectible and limited edition design, attracted over 8,500 visitors. As an integral part of Art Week ( the umbrella initiative that includes Art Dubai, Design Days Dubai and Sikka), the fair coincided with the contemporary art fair Art Dubai, marking the maturing of the arts scene in the region.
Beirut-based Carwan Gallery, winner of Wallpaper* magazine's 'Best Design Award 2012,' presented 'New Perspectives in Middle Eastern Crafts' and Beirut's Smogallery exhibited all new design pieces by regional designers Nathalie Khayat, Karim Chaya, Raphael Charles, Najla El Zein, Celia AbouArbid and Majd Bazerji.
Design Days Dubai 2012 marked the premiere of La Galerie Nationale. Priveekollektie, which represents internationally recognised artists and designers, showcased exclusive pieces.
In addition, a number of key players from that have established their presence in Dubai's design industry showcased their unique collectibles at Design Days Dubai. They include: The Carpenters Workshop Gallery, which was listed in the Power 100 of Art + Auction;
Downtown Laffanour (Paris); Nulifar (Milan); Seomi; Priveekollektiea and so on. Browse the fair's website and blog for a complete picture of exhibitors.
Strong sales were reported by some galleries, wrote Wallpaper magazine, and others spoke about the importance of bolstering their contacts in the Middle East, but the pervading feeling at the fair was of an eagerness for creative 'newness'.