Heesen sells biggest yacht to date 80.07-metre Project Cosmos. The head-turning Project Cosmos is the largest yacht to date to be built by Heesen Yachts.
This is the second contract sealed by the pioneering Dutch shipyard in 2018, reaffirming the positive trend that began last year with the sale of no less than six yachts. Project Cosmos is the largest yacht to date to be built by Heesen Yachts, and follows on from its existing major triumphs in the 60-metre plus market segment with the revolutionary 65-metre Galactica Star in 2013, the iconic 70-metre Galactica Super Nova in 2016, and its recent accomplishment, 60-metre Project Falcon.
At 80.07 metres, 1,700GT and with a top speed of 29 knots, Project Cosmos will be the world's largest and fastest full-aluminium motoryacht with conventional propeller propulsion system. The fully-rated helicopter landing pad for a Eurocopter EC135 transforms into an outdoor cinema with stunning effect. The yacht features a crystal elevator from the lower deck to the sun deck and breath-taking seven-metre pool with contra-jets for swimming, paired with a waterfall and glass bottom. The sumptuous beach club is equipped with a sunken walk-around bar and large transom and side platforms. The full-custom limousine tender by Winch Design is the star of the forward tender garage.
Winch Design was appointed by the owners to create a streamlined yacht with innovative design traits with muscular sportiness and timeless elegance. "The extensive use of glass and the combination of soft and sculpted shapes make Project Cosmos a yacht packed full of contemporary charm; a thoroughbred racehorse, the next evolution of the Heesen breed," said Heesen Yachts.
Twelve guests will be accommodated in four suites on the lower deck, a VIP with adjacent private studio on the bridge deck, and the master stateroom on the main deck forward. Nineteen crew in eleven cabins will be able to discretely service the guests.
The technical and technological complexity of Project Cosmos will once again raise the bar in yacht building, confirming that Heesen occupies a stronghold among the top tier of Northern European superyacht builders.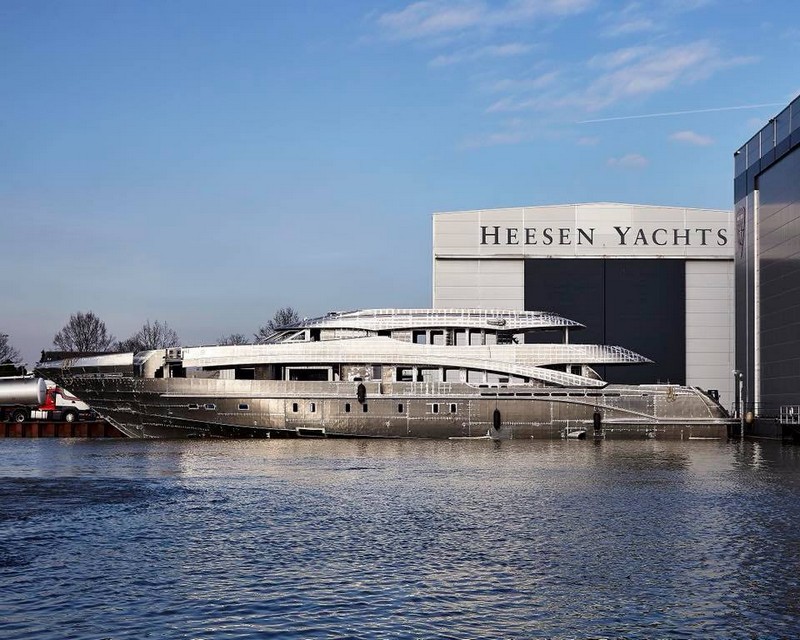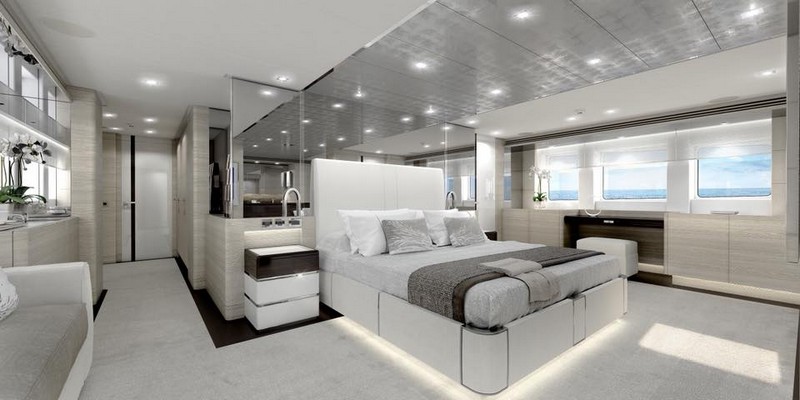 Heesen Yachts also announced it joined hull and superstructure of YN 18750 Project Aster, the latest in the 5000 Aluminium class, whose exterior lines are by Omega Architects.
The design of Aster showcases the fruits of Cristiano Gatto five-year collaboration with Heesen. Her interior design has been conceived to emphasise Heesen's ornate craftsmanship and clever engineering, such as high gloss lacquered wood with complicated inserts in leather, metal, upholstery
and wood. This type of intricate detailing is highly complex, and only a shipyard in possession of a fine cabinetry department such as Heesen's are capable of achieving the desired result.
Heesen Project Aster is due for delivery in June 2019.
images source:  heesenyachts.com