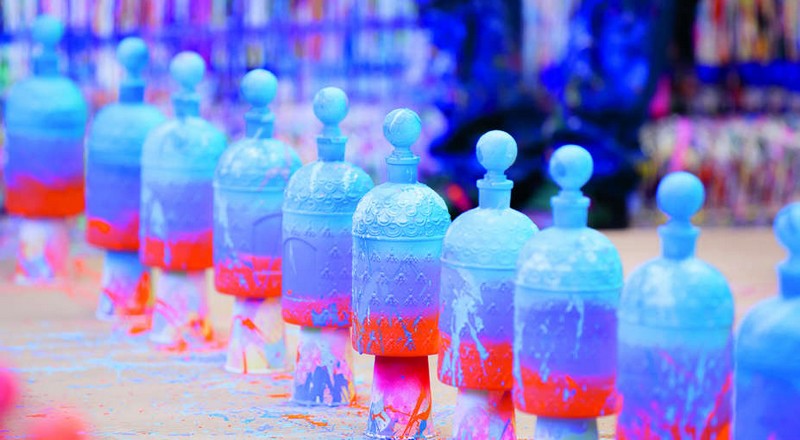 American graffiti artist John Andrew Perello, better known as JonOne, revisited iconic Guerlain "Bee Bottle" created in 1853 as a special order for the marriage of Empress Eugénie to Napoleon III. Guerlain teamed up with JonOne for an arty reinterpretation of the "bee bottle" in a special limited series. The artist offered a contemporary take on 98 "Flacons aux Abeilles" in the Guerlain Exclusive Collections lab. The celebrated artist gave free rein to his inspiration using his signature burst of colors. Each fragrance took on a different color scheme: blue tones for Shalimar, a palette of pink for La Petite Robe Noire and orange hues for Rose Barbare.
The 9000 € one-liter "numéroté et signé" perfume bottles are engraved with the Guerlain name, numbered and signed by the artist. They are available exclusively at the Guerlain 68 Champs-Elysées boutique, which is also hosting an exhibition of JonOne's large format work.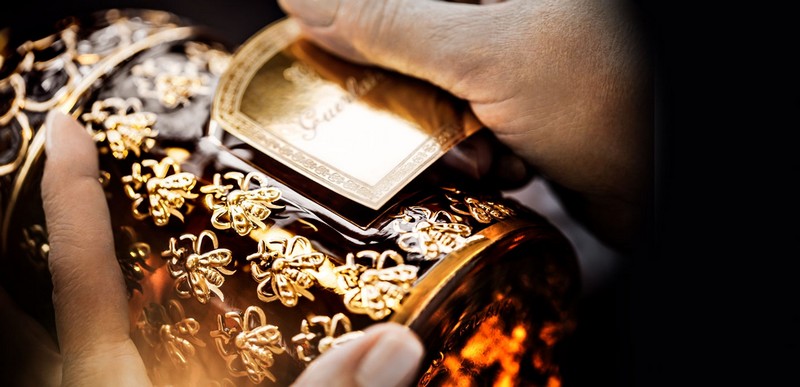 JonOne made a name for himself in Parisian artistic circles through his work on canvas and the exhibitions he held, including one in 1990 at Gallery 45 Gleditsch in Berlin and the exhibition Graffiti Paris, at rue Chapon in Paris.
At an Artcurial auction on June 6, 2007, Match Point, a large canvas by JonOne made at the Hospital Ephemeral in 1993, was bought by a New York collector for €24,800, a record sale for the artist. This auction was also the highest bid ever obtained in France for a work of graffiti art.
In 2014, the Parisian by adoption painted for the French National Assembly "Liberté, Egalité, Fraternité", an ultra-colored version of "The Liberty Leading the People" by the leader of the French Romantic school Eugene Delacroix.