Galeries Lafayette holiday windows by Louis Vuitton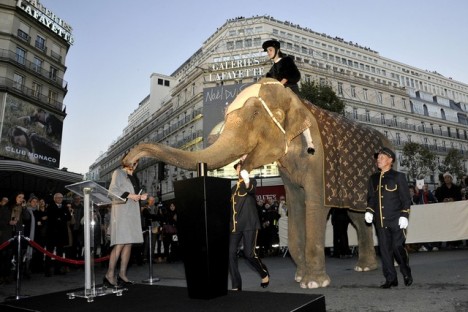 The centenary of the famous iconic Lafayette glass dome is celebrated at Paris' Galeries Lafayette luxury department store (founded in 1895) with unique partnerships and events, including with Louis Vuitton.
Inspired by the magnificent architecture of the dome erected in October 1912 by architect Ferdinand Chanut and master glassmaker Jacques Gruber, Louis Vuitton has created a set of stage designs on "Bal du Siècle / Ball of the Century" theme that will animate the 11 windows of the famous department store on Boulevard Haussmann in Paris.
Unveiled on 6 November 2012, "Bal du Siècle" Christmas windows at the Galeries Lafayette retrace the 158 years history of Maison Louis Vuitton, from vintage leather goods to ready-to-wear of present days.
The unveiling of Christmas display was made with an elephant dressed in Louis Vuitton. The animal wearing a stylish LV drape switched the lights on the holiday facade.
Symbol of excellence expertise and precision, the window displays feature a menagerie of exotic animals in a orchestrated "ballet". Bears, penguins, pandas and flamingos are meant to evoke the festive spirit prevailing at the end of the year and the travel spirit embodied by Louis Vuitton.