First devised by Calty Design Research in the Sony PlayStation Gran Turismo game environment, Toyota FT-1 leapt from the screen to the stage of the North American International Auto Show 2014.
FT-1 stands for "Future Toyota," and the number "1" represents the ultimate. According to its designers at Calty Design Research, the FT-1 Concept is the ultimate expression of a Toyota coupe design, building upon Toyota's rich sports coupe heritage dating back to the 2000GT, Celica, Supra, MR2 and most recently Scion FR-S. In addition, the concept draws inspiration from Calty's more recent sports car concept work such as FT-HS (2007) and the Lexus LF-LC (2012).
"The FT-1 is a dream-project for a designer and car enthusiast like myself," said Alex Shen, Calty's Studio Chief Designer. "Our team was heavily influenced by Toyota's sports car past, especially Celica and Supra, and we sought to capture some of that history. It is an aggressive, track-focused sports car concept with a presence that has been amplified for shock and awe."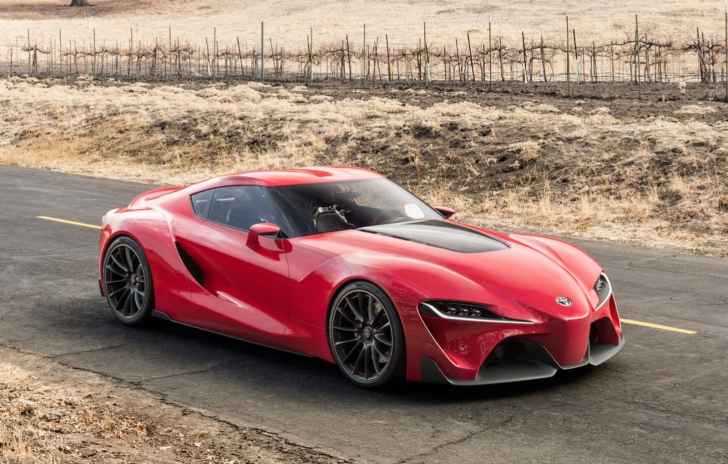 In preparation for pitching the concept to Toyota management, Calty worked with Polyphony Digital, creators of the popular Gran Turismo driving simulator, to bring FT-1 to life in a virtual world. Toyota executives were offered the opportunity to take FT-1 for a timed lap around a computer-generated Fuji Speedway. Behind the wheel of the concept, Toyota president Akio Toyoda, an accomplished race car driver, completed the virtual circuit faster than his best real-world lap time at Fuji in his LFA. From that moment, he was convinced and the concept was approved to be built in model-form for the international auto show circuit.
"Sports cars represent the ultimate driving expression in its purest form. As car enthusiasts ourselves, this is the kind of project we dream about working on," said Calty Design Research president Kevin Hunter. "Beyond its obvious five-alarm visual impact, FT-1 is symbolic of a new chapter for Toyota Global Design. This provocative concept truly captures the passion, excitement, and energy of the Toyota we are evolving into and embodies elements of the emotion and performance that Toyota will imprint upon future production designs."