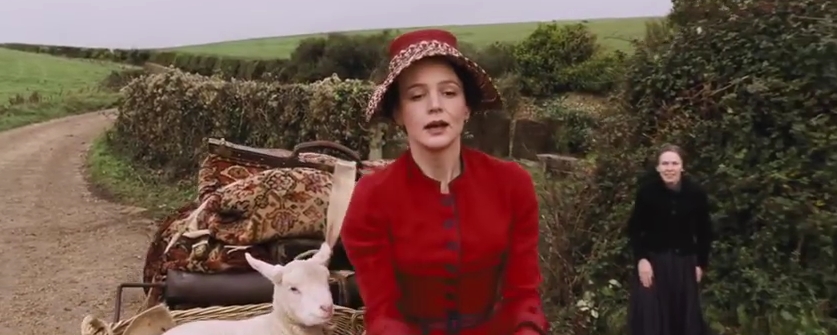 ---
This article titled "From Bathsheba Everdene to lumbersexuals, what's hot and what's not this week" was written by , for The Guardian on Saturday 18th April 2015 05.00 UTC
Going up
Stationery Hillier's new jewellery collection has drawing pins as earrings. Raiding work's stationery cupboard is now a thing.
'So brave' Teen speak for, "You really can't carry that off, but props for trying." Mean Girls pass agg at its best.
Bathsheba Everdene Carey Mulligan's double-breasted navy coat in Far From The Madding Crowd is totally SS15.
Raised By Wolves The C4 comedy is full of fashion tips. To wit: "Do not ever give them a prop", a mother's advice when her daughter's natty scarf attracts bullies.
The Shining carpets The real star of Kubrick's flick is the geometrically patterned flooring. It can be yours on clutches by Simeon Farrar.
Kirsty Hume Scotland's 90s super is back in campaigns for Jaeger and Talitha. In love all over again.
Going down
Emoji disconnect Why do our smiley faces look different from Apple to Android? Technology needs to fix up sharpish.
Farrow & Ball's Card Room Green Cerulean blue is the colour of the doors at the new Céline HQ. Reason enough to repaint.
Bros Forget the Levi's and Grosch bottle tops. Our new 80s denim style icon is Jennifer Connelly in Labyrinth. Google Image immediately.
'Lumbersexual' This term is taking off far too easily for our liking.
Not having a spare £8,000 We fear the Apple Watch Edition – the rose gold one – will stay the stuff of dreams. Sniff.
Your toes Sandal weather means the ends of your feet now need tending.
guardian.co.uk © Guardian News & Media Limited 2010
Published via the Guardian News Feed plugin for WordPress.