Nikolas Gleber-Friendly Fur: "The "New luxury" is living true values, being yourself"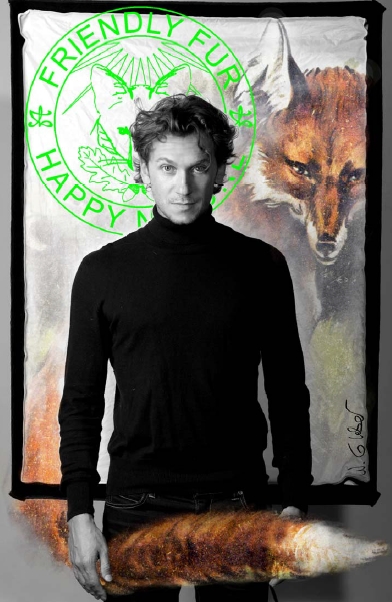 At this year's Esxence Milano, 2LUXURY2 had the pleasure to meet Nikolas Gleber – creator of Friendly Fur, conceptionist at ENGEE, an innovative,  creative artist, and a true passionate about perfumes, and luxury objects of green glamour. His work is devoted to eco-responsibility, luxury and art.
In 2007, as conceptionist he launched Friendly Fur, his own Green-Glamour Brand for Objects to put on like arty Accessories + Certification for the raw wild-Fur Material. Friendly Fur is real Fur coming hand-collected like Woodland Strawberries from an intact Nature – mostly German Red Fox. The designed Objects are Berlin hand-crafted in strictly Limited Editions.
Nikolas just launched at the Esxence artistic perfumery event the Green Carnation perfume, its second fragrance collaboration with famous perfumer Mark Buxton. Berlin handcrafted, handfilled and handpacked, The Green Carnation is coming in a transparent tube with a real freeze-dryed Green Carnation. The new creation embodies the essence of new Gentlemen. According to Nikolas, the Gentlemen nowadays it's not a Gender thing anymore and the new Gentleman can either be a Man or a Woman and everything in between".  Once upon a time the green carnation was a recognition feature and a symbol for bohemians and intellectuals in the 19th century fin-de-siècle; an educated group mingling in the arts, culture and the mundane society. It is also the name of an ironic Novel written by Robert S. Hichens in 1894.
The new perfume equation is composed of green notes of carnation flower and grapefruit, fine notes of freshly starched white cotton-shirts, strong emotions of red pepper bedded on vetiver, swift darkness of smoke and whiskey clinging on the smoking from the
night.


2LUXURY2: Your both perfumes (Green Carnation [2013] and A rebours! [2012]) have two distinct personalities, but opposites attract. As you say they keep people awake and thinking. They have behind strong, independent and original concepts…

Nikolas Gleber: "Emotionally they are not, actually, that different. In my work as conceptionist (www.ENGEE.de ), I try to create individual and unique objects -that's correct, but in the same time, I pay a lot of attention to the "Look&Feel", so I would
say, that the "Look&Feel" of these two scents go quite in the same direction: heritage, deep feelings of comfort and coziness, thus some distinctive elegance."
2LUXURY2: How do you see the two fragrances being placed tête-à-tête? With which of the perfumes you resonate more?

Nikolas Gleber: "Tête-à-tête describes it well, because both perfumes have their own "tête" as they are conceptionally very defined and worked through into the detail: starting with the story and the imaginary world followed by the scent and last, but not
least, with no compromise: the packaging. Due to this fact I resonate with both the same as much-they are both coming from my deep personal sentiments of modern, urban, arty and avant-garde fantasies mingled with memories of traditional, classic and
nature-grounded moments."
2LUXURY2: How you came to the "the new Gentleman" concept for Green Carnation essence and the final materialization of this fragrance, packaging, the way we of application and the real freeze-dryed Green Carnation?
Nikolas Gleber: "The new gentlemen I sense by their values and importantly: maintaining them – men and women. In my profession as a conceptionist it is my job to create values and sustainable strategies on products, brands and company-directions. In my artwork all my objects refer to real values. My brand and beacon project Friendly Fur is deeply devoted to all that's true and real – the real luxury related to real values, so to me it makes most sense to have real materials and craftsmanship involved in all the parts
of the perfumes. Even though it may crack a little during shipping I would say that a real flower is much more appreciated than a plastic one."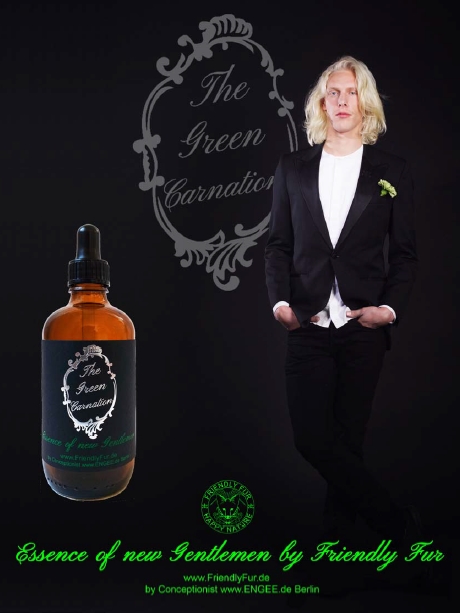 2LUXURY2: Paradoxically or not, the flowers sold in urban flower shops have no smell. In your opinion, how green carnation smells?
Nikolas Gleber: "I do know how the real flowers smell: the wild carnation flower has actually a really strong smell, but that there is not much left on the glass-house grown ones, only a glimse. One symbol of friendly fur is the woodland-strawberry:
compared with the wild original, it's not much we have to be satisfied nowadays in terms of aromas. So, I give back a little bit of this original wild intensity and pleasure."
2LUXURY2: Who is your intended customer? What is he or she like?
Nikolas Gleber: "In my opinion everbody is a potential customer, because we all have that desire and the right for elegance in life as well as the need to be grounded, based upon tradition and the time we live in right now–no matter who or where we are.
My perfumes and the brand of Friendly Fur do express these needs and desires: grounded nature and glamour. This is no question of age or gender."

2LUXURY2: Everybody is interested about the "perfume cuisine". What was it like working with Mark Buxton to create the fragrances? Can you share with us your impressions of the creative style?
Nikolas Gleber: "Mark Buxton is not just a splendid perfumer but also became a friend of mine. This is because of his strong empathy. Empathy is very important to work with me as conceptionist, as I come with detailed visual and emotional concepts, scribbles and mood board; unlike creating other perfumes, at FriendlyFur, everything starts with the story, the packaging and the advertising motive (developed and produced by ENGEE). So, on base of that, it is a narrow translation to be done wich mark just does brilliantly. I always go for the "one-shot one-hit" theory: the first result is the best. If this is not the case, then me as a conceptionist failed creating goodconcept with mood board, texts, visual. Check the mood-clips here."
2LUXURY2: Can you tell something about the retail map?
Nikolas Gleber: "The retail map includes niche perfumery and concept stores, selected department stores as well as museums shops and galleries. I also have some jewelry boutiques in my list of retail.
I am distributed in Germany, Poland and Russia since 2012, eclectic POS in Gent, Los Angeles and Paris.
I will be distributed from 2013 in Milan, Switzerland and Austria, France, Spain and USA, Benelux and maybe Italy."
2LUXURY2: What is your biggest current challenge regarding Friendly Fur Objects and Friendly Fur Perfumes (A Rebours & Green Carnation)?
Nikolas Gleber: "Until 2 years ago the challenge of FriendlyFur was to be understood well as what it is: nature caring wild fur as fair and sustainable alternative to bad fur, then today where the brand and certification has finally been understood and appreciated, the challenge is the logistics, to respond the market with compatible, yet, reasonable pricing and sensitive lots.
Growing with patience and sense. Both perfumes found great appreciation and I am blessed to have such a good response by additional distributors worldwide. Now I really have to professionalize the production and develop the brand not to remain too niche. I am not niche, because I think good concepts should be available. You would'nt say art is niche either –friendly fur is highly referring to the arts."

2LUXURY2: What's up next? Do you have another fragrances in the works? Can you disclose something about your future products/projects for friendly fur?
Nikolas Gleber: "For sure I have more to come from sides of FriendlyFur. Friendly Fur is my certification for nature-care real wild fur. With this certified material I do Objects for living and to put on. Basically I do vernissages and art-expos wto present the latest works to the public, but sometimes I appreciate the good old fashion show (interpreted my way, as you can see on my website). I develop and produce all the films, clips, shootings and shows myself under the aspect of the arts, urban avant-
garde and countryside grounded traditions.
And maybe you will hear more from ENGEE, me as conceptionist, because companies have requested me to develop perfume concepts for them, too, where I can bring in my skills and experience as someone looking upon the industries from the outside (what is a very good and neutral position)."
2LUXURY2: What about the source of fur? How long you can count on these sources?
Nikolas Gleber: "As long as we keep nature-care balance, the biodiversity will be healthy. The German red fox is on the top of the food chain in German forests, so its threatening is only epidemics when there is too many of them fighting for space. Maintaining the eco-balance means having red fox. So, the sourcing for me starts, when there have been nature-care happening. I use the waste. I hope, we will be able to maintain intact nature for a looong time. Monocultures and industries motivated by mass consumption are the biggest enemies of a happy nature."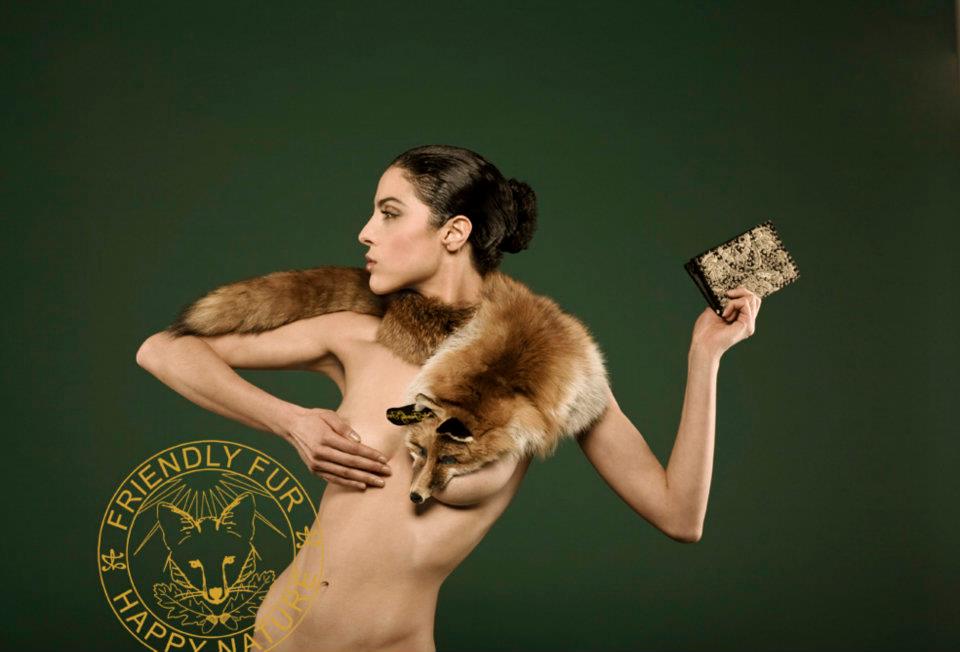 2LUXURY2: What do you think about other initiatives dealing with eco-conscious fur? Have you been tempted to work in that direction?
Nikolas Gleber: "To me, it is important to care for the meta-level: where does my material come from, and what makes sense using. If I recycled fur: mink, or any other farm-fur, I would give the wrong statement – and I still was wearing a bad-karma fur
with history of suffering (even if second hand). But FriendlyFur not only stands for using an upcoming waste from active nature-care; FriendlyFur stands for a more respectful sight on things: how does the eco-balance work? How does a food chain go?
What about consumption-habits? Measurement and consumption in measures is a key word here. Conscious consumption with a clear decision for good reasons. I am not really a recycler, I rather create new: but create things you would never want to throw away and recycle: it's the arts that influence my work here – creating something that increases its value. Fashion and collection are words you would never find as wording on behalf of FriendlyFur (only when I explain for what my wording stands for: Objects =
Items/Accessories, Edition = Collection, Advertising/ Campaign = Art-Shoots, Series)."
2LUXURY2: What is Friendly Fur's relationship with animal rights organizations?
Nikolas Gleber: "As far as I can tell we are on good terms due to the fact that FriendlyFur does not kill animals for fashion reasons nor encourages people to do so. FriedlyFur neither treats animals bad or even destroy their ecological environment;
that last point is less direct, but certainly the biggest enemy against animals and their rights: destroying nature for industries and monocultures. I guess, activists know that – that's why they have not much against my project."
2LUXURY2: Friendly Fur only does small objects. What designs have attracted the most attention?
Nikolas Gleber: "That's correct – against wasting valuable resources. In terms of PR the most attraction has been called by the champagne bottle bag: it's cheaky and forces people to think. In terms of selling, the clutches and the collars are the best sellers! They are so easy to love and to combine."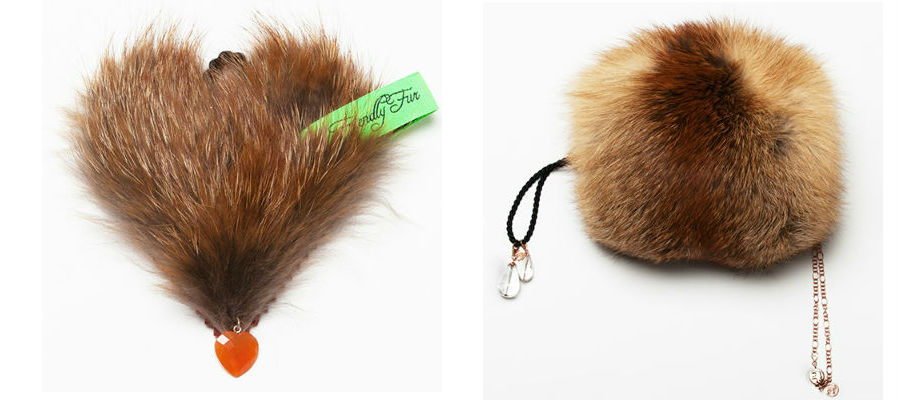 2LUXURY2: "Friendly Fur has no Seasons and no Collections, so I have "Inspirational Intervals" to create new Objects and Editions," you said once in an interview. Where and how do you find overflowing inspiration for these intervals?
Nikolas Gleber: "Nearly everywhere: there are so many situations and emotions in life that inspires to new shapes, new needs or simply a playful lust. An artist might be able to say something about his inspirations, but actually: it just happens.
Always…everywhere… wanted or not. Going to a museum, watching a movie, observing a flower, watching birds or butterflies… that really must sound tacky to you, but that's how it goes in my world. Check here.  That's where all additional inspirations of mine go into. My arts."
2LUXURY2: What is your definition for niche perfumes?
Nikolas Gleber: "Ok, if you see where perfume comes from, where the word niche relates to and where we are now – as createurs and as clients – I must say, that niche nowadays seems to define only "the non-mass market". To me it means actually a bit more: being
specific, being individual appealing to the ones who know. Not too much being super- limited and oh-so-exclusive, but rather being particular – something worth discovering, looking beyond. I even might say a good concept, a detailed look and involving craftsmanship. Something real, something non-industrial, non-mass-compatible.
"Niche" should not only be defined by the POS we give-it-to for selling, but also by the product itself that brings a true and non-marketing value at added."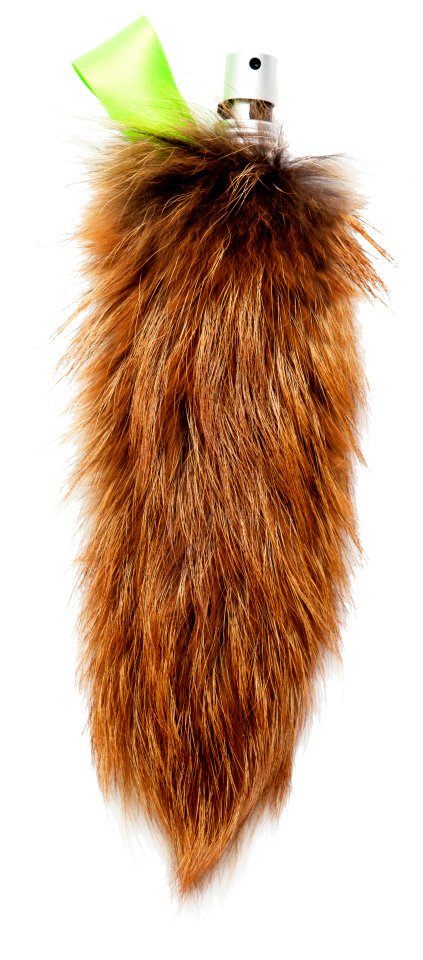 2LUXURY2: Can you tell something about Berlin's perfumery scene?
Nikolas Gleber: "The Berlin at this time seems to hold a share on everything – also the perfumery scene. Geza Schon lives and works here and has created molecules – something sooo 'Berlin' and esoteric. Tanja Boching created April Aromatics, that also has a
berlinesque twist… but I guess, Berlin will never be known as fashion or perfume capital, but always as what I would say it fits that city best: as Lifestyle Capital.

If we think of Berlin, we don't think of fashion people or elegant folks with exclusive perfumes, but rather of that particular funky and vanguardist bohemian subculture-adopted culture: in advertising, the arts, the living, the parties and events, the
crowd… even maybe the perfumes? I do my best."
2LUXURY2: What is Luxury/ New Luxury for you?
Nikolas Gleber: "The "New luxury" is living true values, being yourself, not running  after dogmatic trends or fashion, but allowing you to culture your style, your tact and  to care, to do good beyond social morals and shouters! Its grounded, true and more  satisfying than status-symbol. I would say loving your (own) Nature is the New luxury.  FriendlyFur is a role model for new luxury: At FriendlyFur my example is the woodland-  strawberry: its small and for free, but you have to make an effort – that will be  deeply rewarded and makes you happy."