---
This article titled "French Vogue: what we've learned from its 95 years on fashion's frontline" was written by Jess Cartner-Morley, for theguardian.com on Thursday 1st October 2015 14.52 UTC
The magazine
We think our colleagues at French Vogue will take it as a compliment when we say they are one part journalistic endeavour, one part style goals. The editorial teams – led for the past five years by Emanuelle Alt, and before that by Carine Roitfeld – strut around Paris fashion week en masse, like Reservoir Dogs but in white jeans (Alt era) or black pencil skirts (Roitfeld era). To look "very French Vogue" is the ultimate #goals.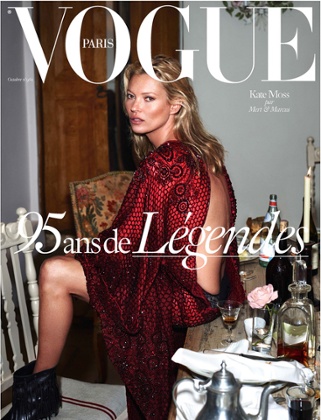 The look
All manner of diverse, inclusive body shapes and aesthetics are celebrated. Jokes. The look is: very thin, very hot, wearing a lot of eyeliner and not much else, lying in a hotel bed having shagged someone famous and probably married. Or: very thin, very hot, very brown, wearing nothing at all, lying on a beach with sand on your boobs. (And not trying to brush it off with a towel. That would be so English.) Or, you are very thin, very hot, and wearing a haute couture dress while dangling your legs over the Pont Alexandre III bridge in Paris, shoulder-robing a man's tux and dangling £500 Louboutins off your toes.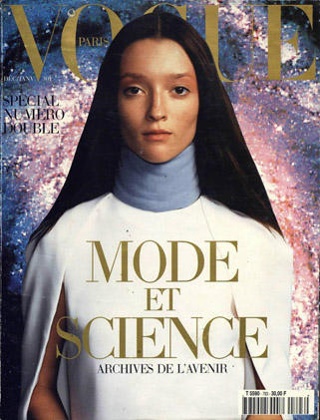 The history
Paris Vogue has always gone its own sweet way. Cast your mind back to January 1999, when then-editor Joan Juliet Buck commissioned a science-themed issue which included quantum physics, evolution as imagined by Herb Ritts, and chaos theory illustrated in puff pastry. That issue, funnily enough, did not attract nearly as much attention as the controversy over blacking up Lara Stone in 2009; the endless cigarettes (Carine Roitfeld called time for a while, but they are back); the astronomical nipple count and ongoing fascination with bondage bras; or the 10-year-olds in lipgloss and high heels.
The anniversary issue
Why 95 years? I guess the non-zero anniversary is very chic and avant garde since Charlotte Rampling celebrated it in her film, 45 Years. The issue features Gisele Bündchen naked except for patent leather thigh-high boots, and Mossy smoking a cigarette in sunglasses, tattoo and nipples on show, as well as fashion's current favourite Insta-doll, Lily-Rose Depp, photographed as a sad china doll by Inez and Vinoodh. Fasten your seatbelts now for the centenery, cheries!
guardian.co.uk © Guardian News & Media Limited 2010
Published via the Guardian News Feed plugin for WordPress.