By day or by night, this peerless timepiece will bring elegance and sophistication to every wrist.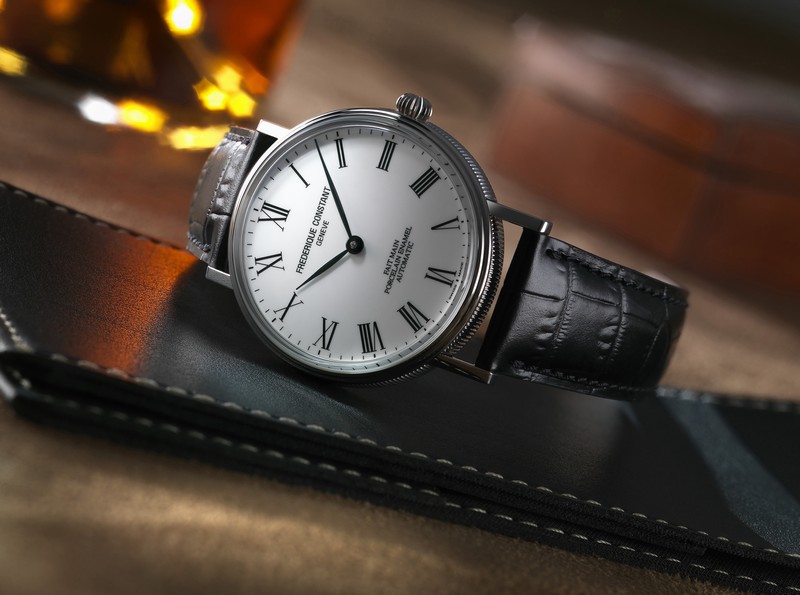 The Swiss luxury watch manufacturer Frederique Constant introduced a new model to its successful Classics collection: the Classics Art of Porcelain with hand made porcelain dial and the accentuated black roman numerals. The unique watch is limited to only 188 pieces.
What makes this model so special is the fact that each dial is made by skilled craftsmen from the
, who ensure that the colour of the porcelain will last for decades.
Porcelain is highly valued due to its association with the court, either as a tribute offering, or as a product of kilns under imperial supervision. Unlike its lower-fired counterparts, porcelain does not need glazing. However, many types of porcelain are further treated using various methods, such as the iron- containing glaze, for its striking effects on porcelain.
Porcelain is a ceramic material made by heating components in a kiln to temperatures reaching between 1,200 and 1,400 °C (2,200 and 2,600 °F). The toughness, strength and translucence of porcelain arises mainly from vitrification and the formation of the mineral mullite within the body at these high temperatures.
The Classics Art of Porcelain watch is presented with a highly polished, 3-parts stainless steel case of 40mm. The porcelain dial features the words "Swiss Made" at 6 o'clock to pay tribute to its Swiss origins, and the Roman numeral indexes give this model a classic appearance. Driven by the FC-302 automatic calibre, with 25 jewels and a 42-hour power reserve, this watch features the hours and minutes functions. The sapphire crystal case back enables to admire the FC-302 in action and is water-resistant up to 3 ATM. Finally, the timepiece is finished with a black leather strap and will be produced in a strictly limited edition of 188 pieces.