Arcadia Sherpa will make her official debut in Boot Dusseldorf 2016 with an Open Deck superstructure/two cabin internal layout.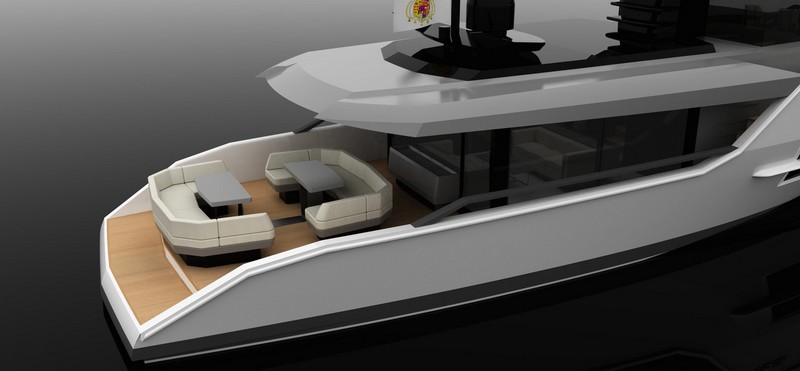 At this year's boot dusseldorf (23-31 January, 2016), Italian Arcadia Yachts will unveil a new vessel described by the Napoli-based shipyard as a "forward thinking design yacht". The yacht is named after the legendary Himalayan guides capable of carrying extraordinary loads: SHERPA. Built for Mediterranean cruising, Arcadia Sherpa is a 16.8m yacht with a 5.50m beam. This specific version/layout is actually the most requested, say Arcadia Yachts. One of the primary goals when designing the Sherpa was versatility. The yard offers the following configurations according to use: day cruiser, shadow boat, mini-yacht or fisherman.
Sherpa motor yacht features a new concept in Sport flying-bridges: the "Easy-to-close" flying-bridge that converts into a closed deck, completely protected by side windows that can be raised and lowered electrically, just as in automobiles.
The whole upper-deck area, since it is air-conditioned, becomes much more flexible and functional in any weather condition: in very hot climes or in bad weather when closed, or left open to the air as per any traditional flying-bridge.
Sherpa offers two different superstructure options: Open deck and Salon deck, for day cruising or long distance cruising
respectively. Sherpa has very flexible layout options, with one, two or three cabin versions.
Besides the flexible layouts, Sherpa offers an unexpected storage space of 140 square meters (247 cubic feet) below the main deck. A flush main-deck allows all storage to take place belowdecks, leaving the entire area free for other uses. This storage space has direct and easy access, with a useful internal height of 125cm. Its storage lockers may easily be prepared for the most diverse uses: the usual mooring lines and fenders, water toys, fishing and diving equipment, water sport gear (kite-surf, windsurf, kayak), or for optional placement of the Seakeeper stabilizer in the central section.
"Sherpa can be used both for day cruising or for very long-range cruising (ocean fishing and sightseeing). Thanks to her high
performance semi-displacement NPL hull – which offers significant savings in fuel consumption – and together with the additional fuel tank compartment, extended cruising capabilities are guaranteed," explains Arcadia Yachts.
"The new Arcadia Sherpa – with Volvo Penta IPS 600 engines – has a top speed of about 25 knots, with a cruising speed of 20 knots. At 20 knots, fuel consumption is apx. 97 liters per hour, and at 12 knots (top displacement speed), this decreases to about 43 liters per hour," added the shipyard.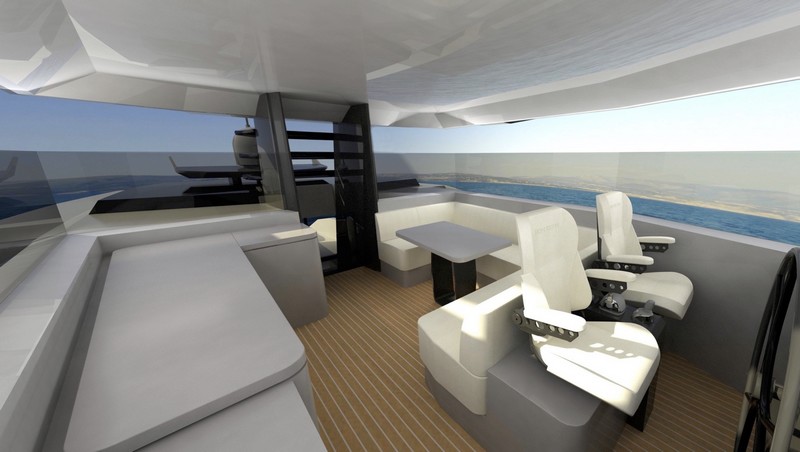 Solar cells of latest generation are integrated between the external and internal surfaces of double-glazed panels fitted on top of the largest part of the superstructure. This advanced and ecological system supplies enough power (3.5KW) to run equipment and electrical systems: refrigerators, water circulation, toilettes, lights, A/V, electronics, recharging batteries. Each double glazed panel contains a special gas named Krypton, which guarantees a high insulation coefficient, up to 18° of thermal cooling between interior and exterior temperatures, the equivalent of a 20cm brick wall.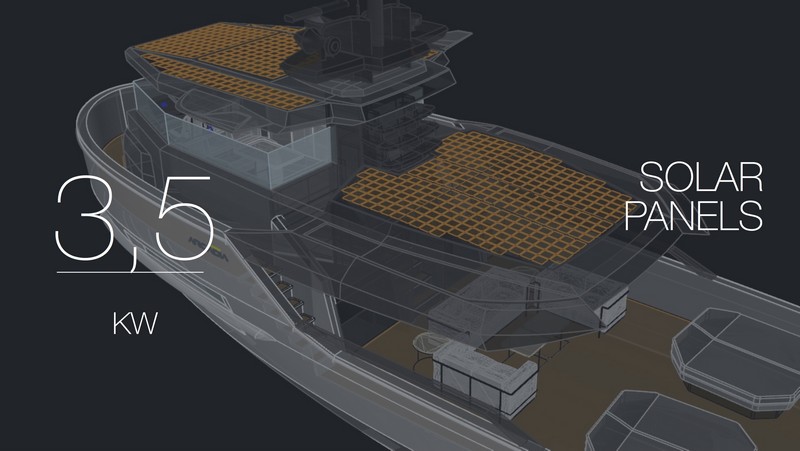 Take a closer look at Arcadia Sherpa motor yacht key facts:
– 16.80m LOA with an exceptional 5.50m beam
– Unexpected storage spaces – SHERPA's tender garage guarantees an unusual volume for this size yacht.
– AREA: 13 square meters / 140 square feet
– VOLUME: 7 cube meters / 247 cube feet;
– High efficiency NPL hull improved by new technical solutions adopted as the result of studies conducted in partnership between
Arcadia's technical department and Volvo Penta;
– Two different superstructures options: Open deck and Salon deck, for day cruising or long distance cruising respectively;
– Extremely flexible layout: one, two and three cabin versions;
– A 41 square meter (441 square feet) cockpit – the same as the Arcadia 85;
– Convertible Sport flying-bridge "easy-to-close" upper deck area with automatic up/down window system;
– At full displacement a speed of 12 knots, with a consumption of apx. 43 liters/hour;
– 3.5KW of solar panel energy;
– Waste water.
– Eco antifouling.