Spend your days with fins or fishing rod in hand, and live the life of a castaway.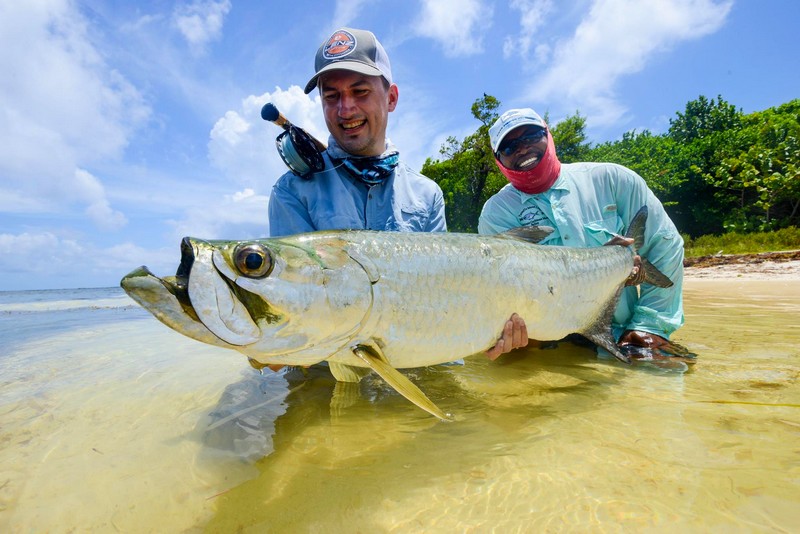 Turneffe Island Resort has had a long and interesting history and was originally the first offshore fishing lodge in Belize. Relaunched in 2001 under new family ownership as the Turneffe Island Resort, today's resort features three original buildings, an outdoor bar and pool, a string of private villas along its white sand shoreline and a helicopter pad.
Guests come to Turneffe Island Resort to cross something off their bucket list. Anglers can expect up to eight hours on the water every day, whether fly fishing
in the flats or spin fishing in the deep waters.
This month, Turneffe Island Resort debuts its relaunched hotel and resort offering adventure-seekers a personalized experience with unparalleled fishing, diving and snorkeling excursions. Spread across 14 acres, this hidden gem island at the southern tip of the Turneffe Atoll is 35 miles off the coast of Belize City and only 30 miles from the world-famous Great Blue Hole.
The resort specializes in customizable, all-inclusive fishing, diving and snorkeling packages for avid water enthusiasts. From the lengths of the saltwater Turneffe Flats to the depths of the Great Blue Hole, guests have easy access to Caribbean waters – and seasoned guides who grew up on the water of the centuries-old Turneffe Atoll channels, lagoons and reef.
The resort is known as one of the only places in the world where one can chase the elusive "Caribbean Grand Slam", catching a bonefish, tarpon and permit, all in one day. Guests can also fish for snapper, barracuda and jack for a truly unforgettable fish story. With born fishermen guiding the program, guests have landed their names in the International Game Fish Association (IFGA) record books season after season. Turneffe Island Resort is also pleased to announce a new fishing director, Greg Bicker, avid fly fish pro, to help guide the expanding fishing program at the resort.
The resort offers multiple dives per day with Professional Association of Diving Instructors (PADI)-certified guides, a weekly night dive and trips to one of the
deepest dives in the world, the legendary Great Blue Hole, a collapsed 1000-year old oceanic cave, where divers head 130 feet underwater. In between fishing, diving and snorkeling guests can enjoy kayaking, paddle boarding, swimming and sun bathing. It is also the perfect destination for foodies with the kitchen and bar staff serving fresh and local international cuisine and cocktail creations.