Match your perfume to the changing seasons! Guerlain unveils exclusive "Four Seasons" fragrance collection.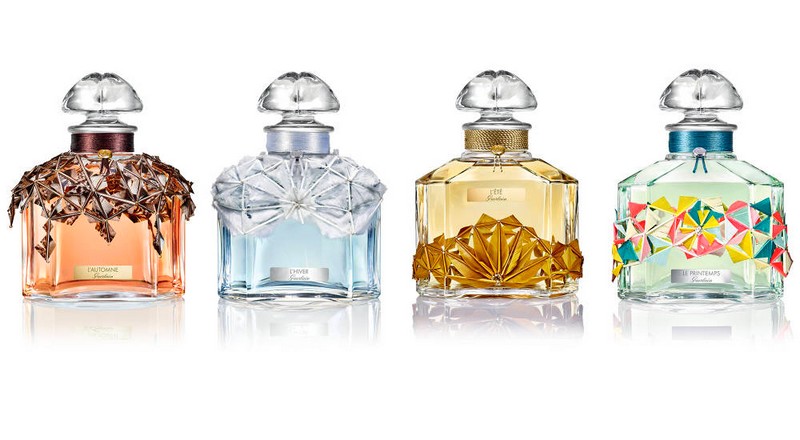 From winter to summer, the tone of the complexion changes. This is why Guerlain has created Terracotta 4 Seasons, a variation in four steps to sculpt the tan.
Inspired by this versatile palette with four buildable, matte shades for bronzing and contouring, the French beauty house is launching exclusive "Four Seasons" fragrance collection. A limited edition of just 20 signed and numbered bottles has been crafted for each season.
The new perfume collection of four fragrances was created by Thierry Wasser, Guerlain Master Perfumer. Each scent is inspired by a season and contained in a precious Quadrilobe bottle in Baccarat crystal and embellished by textile designer Janaina Milheiro.
Like a character from a Russian fairy tale, "L'Hiver" (winter) perfume wears a coat of white feathers. The olfactory landscape is a woody musk. "Le Printemps" (spring) is a vibrant musky green floral with a garland of exuberantly colorful flowers encircling the bottle. A feather sun in honeyed tones embraces the bottle of "Ete" (summer), a sunny floral fragrance. And finally, the feathers transform into a swirl of dead leaves before falling onto the bottle of "L'Automne" (autumn), a fresh woody fragrance.
The jewel-like bottles are decorated with a satin cord hand-tied by Guerlain's "Dames de Table" artisans. Janaina Milheiro has decorated each precious bottle to better magnify the unique scent it contains. Her poetic jewels were made using a "feather beading" embroidery technique, creating an effect both majestic and airy.