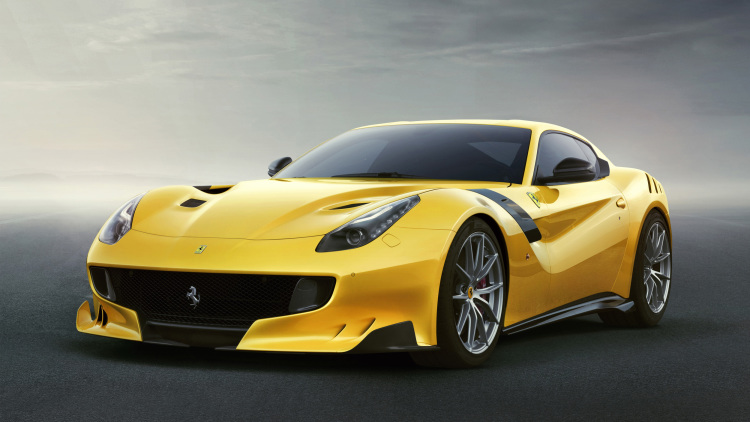 Ferrari revealed the F12tdf which pays homage to the Tour de France, the legendary endurance road race that Ferrari dominated in the 1950s and '60s, particularly with the 1956 250 GT Berlinetta which won four consecutive editions. Ferrari says that the F12tdf is the ultimate expression of the concept of an extreme road car that is equally at home on the track, and just 799 will be built.
The F12tdf's performance is assured by the 780 cv, naturally-aspirated V12 derived directly from the F12berlinetta's multi- award-winning engine. The car's exhilarating dynamic behaviour, specifically its lateral acceleration in corners, is due to an 8% increase in the ratio of the front tyres compared to the rear ones. The car's natural tendency to oversteer as a result of the change in tyre sizes is compensated for by the innovative rear-wheel steering system – known as the Virtual Short Wheelbase, which is integrated with the other vehicle dynamic control systems.
A radical redesign of the bodywork, interior, engine, transmission and running gear, along with the abundant use of carbon- fibre inside and out, has slashed 110 kg off the car's overall weight.
The car produces 0-100 km/h in 2.9 seconds and 0-200 km/h in 7.9 seconds in addition to a substantial boost in lateral acceleration. The F12tdf laps Fiorano in just 1'21".