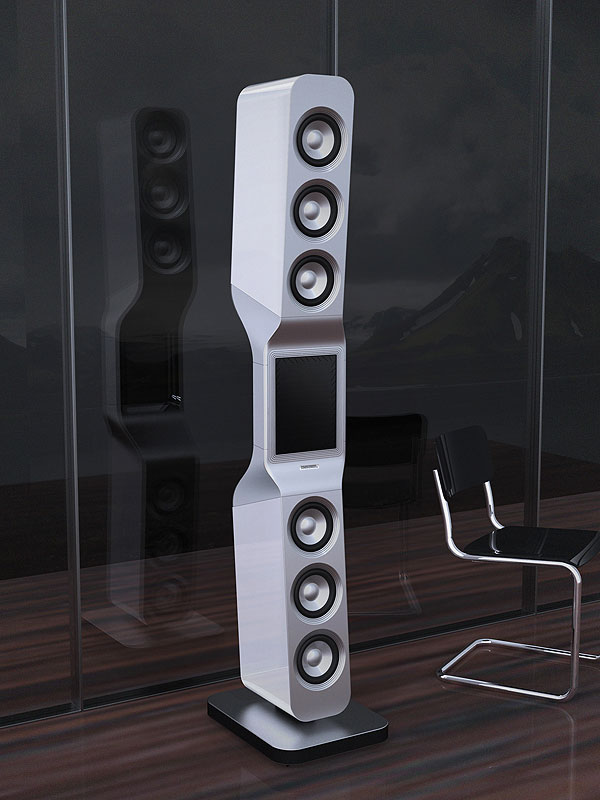 Göbelannounces a new reference-class loudspeaker series: "Epoque" is the first Göbel standing loudspeaker series from the small specialist workshop in the west of Munich (Germany) that unifies the self patented Göbel bending-wave loudspeaker and a sophisticated low-frequency device into a single housing.
Form follows acoustics: The appearance of the new standing speakers is the result from a close cooperation with the product designer Christoph Gredler from the innovative agency "inflo".
Like with every Göbel High End loudspeaker series, the heart of the Epoque Reference remains the wide-range, Göbel bending-wave loudspeaker, with its nine-layered wooden membrane and precise, laser-cut incisions.
In order to achieve an almost homogeneous stimulation of the room modes within the low frequency range, the Epoque Reference is furnished with twelve, custom-built 6.5 inch long-throw subwoofer-chassis in an impulse-compensating set-up. All of the emitting sound devices on the frontside focus exactly the listening position and provide an utmost precise hearing impression. Due to the particular array of the rearside emitting low-frequency devices, a smooth transition of the bending wave loudspeakers broad frequency range to the low frequencies of the subwoofers is guaranteed. Click here for the online version of Göbel's newst catalogue.
Look at the technical details:
Principle:
bending wave loudspeaker with impulse-compensating passive radiator
Driver: patented Göbel® bending wave driver,
4 aluminum longthrow chassis (18 cm),
8 aluminum passive radiators (18 cm);
Housing:
acoustically optimised composite board,
massive accoustic baffles (15 mm aluminum),
middle element made of massive aluminum.
Finish:
brilliant white and aluminum parts anodised in natural semi gloss or
brilliant black and aluminum parts anodised in black semi gloss.
Weight: 190 kg
Dimensions: base: 39,2 (W) x 50,4 (D) cm.total height: 201 (H) cm
Impedance: 4 Ohm.
Efficiency: 86 dB / 1 W / 1 m.
Frequency response: 28 – 31.000 Hz.
Dispersion range:
180° frontside: 28 – 31.000 Hz
rearside: 28 – 4.000 Hz.
[adsenseyu1]