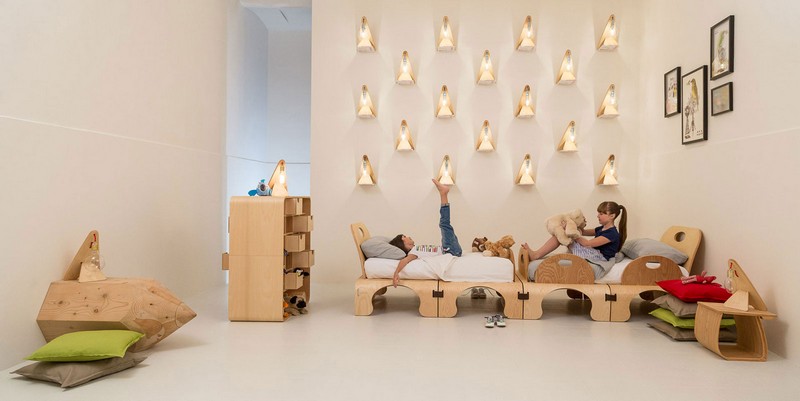 A 100% environmentally-friendly furniture collection – with PEFC certified wood, low-emitting formaldehyde adhesives, and no plastics or iron. This is the signature of the Italian high-end brand Flowerssori, recognised by the Chiaravalle Montessori Foundation, for its Montessori accredited furniture, by the ADI DESIGN INDEX Prize in 2013 and nominated for the industrial design award Compasso d'Oro in 2014, better known as the Oscars for design and industrial designs Made in Italy.
In the dynamic and modern setting of 2016 Pitti Bimbo fair, the brand featured some of its more distinctive work: its latest textile creations in organic cotton and lambswool; a new bookcase and the bed that grows with baby.
Nothing is left to chance and everything starts from a careful study of ergonomics. The curved parts were specially designed for the child to lean over the tummy when he is tired. The legs of the table and of the chairs are curved inwardly to facilitate the movement actions of the baby. Tables, chairs, stools and furniture have a double color of the wood to enhance the three-dimensional concept and turn it into an immediate and understandable perception.Everything is designed for the relaxation of the child; the more the child is concentrated, the higher will be its level of learning.
"What makes Flowerssori a unique proposal on the market is not only the entirely made in Italy soul, the totally ecological and natural approach and the complex ergonomics of the full-range of its products. The main value of it consists especially in the certification of the Chiaravalle Montessori Foundation, which was obtained thanks to the close and long collaboration with the Foundation itself," explained Flowerssori team.
Iron and plastic? No thanks! "Even the glues used are very low in formaldehyde for an extremely high ecological proposal. Moreover, all the elements of the Flowerssori line are 99% antibacterial finishing and have been certified by CATAS (Centre for Research, Development and Laboratory Tests in the Wood Furniture Field) of San Giovanni al Natisone (UD-I) in accordance with the latest European standards regarding school furniture," added Flowerssori.
Pitti Bimbo 82 was also the perfect occasion for Flowerssori to introduce two new projects: the first was the official launch of the project developed around Kit Pappa FeliceMente, a porcelain dinner set dedicated to baby and mealtimes. This project is the result of the collaboration with "Artex" – "Scenari di Innovazione" and the young and very talented designer Miriam Gardelli. The second project is the collaboration with the internationally-acclaimed Michelin star chef, Mauro Uliassi.