Played with 144 ceramic tiles based on Chinese characters and symbols, Mahjong is an  extraordinary game of great skill, strategy, and patience.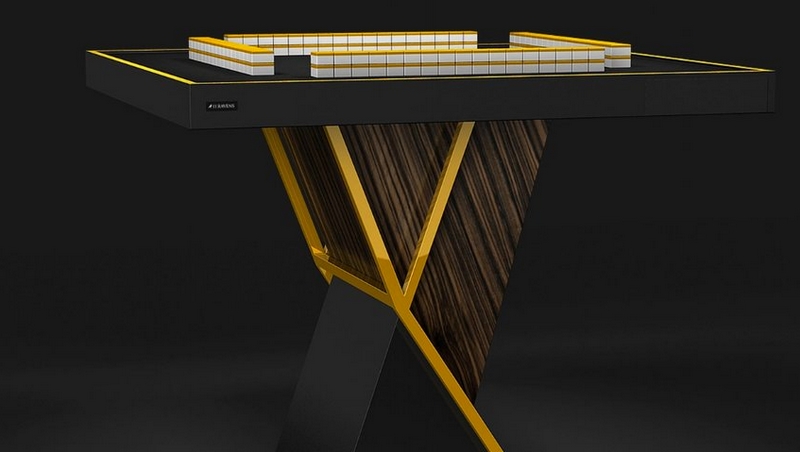 In celebration of Lunar New Year, luxury lifestyle brand, 11 Ravens, has unveiled a new game – Mahjong – to its collection of elite contemporary tables. Christened 'Macan,' this new Mahjong table features a base of high-grain ebony macassar wood bordered with aluminum bars finished in
gold leaf. 11 Ravens is a Los Angeles-based lifestyle company that designs and manufactures objets d' art for sport and leisure. Their luxury game tables include table tennis, billiards, shuffleboard, poker and mahjong. Each table is hand-made and created by skilled artisans in order to deliver a high-performing game experience with a sophisticated aesthetic.
Mahjong, a tile-based game that originated in China during the Qing dynasty, is commonly played by four players. The game and its regional variants are widely played throughout Eastern and South Eastern Asia and have a small following in Western countries. Similar to the Western card game rummy, Mahjong is a game of skill, strategy, and calculation and involves a degree of chance.
The Macan luxury table is fully customizable. Macan Mahjong table is available with or without an auto shuffler. Price begins at $12,000.
11 Ravens knows the benefits that table tennis brings to the lives of players – amateur and professional – from a rich social experiences to aerobic benefits. Research has even shown its valuable impact individuals afflicted with early stage Alzheimer's, a cause that 11 Ravens is committed to serving by giving a portion of its proceeds to support research for the disease through SAEF.US Table Tennis Therapy Program.