THE GAME HASN'T CHANGED… BUT THE PLAYING FIELD HAS.
The Limited-Edition "Avettore" ping pong table Starting at $26,000.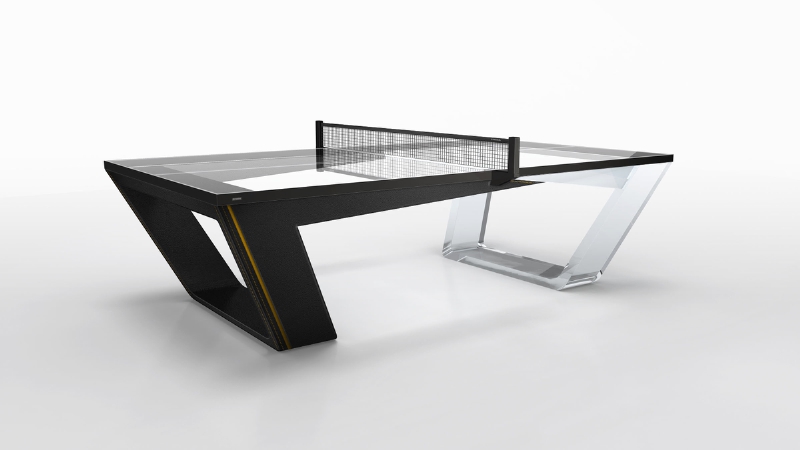 A striking statement piece will effortlessly enhances any home, office or retail space. This jet-inspired Avettore is a ping pong table that can transform to a chic dining table or an additional billiard unit. Introduced by Los Angeles-based lifestyle company 11 Ravens, a specialist in luxury table tennis design, the customizable luxury table is available in numerous color/material combinations like black leather and lucite.
The designer house recommends supersonic white with gray top or wood finish with accent colors of striking orange or vibrant lime green. However, ten limited edition black leather-and-lucite models are also available. For outdoor use, The Avettore Teak is dressed in teak and features marine finishes. The playing surface uses the company's proprietary scratch-and-damage-resistant melanin resin surface that enhances a player's performance. Each table is hand-crafted from sustainably harvested wood. Reclaimed wood models are also available.
"The fluidly and aerodynamic nature of the lucite creates a movement to this piece of art, while the leather accents reinforce stability and ground the model as a centerpiece in any setting. This visual juxtaposition is the ultimate contemporary showpiece for your home. The Avettore Table is also available in solid wood with your choice of species and color accents," explains 11 Ravens.
11 Ravens knows the benefits that table tennis brings to the lives of players – amateur and professional – from a rich social experiences to aerobic benefits. Research has even shown its valuable impact on individuals afflicted with early stage Alzheimer's, a cause that 11 Ravens is committed to serving by giving a portion of its proceeds to support research for the disease through SAEF.US.
The Avettore ping pong and billiard table is priced between $26,000 and $48,000.