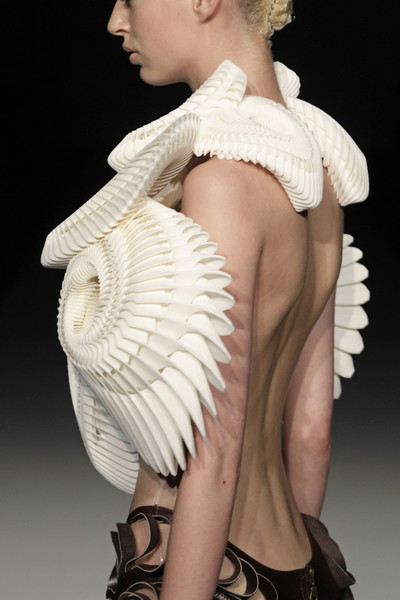 Dutch Haute Couture designer Iris van Herpen is the winner of the 24th edition of the French ANDAM Fashion Awards. Iris van Herpen won the prize of €250.000, a dedicated workshop in the Swarovski showroom, a collaboration with thecorner.com, and, most important, a year of mentoring from Kering CEO Francois-Henri Pinault.
"I am thrilled to be presenting this year new selection of talents. Thanks to the ANDAM Fashion Award, one of them is bound to become a French company. This brand will become an official actor of the prestigious Paris fashion scene, participating to its international leadership." said Nathalie Dufour, director of ANDAM.
In addition to the 250K euros ANDAM Award, Iris van Herpen will benefit from:
Mentorship for two consecutive seasons by François-Henri Pinault, chairman and CEO of Kering , who will advise the winner in his or her creative, corporate and commercial development,
An exclusive collaboration with the luxury online boutique thecorner.com,
The support of Hudson's Bay Company, Canada's leading department store, which pledges to buy the winning Spring-Summer 2015 collection,
An in-kind donation from Swarovski of 10K euros worth of crystals to be used within the year following his/her fellowship.
The seven 2014 finalists for the ANDAM Fashion Award 250K euros (Major Award) were: ETUDES STUDIO, RAD HOURANI, JEAN-PAUL LESPAGNARD, FAUSTO PUGLISI, STEVEN TAI, IRIS VAN HERPEN, and YIQING YIN.
All the seven finalists of the ANDAM Fashion Award will be offered by:
MAC Cosmetics, assistance for the promotion of the nominees image and notoriety through in-kind make-up support both backstage during Fashion Week as well as makeup artistry and product for other collections, look books and various events throughout the year,
Fashion GPS, a one-year digital and technological consultancy. The winner will benefit from the personal advices of Eddie Mullon, CEO, regarding the development of his/her communication tools and optimization of his/her technological processes,
thecorner.com, the luxury online boutique, will offer, for the third edition, the Andam Fashion Award finalists a concrete opportunity to develop their brands, thanks to a front-rank window to present their FW 2014/15 collections globally, starting from the end of September 2013,
Swarovski, a dedicated workshop in the Swarovski showroom to discover their products diversity and the creative possibilities crystals offer for a collection.