SIHH 2011 was a perfect occasion for Jaeger-LeCoultre to present the hollywood actress Diane Kruger as the new face for Le Sentier-based watch brand. Diane Kruger and Jérôme Lambert , CEO of Jaeger-LeCoultre officially presented the new Reverso Ultra Thin Lady Thin watch.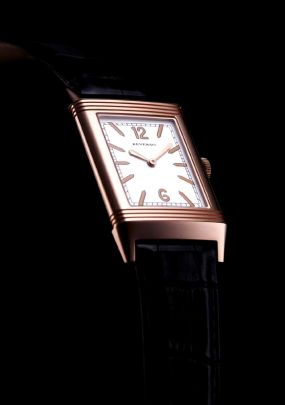 During her visit at SIHH 2011, Diane Kruger explained at the press conference that her mother had given her a Jaeger-LeCoultre Reverso with a personal engraving on the flip side for her eighteenth birthday, which she continues to cherish to this day. "I don't wear it often for fear of breaking it," she remarked with a smile.
Kruger explained that she currently loves to put the Reverso Squadra Lady on her wrist for everyday wear before going on to talk about her first visit to the manufacture's factory building in Le Sentier this past fall. "Experiencing the manufacture made me richer," she said.
Kruger seems to be for Jaeger-LeCoultre the "perfect incarnation" for the "timeless" sense of the eightieth anniversary of the design icon: the Reverso by Jaeger-LeCoultre.
The Reverso watch is a legend in movement. Jaeger-LeCoultre patented Reverso in March 1931. 80 years later, the Reverso has risen from being a watchmaking icon to that of a cult, where each owner has the possibility of personalizing his or her watch, making it unique.
In 2011, Jaeger-LeCoultre will once more surprise and amaze Reverso afficionados with the Grande Reverso Ultra Thin, Grande Reverso Duoface, Reverso Répétition Minutes à rideau and Grande Reverso Lady Ultra Thin; four brand-new watches that cultivate the roots of this legendary watch, while totally rethinking its technical and esthetic characteristics.
There have never been as many ways to personalize the Reverso as there are in 2011, the watch's 80th anniversary. The reversible case can be decorated with initials, a name, a word, numbers, symbols, a drawing, a portrait or any other design, from the simplest to the most complicated: today, anything is possible thanks to the expertise of Jaeger-LeCoultre's artists. 
Never before has Jaeger-LeCoultre desired so strongly to offer Reverso owners a place in the history of the watch and of the brand.
In customizing their Reverso, each owner adds a line to the legend. And now, all those wishing to do so, can share their inspiration with other Reverso lovers through a virtual museum on the Jaeger-LeCoultre website: www.Jaeger-lecoultre.com.