Alexander McQueen's iconic skull-print scarf celebrated with Damien Hirst capsule collection.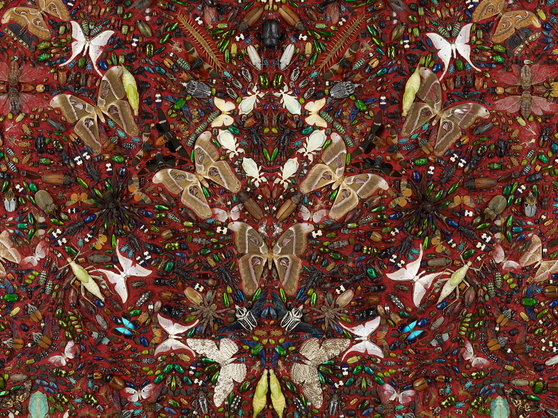 To celebrate the 10th anniversary of McQueen's iconic skull scarf, 30 different designs of a limited edition scarf will be exclusively produced.
The Alexander McQueen skull scarf was first seen in the Spring – Summer 2003 Irere collection and since its launch has become a signature accessory of the Alexander McQueen luxury fashion house. The collaboration between the iconic British artist and fashion house will see the production of 30 one-off designs, each adapted from Hirst's Entomology series.
Originally inspired by Dante's Inferno, the series forms the basis of the exclusive designs in which butterflies, spiders and other insects form kaleidoscopic geometric shapes, laid out to create the signature McQueen skull motif.
'The collaboration seamlessly plays on the shared aesthetic vision of Hirst and McQueen, in which an interest in symmetrical design is combined with strong references to the natural world,' said the official statement.
The scarves are available in Chiffon, Pongé, Twill and Cashmere. All 30 designs are limited and will be available from mid-November at Alexander McQueen stores worldwide and from the scarf boutique of alexandermcqueen.com.