Palazzo Donà Giovannelli, located just a few meters from the Grand Canal, is a Venetian Palace that dates back to the XV° century, and is for sale.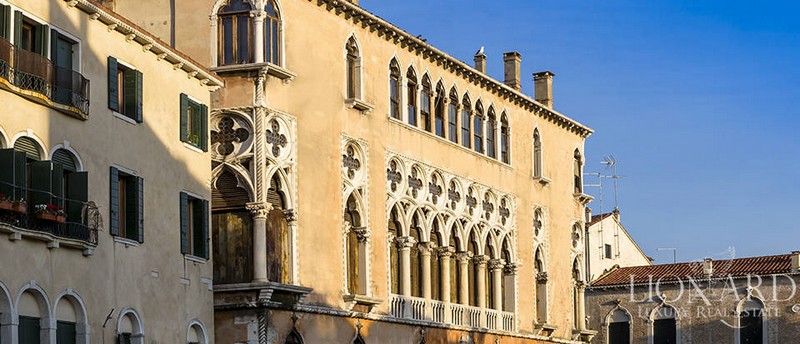 Palazzo Donà GiovannellI is a marvellous estate in Venice. Located in the centre of the city, a few metres from Canal Grande, built between the 15th and 16th centuries and owned by famous noble families from Venice and beyond: in 1538, it was gifted to Francesco Maria della Rovere, duke of Urbino, who made his home here.
Being located at the confluence of two streams, it has two façades: the main one is an imposing and spectacular Late-Venetian-Gothic front; the second is 40 metres long and features a mix of different periods.
The rooms of the Donà Giovannelli, adorned with stuccoes and paintings, were once home to one of the most famous and mysterious works in the history of art: Giorgione's The Tempest. It has arrived here in 1875, when Venetian Prince Giuseppe Giovannelli bought it from the Manfrin noble family, paying it 127,000 liras and "snatching" it from Berlin's Museum, which had offered the same price but were not able to seal the deal due to a late payment.
The painting stayed in the prince's home for sixty years, until the family's low wealth forced them to sell it to The Italian State for 5 million liras. From then on, The Tempest has hung in the Gallerie dell'Accademia.
Today, this wonderful palace is one of the properties sold by Lionard Luxury Real Estate, leading company in the Italian luxury real estate market.
A monumental door leads to a central courtyard with the historic five-storey palace built around it; it measures 6,125 sqm overall and has over 700 sqm of gardens, porticoes and courtyards. An octagonal staircase leads to the upper floor, including the "piano nobile", which was once home to Prince Giovannelli and which, measuring 1,300 sqm, is the biggest in Venice.