Four Seasons Resort Costa Rica at Peninsula Papagayo Announces $35 Million Resort Re-Imagination with December 2017 Debut.
Peninsula Papagayo is located 30 minutes from Liberia International Airport, which offers more than 100 weekly flights seasonally from major cities in the U.S., Canada, U.K. and across Central America. It is home to 11 miles of dramatic coastline, eight miles of majestic bluff edges, seven sandy beaches and one of the few tropical dry forests on the planet.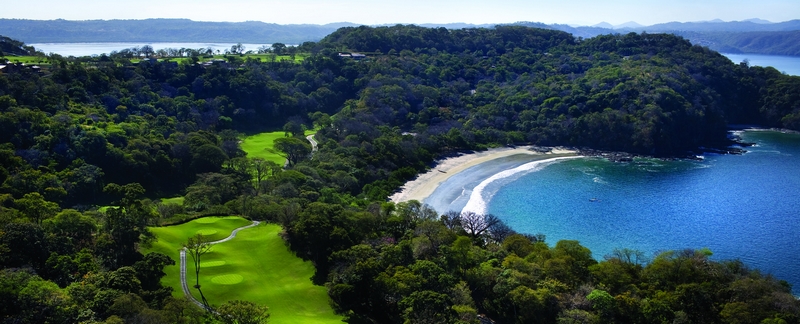 Latin America's premier residential and resort destination will undergo initial capital improvements project as part of major transformation featuring renovated Four Seasons Resort Costa Rica, first-ever Peninsula Amenities, expansive network of Nature Trails and only-here explorations.
Gencom, a leading Miami-based international luxury hospitality and residential real estate investment and development firm, today announces a more than USD 100 million investment toward a major transformation of Peninsula Papagayo, a 1,400-acre premier residential and resort destination in the Guanacaste province in northwestern Costa Rica. Beginning in December 2017 with the debut of the re- imagined Four Seasons Resort Costa Rica, this investment will signal the launch of a long-term plan to connect and celebrate the sprawling peninsula from end to end for the first time, bringing an unprecedented new level of meaningful eco-luxury and transformative experiences to the Americas.
With the completion of this upcoming capital improvements project, homeowners, resort guests and visitors to Costa Rica will experience the natural wonders of the 1,400-acre biodiverse peninsula through a combination of new builds; major enhancements including the multi-million renovation of Four Seasons Resort Costa Rica; first-ever Peninsula Papagayo amenities; transformative only-here explorations; and an ongoing focus on sustainability and wellness including a peninsula-wide network of more than eight miles of nature trails designed to integrate man and nature and help preserve one of the most extraordinary biological corridors on the planet.
"The momentous enhancements underway at Peninsula Papagayo are significant not only to Costa Rica's flourishing tourism industry that is important to the economy, but to the country's position as a thought-leader in the preservation and celebration of the native landscape and authentic local culture," said Manuel Ardon, chief operating officer of Peninsula Papagayo. "As a native Costa Rican, I am very grateful that the vision for Peninsula Papagayo will bring more travelers from around the world to discover the peninsula's 1,400 acres of incredible biodiversity and eco-rich land."