Rosewood Papagayo, Costa Rica To Open in 2019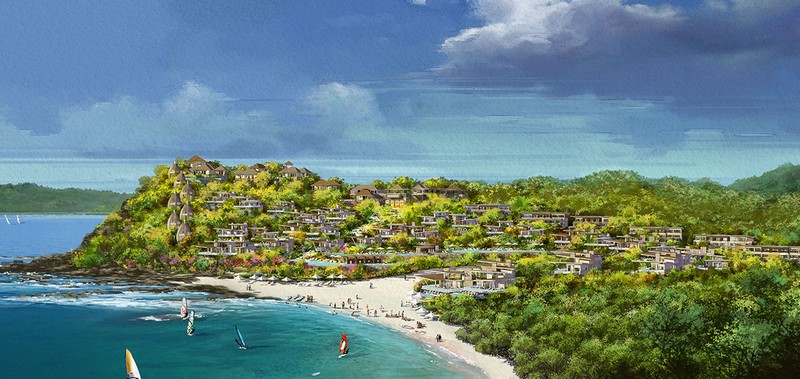 Global expansion by Rosewood Hotels & Resorts continues with Rosewood Papagayo – the first luxury resort in Costa Rica, the most popular destination of Central America. Costa Rica tourism cruised past another milestone in 2015, attracting a record-breaking 2.66 million tourists from around the world in 2015.
Located just 20 minutes' drive from Liberia International Airport, Rosewood Papagayo luxury eco-resort will be nestled into the hillside which gently cascades down to a golden-sand beach and the azure waters of the Pacific Ocean. Guests will enjoy panoramic views over the surrounding jungle canopy and the Gulf of Papagayo.
Situated within a forested setting, the resort will offer 180 accommodations including 130 guestrooms and suites in addition to 50 residences. The accommodations are designed to make the most of the natural surroundings, with features such as open-air living rooms, large terraces and plunge pools. The suites will include seven two-storey treehouses whose striking, contemporary design will bring a sense of delight and romance.
Designed and built by Dallas-based architects, HKS, Rosewood Papagayo will be in keeping with Rosewood's core philosophy of A Sense of Place and will use indigenous materials and locally inspired artwork throughout the property. The resort will have direct beach access and two swimming pools in addition to a fitness center and the brand's signature Sense, A Rosewood Spa. Dining options will include a poolside bar and grill, a restaurant offering informal all-day dining, a bar and a specialty restaurant. The resort will also offer a total of nearly 1,100 square meters of event space including a ballroom with a large outdoor terrace.
Rosewood Luang Prabang to open 2017
Rosewood plans an expansion in Laos. The luxury hospitality group will open Rosewood Luang Prabang in 2017 as a luxury tent and villa encampment located a 10-minute drive from the historic city of Luang Prabang, a UNESCO World Heritage Site in Laos. Epitomizing Rosewood's A Sense of Place philosophy, the resort will be completely immersed within a virtually untouched natural environment.
Rosewood Luang Prabang will offer 22 spacious deluxe villas, garden villas, private pool villas and luxury tents with features such as open-air showers, tubs and living rooms. The 100-square-meter luxury tents, with their own private dining areas and wrap-around decks, will be a first for Rosewood.
There will be two dining options – a bar and a bistro serving French and Laotian cuisine. The arrival manor will also house the brand's signature Sense, A Rosewood Spa.