A limited edition collaboration from Ombra Di Pantera & Mister E unveiled at Art Basel Miami 2017 (Miami Beach. December 7 – 10, 2017). Encased in a golden box, Cuvée Mister E is an ideal gift for the art enthusiast.
Ombra Di Pantera is bringing Italian luxury and vibrant artistry to life with the launch of Cuvée Mister E Edition Brut. The limited edition bottle is a collaboration between Ombra Di Pantera, the super-premium DOCG Prosecco brand and Mister E, the contemporary Miami-based artist known for his interpretation of US currency. The two have partnered to debut a unique and vivid bottle. Cuvée Mister E is a collector's item, with only 3,000 bottles designed by Mister E, and will be displayed for the very first time at the artist's exhibit, The Silver Factor-E, during Art Basel Miami 2017. The limited edition bottle can be purchased for a suggested retail price of $100.
Cuvée Mister E is created using superior Glera grapes from the delicately cultivated Conegliano vineyard. This product is carefully created 'in bianco' to capture the delicate sparkle of a very fine and fruity bouquet. Dry, fresh and light in the mouth, Cuvée Mister E is soft and well balanced, with good aromatic length and a memorable, fruity finish.
"I always want my artwork to make a statement and allow people to think about the world in a different way" said Mister E. "I was inspired by the confidence and craft of Ombra Di Pantera and thus created a colorful and vibrant bottle for drinkers to not only enjoy but to be a visual experience they'll never forget."
Visit Mister E's exhibit, The Silver Factor-E at The Delano South Beach through Sunday, December 10th for a first look and taste of the limited edition product.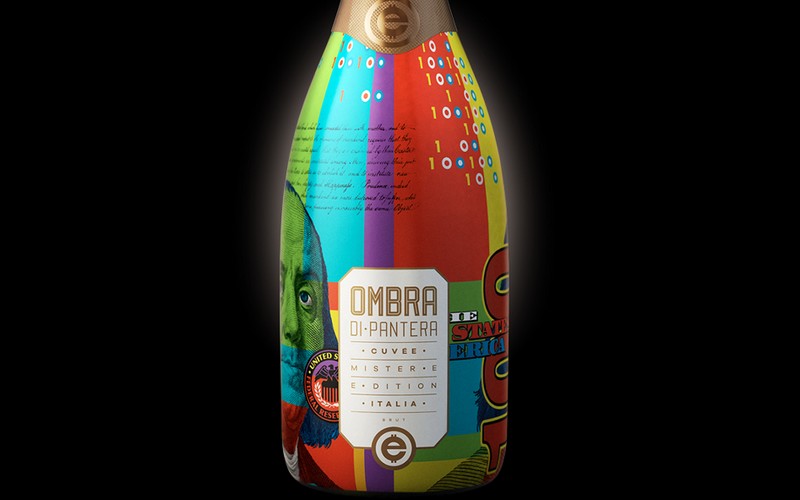 About Art Basel Founded in 1970 by gallerists from Basel, Art Basel today stages the world's premier art shows for Modern and contemporary art, sited in Basel, Miami Beach and Hong Kong. Defined by its host city and region, each show is unique, which is
reflected in its participating galleries, artworks presented, and the content of parallel programming produced in collaboration with local institutions for each edition.
At the nexus of North America and Latin America, Art Basel in Miami Beach presents artworks from across the globe. Over 250 of the world's leading art galleries participate drawing over 70,000 visitors each year, offering an exciting and inspiring week for artists, collectors, curators, critics and art enthusiasts.