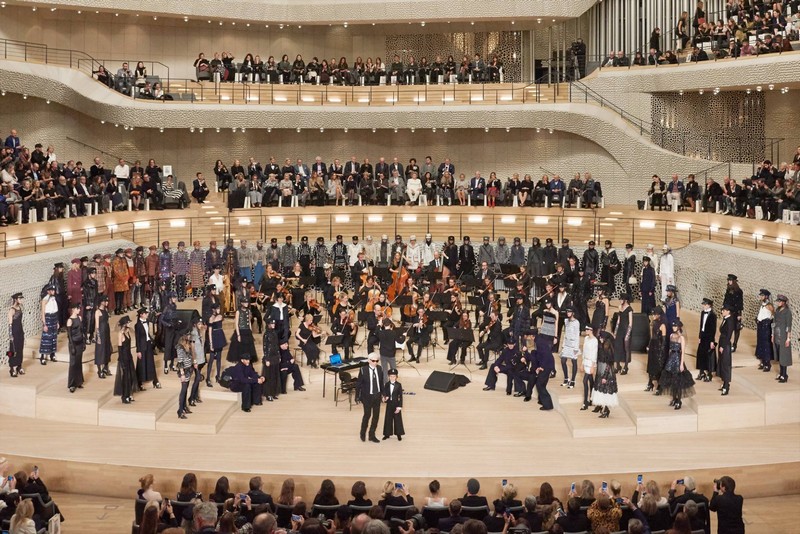 CHANEL's Métiers d'art are a constantly reinvented tradition that combines exacting standards with bold innovation. They are a constellation of workshops offering exceptional craft skills. The workshops include Lesage, Massaro, Barrie, Lemarié, Desrues, Lognon, Goossens, Maison Michel, and so on.
The Métiers d'art collection, presented in the port of Hamburg, pays tribute to the exceptional skills of the embroiderers, milliners, featherwork experts, and bootmakers behind CHANEL's creations. Karl Lagerfeld brings a feminine touch to traditional male sailors' outfits creating a new, plain, streamlined look. Striped jerseys, reefer coats, flap-fronted trousers, caps and duffel bags are all borrowed from on board and combined with CHANEL codes.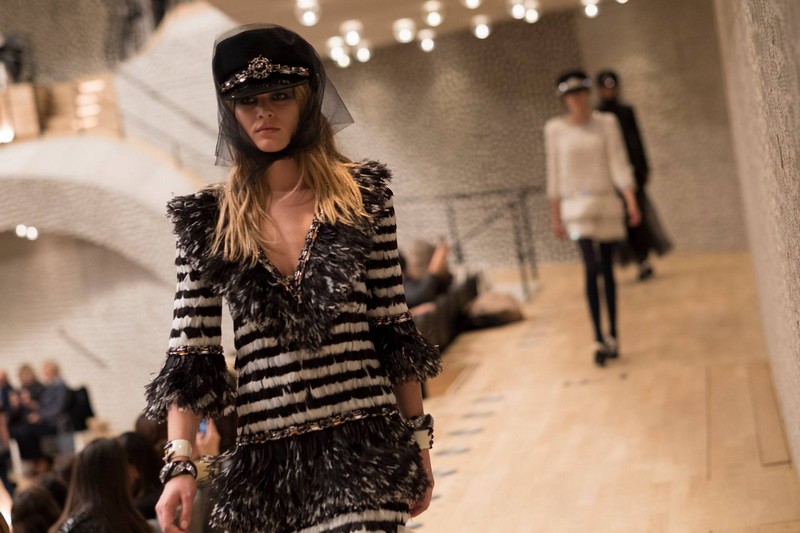 "With their jaunty caps, naval jackets and seafaring sweaters, Chanel's sailors and their sweethearts descended the levels of Hamburg's modernist concert hall, as if from a ship's deck to its saloon," wrote Suzy Menkes for Vogue.
The designer explained for Vogue the process of his inspiration, which started with the ship-shaped Elbphilharmonie on the waterfront in Hamburg.
"I like the idea of the city; it's beside me yet at the same time it does not influence my life – but it exists," Karl says. "Madame Chanel herself may have gone to Berlin, but never to Hamburg. I chose Hamburg because of the concert hall. I think it is the most interesting new building in Europe in terms of design, and that Herzog & de Meuron (the Swiss architects) are geniuses."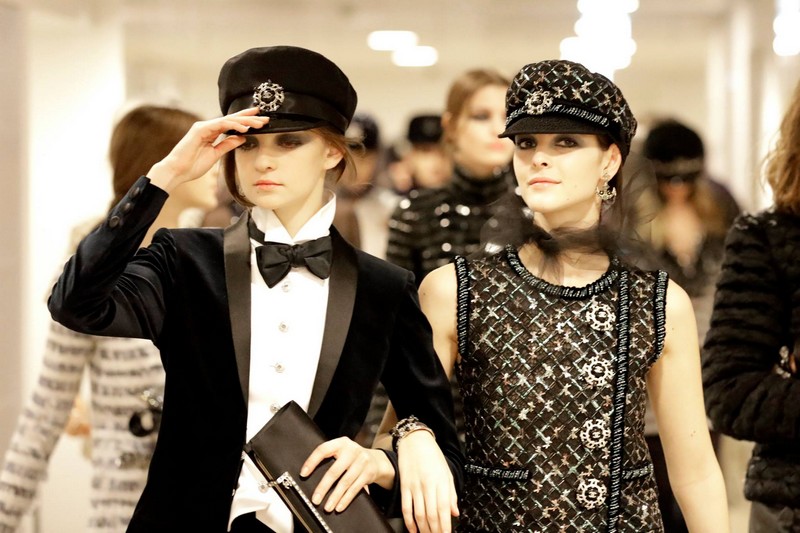 LESAGE
The deft-fingered embroiderers of Maison Lesage are the guardians of an enduring, unique craft that has been passed downthrough the generations for almost 160 years, enhancing the Métiers d'art collections. Rhinestone, ribbons, beads and cabochons create exceptional patterns, trompe l'oeils, reflections, textures, illuminations, and hues that illuminate the fabric and cut of garments from CHANEL's own ateliers.
Maison Lemarié, which began working with feathers in Paris in 1880 and expanded to produce artificial flowers in 1946, is now at the heart of Karl Lagerfeld's designs and also works with many other fashion Houses. Working with feathers and flowers offers
an infinite range of potential textures and patterns, requiring ingenuity and technical flair.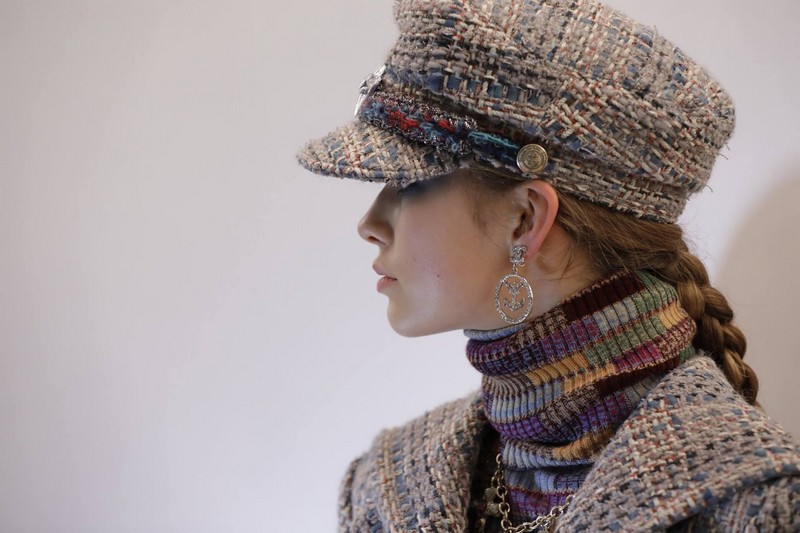 The master bootmaker creates Karl Lagerfeld's designs that enrich the stylistic vocabulary of CHANEL by constantly seeking out new shapes and materials. The Massaro workshops offers expertise in a number of crafts demanding a high degree of technical skill, allowing endless possibilities in terms of design.
LOGNON
The Maison Lognon allies traditional craft skills and digital technology in its cutting-edge techniques. Its deft-fingered experts create elaborate interplays of volume in flat expanses of fabric in a highly demanding process that requires painstaking accuracy and detailed knowledge of the characteristics of each material. Perfect pleating takes unspoken coordination and perfect fingertip synchronisation from two pleaters working together.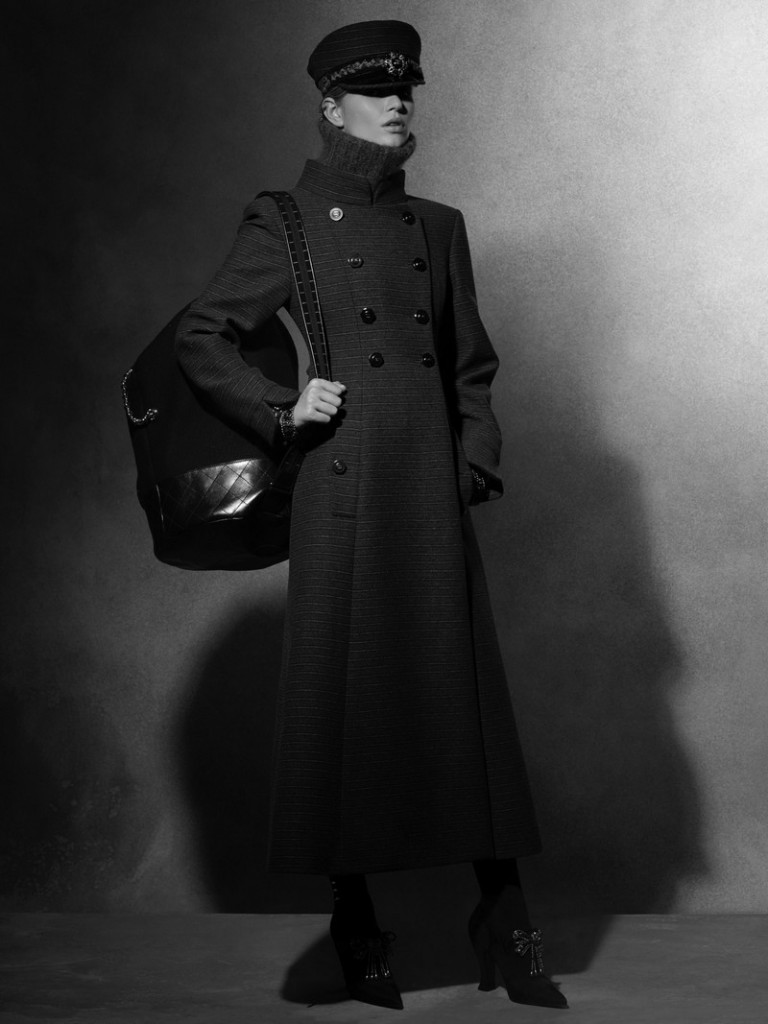 DESRUES
Desrues produces some four thousand buttons a day to adorn CHANEL designs. The buttons and jewelry specialists Maison Desrues create unusual bespoke pieces to designs by Karl Lagerfeld, from cuff bracelets and fingerless gloves set with stones to beads on long necklaces or stitched by the hundred on every inch of a garment.

MAISON MICHEL
Maison Michel complements and counterpoints Karl Lagerfeld's collections with its hats, which regularly accessorize CHANEL looks. Boaters, half-veils, caps, and knit caps all offer a new twist on a wide range of classic headwear, in multiple variations interpreting the codes of the House.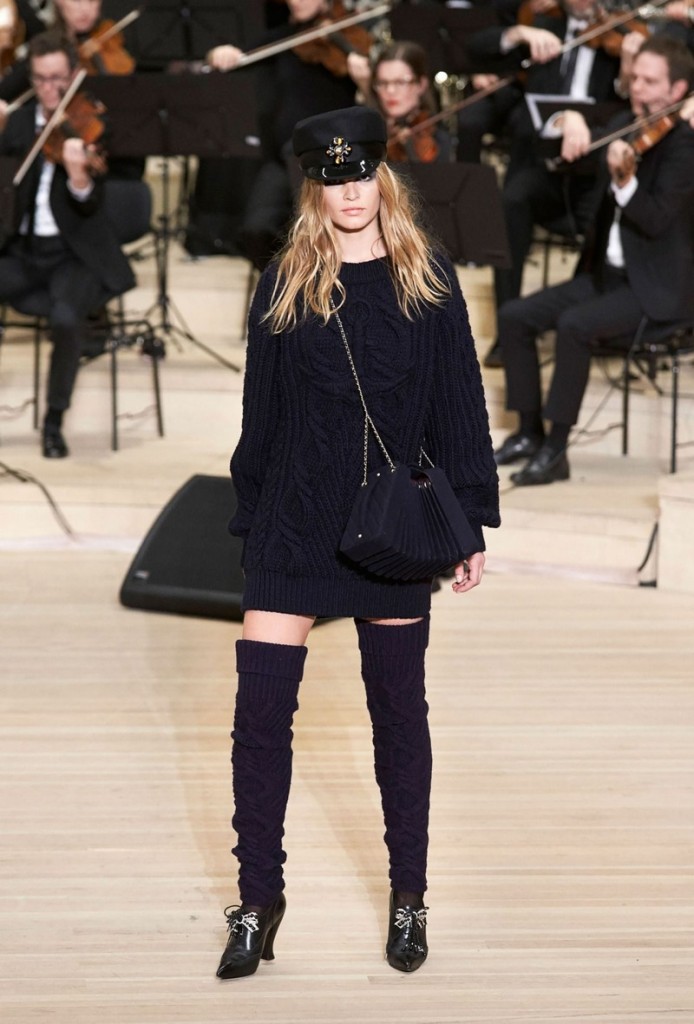 BARRIE
The Barrie knitwear mill in the small town of Hawick, Scotland, joined CHANEL in 2012. The Maison Barrie's soft-hued palette offers a range of exclusive colors for the Métiers d'Art collections. Its spools in various sizes give an exceptional quality of yarn,while a production method requiring painstaking accuracy and dexterity, makes the cashmere soft yet strong, giving a knit of outstanding quality. A highly qualified workforce with a skillset that is now rare makes Barrie cashmere knits a true luxury.