CFDA/VOGUE Fashion fund prize winner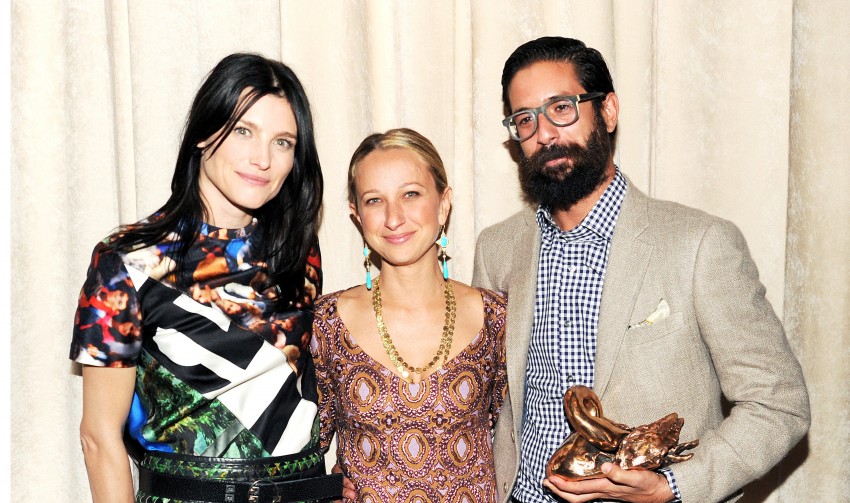 Joseph Altuzarra admits that even though his tenure as the 2011 winner of the Council of Fashion Designers of America (CFDA)/Vogue Fashion Fund will end shortly, he doesn't exactly see himself as stepping down. "I love welcoming new people to the club! Once you win, you get to keep the crown forever." The top prize of $300,000 goes to Greg Chait, designer of the knitwear label the Elder Statesman, a line that, like its creator, manages to be both elegant and modest. "This means the world to me."
Burberry chief creative officer Christopher Bailey gave the keynote speech at the awards, which were held at Center548 in Chelsea, New York City. Bailey spoke movingly about his upbringing in Yorkshire England and his journey in fashion to arrive at his current position as the chief creative officer of Burberry. He was joined by actress Emma Stone, who presented the awards to the winners.
Additionally, the Greg Chait of The Elder Statesman and runners-up (Tabitha Simmons & Jennifer Meyer Maguire) will receive cash prizes—$300,000 for the winner and $100,000 for each of the runners-up. The cash awards are designed to encourage and enable these emerging designers to pursue their design plans. The program has now granted $2.8 million in total to twenty-four design companies, including 3.1 Phillip Lim, Albertus Swanepoel, Alexander Wang, Billy Reid, Derek Lam, Doo.Ri, Eddie Borgo, Joseph Altuzarra, Monique Péan, Patrik Ervell, Philip Crangi, Prabal Gurung, Proenza Schouler, Rodarte, Rogan, Sophie Theallet, Thakoon, Thom Browne, and Vena Cava.
The CFDA/Vogue Fashion Fund was established in 2003 to help emerging American design talent find continued success in the business of fashion. From the 133 that were received, the CVFF Selection Committee selected ten finalists, whose names were announced in July 2012. They are: Andrea Lieberman, A.L.C.; Greg Armas, Assembly New York; Sofia Sizzi, Giulietta; Justin Salguero, Daniel Silberman & Alina Silberman, Illesteva; Jennifer Fisher, Jennifer Fisher Jewelry; Jennifer Meyer Maguire, Jennifer Meyer; Max Osterweis & Erin Beatty, Suno; Tabitha Simmons, Tabitha Simmons; Greg Chait, The Elder Statesman; Wes Gordon, Wes Gordon.
"The CFDA/Vogue Fashion Fund is an investment in the future," said CFDA CEO Steven Kolb. "It is not only about recognizing new talent. It is all about building businesses that will help create jobs and strengthen our industry overall."