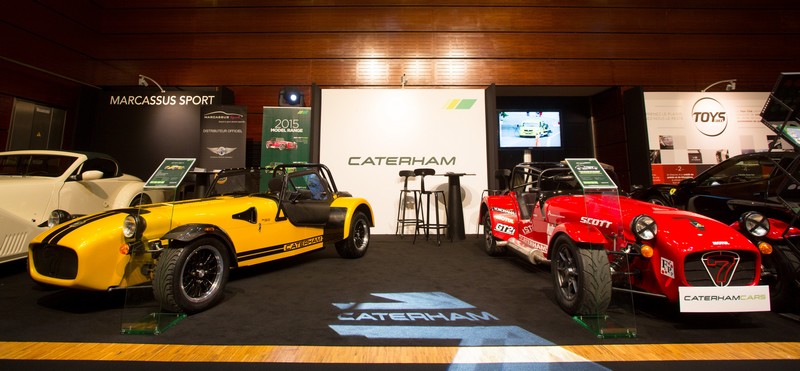 British manufacturer of specialist lightweight sports cars  Caterham Cars attended the popular male lifestyle show, Salon de l'Homme, in Paris (27-29 November), exhibiting a selection of its iconic British road and track focused Seven models.
Caterham displayed its most potent EU5-compliant Seven, the 240ps Seven 485, alongside a Caterham Academy race car and representatives from all four of Caterham's official French dealers in attendance.
France is currently Caterham Cars' largest export market, fuelled by the introduction of the Seven 275 alongside the economical Seven 165 and the range-topping Seven 485. France also has a thriving Caterham racing scene, with sell-out grids in the Caterham Academy, Roadsport and R300 race series which host six meetings throughout the race season.
"French car enthusiasts display lots of passion for the Caterham brand and have been one of our key export markets for many years.With the addition of the Seven 275, we now have an EU5 and EU6- approved Seven to cater for all petrolheads." "The show itself is every man's dream, with an array of premium brands showcasing the best the lifestyle, fashion, technology and motoring sectors have to offer," said Caterham Cars' Chief Commercial Officer, David Ridley.
Caterham Cars' current model, the Caterham 7 (or Seven), originally launched in 1973, is a direct evolution of the Series 3 Lotus Seven designed by Colin Chapman. In the 1990s, the company made the Caterham 21, a two-seater soft top alternative to the MGF and Lotus Elise, (which both sold many more units). A track-only car, the SP/300.R, a joint project with Lola was released for customer testing in 2010 and was scheduled for release in 2013. On 27 April 2011, Team Lotus owner Tony Fernandes announced that he had purchased Caterham.
The stylish men's lifestyle event Salon de l'Homme 2015 is in its second year and was hosted at the illustrious Carrousel du Louvre. More than 100 carefully selected premium brands were in attendance showcasing the best the fashion, technology, lifestyle and motoring sectors have to offer.