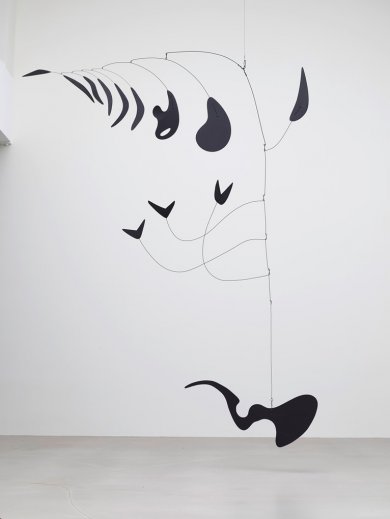 Alongside Duchamp, Miró and Mondrian, the American artist Alexander Calder is considered a pioneer of modernist sculpture and one of the most important artists of the twentieth century. His most iconic works, coined mobiles by Marcel Duchamp, are kinetic sculptures in which flat pieces of painted metal connected by wire move delicately in the air, propelled by motors or air currents.
Nearly 50 of Alexander Calder's mobiles and maquettes are assembled in the "Calder and Abstraction: From Avant-Garde to Iconic" exhibition staged at Los Angeles County Museum of Art. The LACMA commissioned architect Frank O. Gehry to design the exhibition who created a space where the kinetic sculptures can be both contemplated and celebrated.
"We were fortunate that architect Frank O. Gehry shared an enthusiasm for Calder's work; his experience of seeing the artist's 1964–65 exhibition in Frank Lloyd Wright's Solomon R. Guggenheim Museum in New York had made an indelible impression," explained Stephanie Barron, Senior Curator, Department Head of Modern Art.
Although this will be his first museum exhibition in Los Angeles, Calder holds a significant place in LACMA's history: the museum commissioned Three Quintains (Hello Girls) for its
opening in 1965.
We purposely limited the selection to feature 50 objects—giving the art ample space to breathe. Gehry's design underscores how to look at the works. We also wanted to encourage people to spend more time with individual objects so that the gentle movement can be observed. If you take the time in the show, you can easily understand the observation that Jean-Paul Sartre made in the 1940s after visiting Calder's studio: "But suddenly, when the agitation had left [the mobile] and it seemed lifeless again, its long majestic tail, which until then had not moved, came to life indolently and almost regretfully, spun in the air, and swept past my nose."
Calder and Abstraction: From Avant-Garde to Iconic runs until Sunday 27th July at The Los Angeles County Museum of Art, California.