South America Premiere of the Bugatti Grand Sport Vitesse at Volkswagen Group Night in São Paulo 2012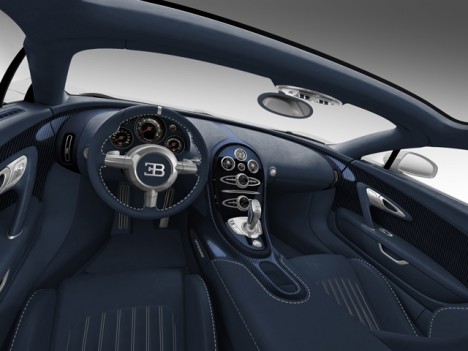 To kick off the São Paulo Motor Show 2012, Bugatti presented the Bugatti 16.4 Grand Sport Vitesse for the first time to the South American market. The fastest production roadster ever has a unique look in blue theme, two-tone exterior with "Gris Rafale" paint and blue carbon fiber.
"After we had successfully developed the Super Sport out of the Veyron, we of course considered to do the same with the Grand Sport," says Dr. Wolfgang Schreiber. "The result is a unique vehicle onto which we managed to transfer the dynamic alterations from the Super Sport. They convey with the roof off and on as a breath- taking driving experience," the new President of Bugatti Automobiles S.A.S. continued.
Major parts of the upper area of the body are finished in the light "Gris Rafale", while the roof area, air scoops, air brake and some parts of the back are in blue visible carbon. This strong contrast of colours is found again in the interior but vice-versa: with lake blue leather seats and a stitching in light grey. This car costs 1.9 million Euros, whereas the base price of the Vitesse lays at 1.69 million Euros (without tax and transportation).
The new Bugatti Veyron 16.4 Grand Sport Vitesse boasts a maximum torque of 1,500 Nm (at 3,000–5,000 rpm) from the 7.9-liter capacity of its W16 engine. The maximum output (1,200 hp) is reached at 6,400 rpm. These figures allow the car to reach 100 km/h (62 mph) from standing in 2.6 seconds. The top speed of 410 km/h (255 mph) makes the four-wheel drive Vitesse (like all Veyrons) the fastest production roadster ever. The maximum speed is reached on closed tracks with special safety precautions. In "normal" handling mode, the Vitesse is electronically limited to 375 km/h (233 mph).
Bugatti has developed a new roof spoiler for the Vitesse that significantly reduces wind noise and buffeting in the interior. Furthermore, there will be a new windbreak for the roadster that can be stored away compactly in the luggage compartment when not in use. Both details will also be available for the Grand Sport. Together, they allow extremely relaxed, open-top driving even at speeds of around 200 km/h (124 mph).