Bugatti and Palmer Johnson launch joint luxury yacht project. Flowing surfaces and lines create a perfect equilibrium between elegance and sportiness.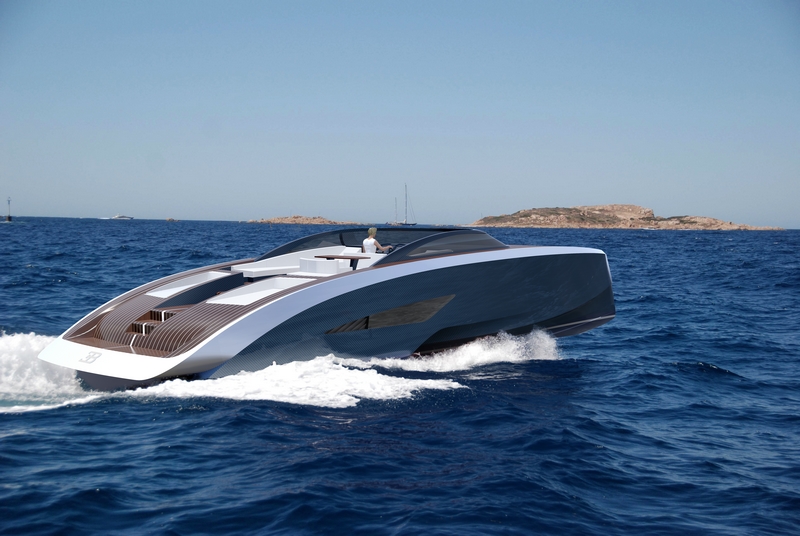 The makers of the world's fastest production super sports car, Bugatti, and the world's largest motor yacht builder, Palmer Johnson, launched joint luxury yacht project called Niniette. The new series of carbon-fibre sport yachts is featuring distinctive Bugatti design elements and advanced materials. The Niniette series is available in three models from 42ft to 88ft. Prices for the smallest model start at €2 million.
The design of the Niniette's hull is based on Palmer Johnson's ground-breaking SuperSport series – a mono-hull with two sponsons that provide greater stability at speeds and also at anchor. According to the yacht builder, the top speed of the carbon fiber yacht is 38 knots (about 70 km/h).
Viewed from the side, the design is highlighted by a contrasting blend of ultra-strong ultra-lightweight titanium and dark blue exposed carbon fiber. On deck, the combination of a brown Bubinga, maple or naturally blue morta oak wood provides a warm contrast with the lightweight high-tech materials.
The luxury boat with its carbon fiber hull takes up style elements of Bugatti's iconic classic cars and combines them with the revolutionary hull shape of Palmer Johnson's SuperSport series. The design is characterized by the falling shoulder line of the Bugatti Type 57 C Atalante and the balanced proportions of the Type 41 Royale.
"This very special project brings together two brands with more than 100 years of experience in high-end hand crafting in their respective fields," explained Stefan Brungs, Member of the Board of Management of Bugatti Automobiles responsible for Sales and Marketing.
"Bugatti and Palmer Johnson share outstanding lightweight design expertise. Inspired by Bugatti's design DNA, Palmer Johnson has created not only an incredibly elegant and beautiful yacht but also a masterpiece of craftsmanship featuring carbon fiber, titanium, and precious wood. This collector's item will thrill maritime aficionados."
"The Palmer Johnson Niniette is the result of a maverick vision to perfect that delicate alchemy between desire and demand. Both Palmer Johnson and Bugatti share deeply held core values of reaching for what we cannot see, of reaching high to deliver the next unimagined experience, of always distancing ourselves from the herd," says Timur Mohamed, owner of Palmer Johnson, talking about the cooperation.
"This is backed by the deeply rooted claims of both brands to reach goals no one expects and always to go one step further. Bugatii and Palmer Johnson are united by the vision of not just thinking outside the box but moving into completely uncharted waters," added Mohamed.
The central model in the new series is the PJ63 Niniette, with a length of 63 feet (almost 20 meters) and a beam of 20.3ft (6.2 meters). This yacht features a 63 m² salon on deck, a 43 m² salon below deck, luxurious accommodation for up to 4 guests and a crew cabin. On request, Bugatii can tailor the interior to meet customers' individual requirements. The PJ63 Niniette has a basic price of about €3.25 million.
The boat's sisters, the PJ42 Niniette and the PJ88 Niniette, have lengths of 42 feet (almost 13 meters) and 88 feet (almost 27 meters) respectively. The production time for all three models is about 12 months.