Stuart Weitzman Creates Glass Slipper for Broadway Debut of Rodgers + Hammerstein'sCinderella and Launches "Clearly Timeless" Capsule Collection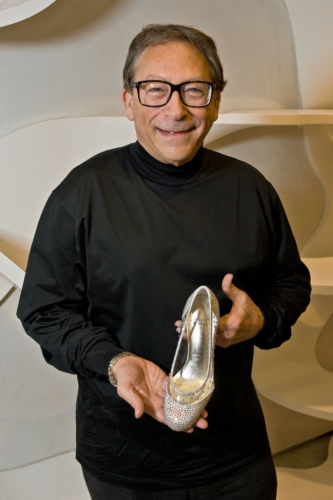 He's been called the King of the Red Carpet, and now he's the Prince of the Pump. Stuart Weitzman has been named the official designer of the glass slipper being worn in the first-ever Broadway production of Rodgers + Hammerstein's CINDERELLA: his one-of- a-kind creation makes its debut in the musical set for an official opening on March 3 at the Broadway Theatre (1681 Broadway) in New York City. Weitzman will also bring the fairytale to life with the launch of his "Clearly Timeless" capsule collection inspired by the lush, romantic musical.
"What is every girl's first memory of shoes? Cinderella's glass slipper. Something as simple and accessible as a beautiful shoe can make a woman feel like a princess," says Weitzman. "Who wouldn't want to be Cinderella for a night? When asked to re-create the iconic slipper for the new Broadway production, I jumped at the chance."
Stuart Weitzman has been creating fantasy-worthy footwear for real life royalty — and women with real lives — for over 26 years. His philosophy of form and function also proves a perfect fit for CINDERELLA star Laura Osnes , whose role in the show requires a shoe that both enchants audiences and allows her to dance effortlessly onstage. The result is a stunning transparent vinyl silhouette encrusted with more than five thousand iridescent Swarovski crystals.
The glass slippers are the perfect accessory for the CINDERELLA costumes designed by the renowned, five-time Tony Award-winning designer William Ivey Long.