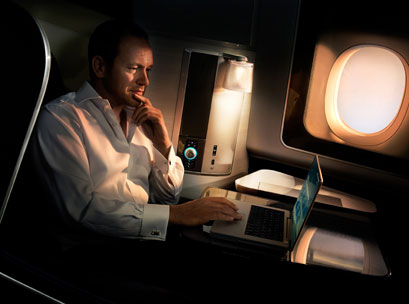 British Airways offers luxury air service
British Airways (BA) is introducing luxurious new first class flights on several major global routes. The airline had launched in September its biggest and a decade-long brand advertising campaign which coincides with a five-year programme of an investment of five billion pounds.
New aircraft, new economy and premium economy cabins, a revamped First Class, better lounges across the airline's network and significant improvements at Gatwick airport in London, these are the benefits of the new British Airways investment programme.
While the plush First Class is available on Boeing 777 planes operating to Delhi and Mumbai, British Airways is now finalising installation of the new premium products on its fleet of Boeing 747-400s which would be operating to Moscow, Singapore and all Australian destinations from April-May 2012.
Created at a cost of 100 million pounds, the new British Airways' First Class cabins feature a redesigned suite with a flat bed 60 per cent wider than the current one and Egyptian cotton bed linen.
Each suite would have a personal wardrobe, a leather- bound writing desk that converts into a dining table, a new 15-inch in-flight entertainment screen and a 'buddy seat' that allows passengers to dine in pairs. Taking inspiration from the private jet industry, each First Class flyer would have their own personal double window with electronic blind.
A distinctive lighting system, designed to recreate the subtlety of natural light, has been introduced. Another distinctive feature would be the in-flight entertainment screen of 15 inches, with each suite offering a USB charging point and RCA jack to enable customers to view content from their MP3 player on the main screen.
These passengers would be given the high quality Anya Hindmarch washbag containing amenities by REN, D R Harris & Co and Marvis and menus in line with the motto of 'Care in the Air', the spokesperson said.
[adsenseyu1]