Motor yachts inspired by passion for the sea, passion for technology and passion for beauty.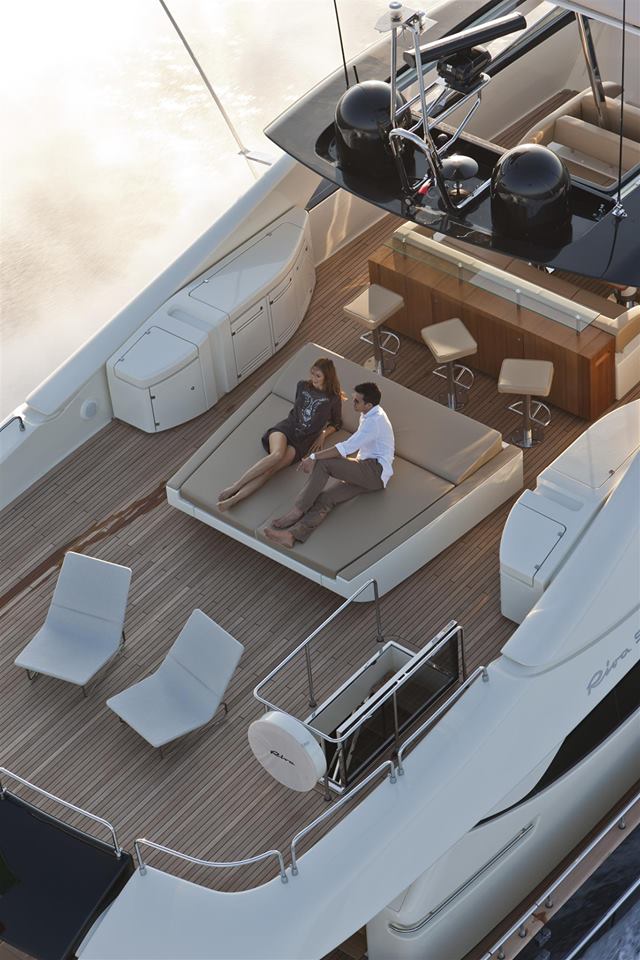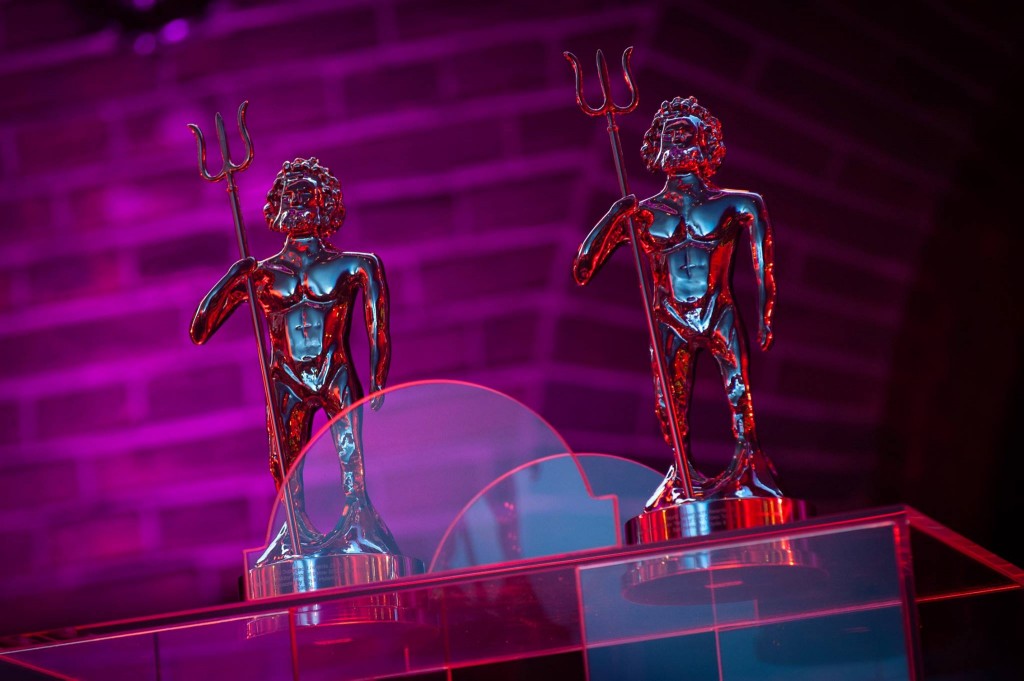 Every yacht is a balance of science, style and substance, combining tradition and innovation, creativity and the latest inventions in design. Passion, inspiration, and innovation is driving everything, but one of the first reasons why an owner chooses a motoryacht is nearly always beauty and values that last. Then, the intrinsic values of the product come into play.
A sound shipyard with a consolidated network of services, boasting a significant history affords to have the best people, materials, deadlines, and offer the most extensive sur mesure services. Everything a future yacht owner wants can be made reality: the ultimate in comfort, technology, luxury, safety features, sustainability, and elegant living solutions.
Here are the brands rewriting the rules of luxury cruising. Welcome on Board!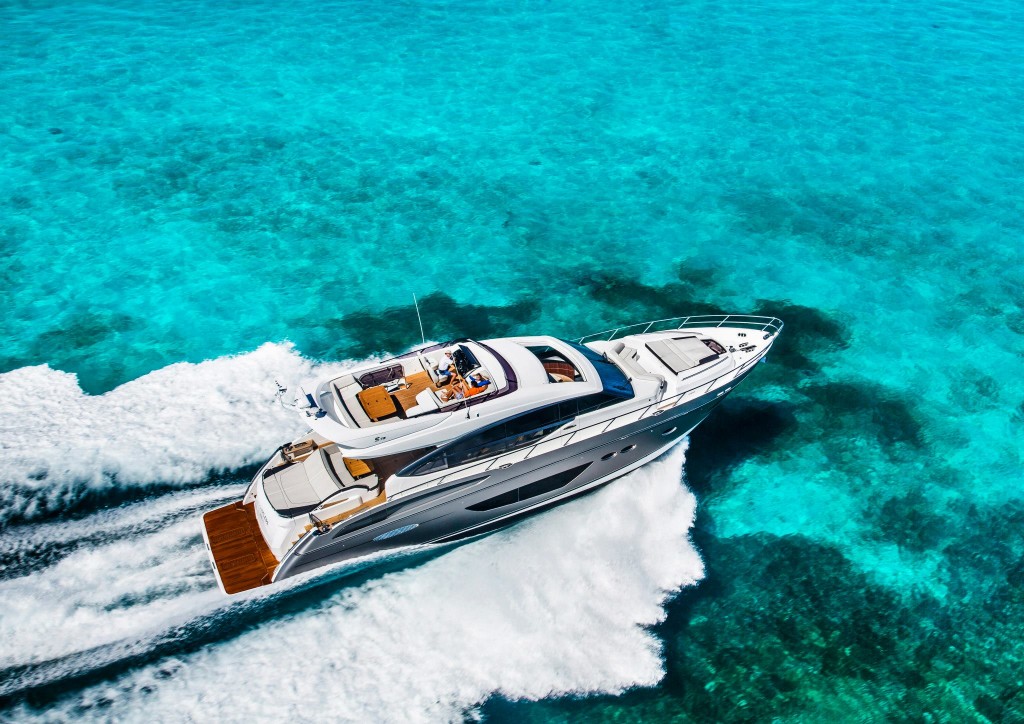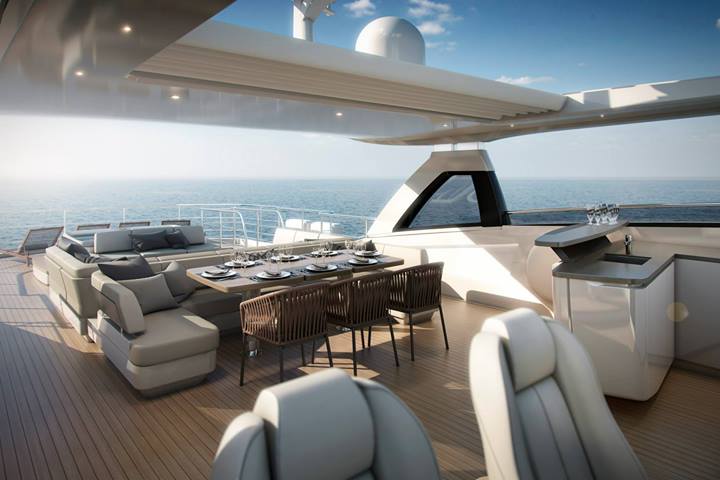 Princess Yachts
Based in the city of Plymouth, Devon, England, the name of the British motor yacht manufacturer (French majority owned) has become synonymous with all that is finest in luxury motor yacht design and as part of the Moët Hennessy Louis Vuitton (LVMH) family, has become a brand of distinction around the world.
The prestige boat builder's portfolio includes M CLASS superyachts, FLYBRIDGE motor yachts, V CLASS sports yachts and S CLASS Sportbridge yachts from 39ft–130ft.
Through its common ownership with LVMH, Princess is also able to offer truly bespoke Fendi Casa interiors on larger yachts. Whether you choose from the traditional and opulent or the contemporary and minimalist looks, your custom-built Fendi Casa interior will exude style and distinction. Bespoke timber furniture is designed in-house.
The Princess Yachts are as responsive in the confines of a busy marina as they are in open water. The very latest electronic controls, power-assisted steering and powerful thrusters enable the sailors to manoeuvre with absolute precision.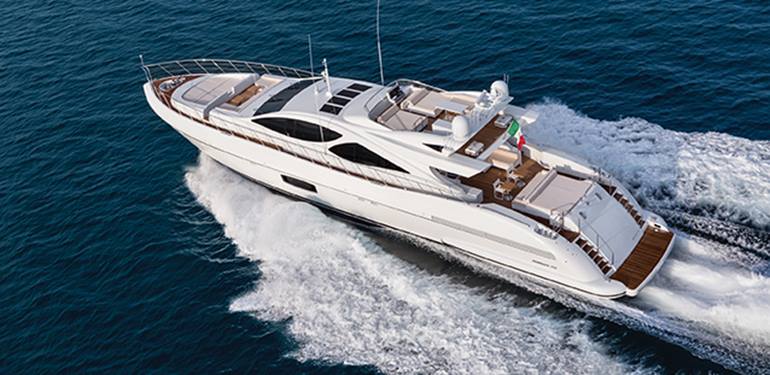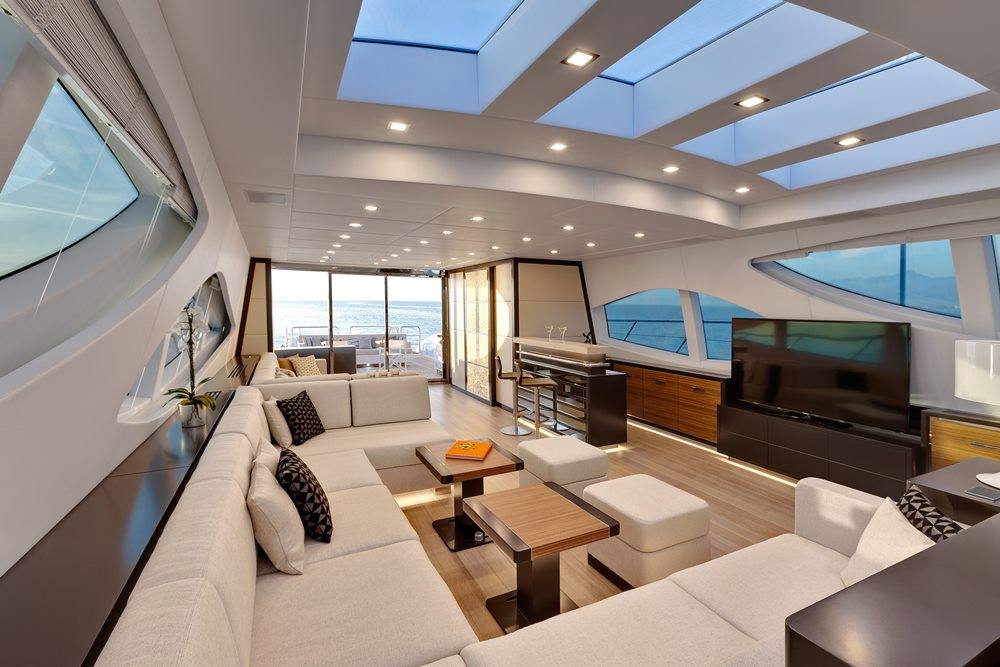 Maxi-Open equals Mangusta and the world some of the largest luxury yachts.
Balducci family, the founder of The Overmarine Group (1985), is still at the head of the manufacturing company, and builds luxury maxi open and displacement yachts bearing the Mangusta and Mangusta Oceano brands, as well as Effebi branded peacekeeping and coastguard ships.
The current Mangusta range features 9 Maxi Opens, from the 72 to the 205, to which the Mangusta Oceano 148, the new 3-deck displacement yacht which has enabled Overmarine Group to enter a different market segment, has been added. The Mangusta 165, the seventh unit of which has just been delivered, is currently the fastest open in the world, and the biggest open yacht in the world at 163 feet long.
Since 2007, when Mangusta 165 was first presented, this model has lent herself to becoming an icon and reference point on the world panorama: 8 units already in the water, with a ninth shortly to follow in fewer than 6 years tell of just how extraordinary and unique this Maxi Open is. Indeed, she is the pride of a Group which has known how to look forward and invest well over the past few years.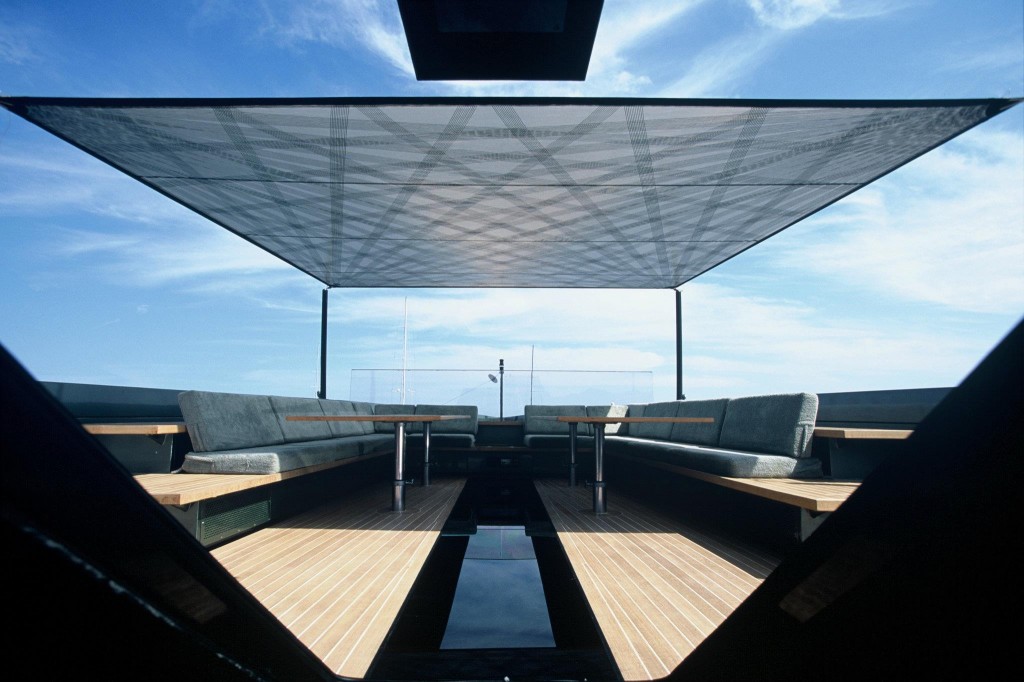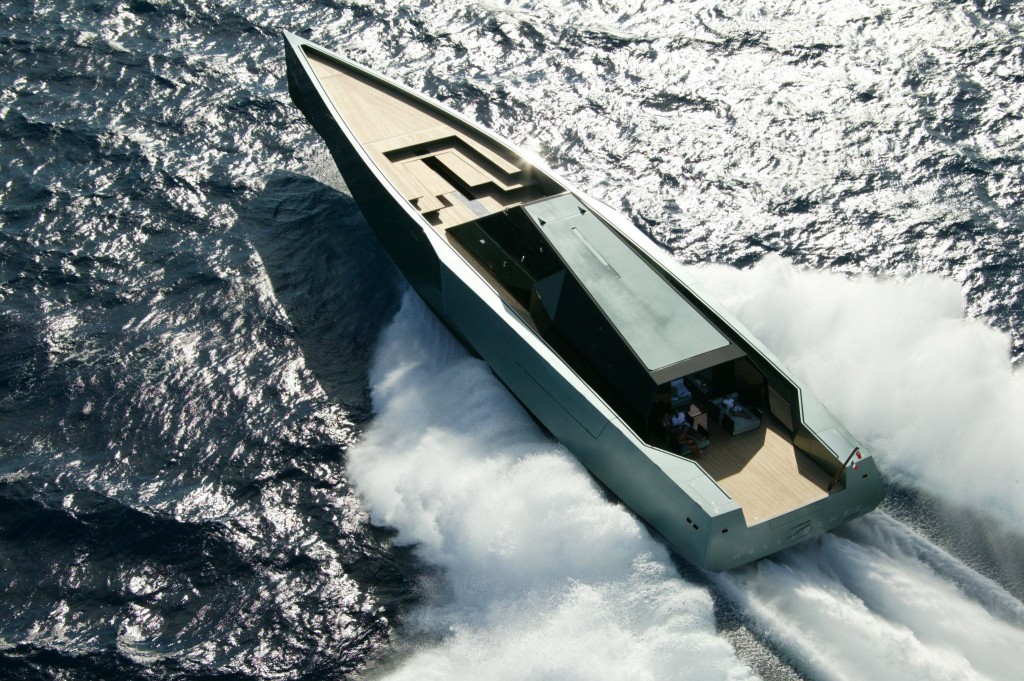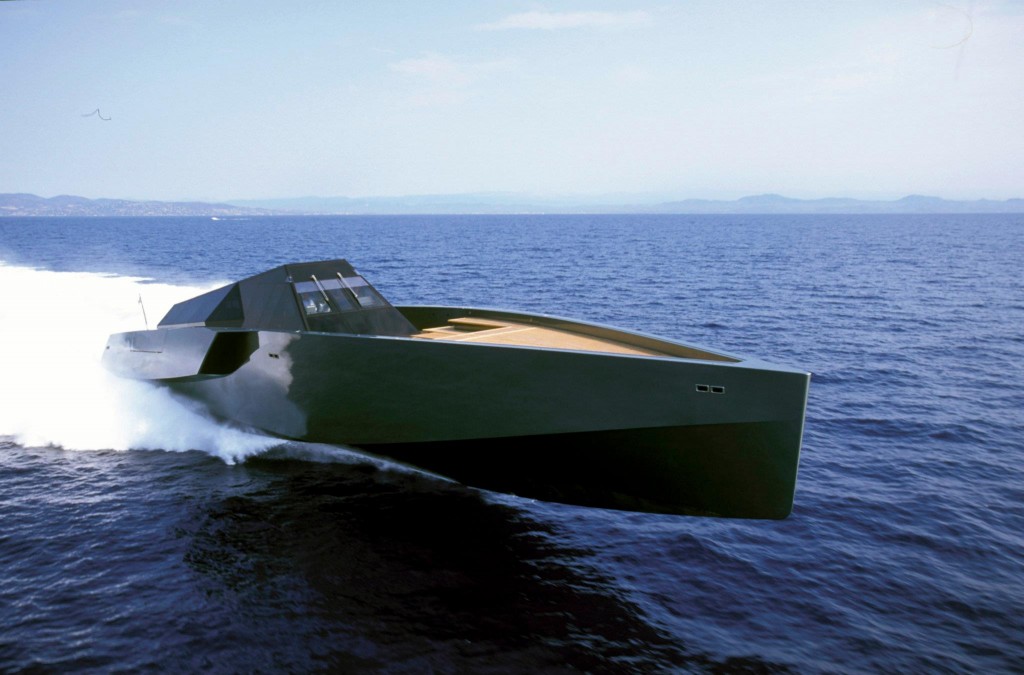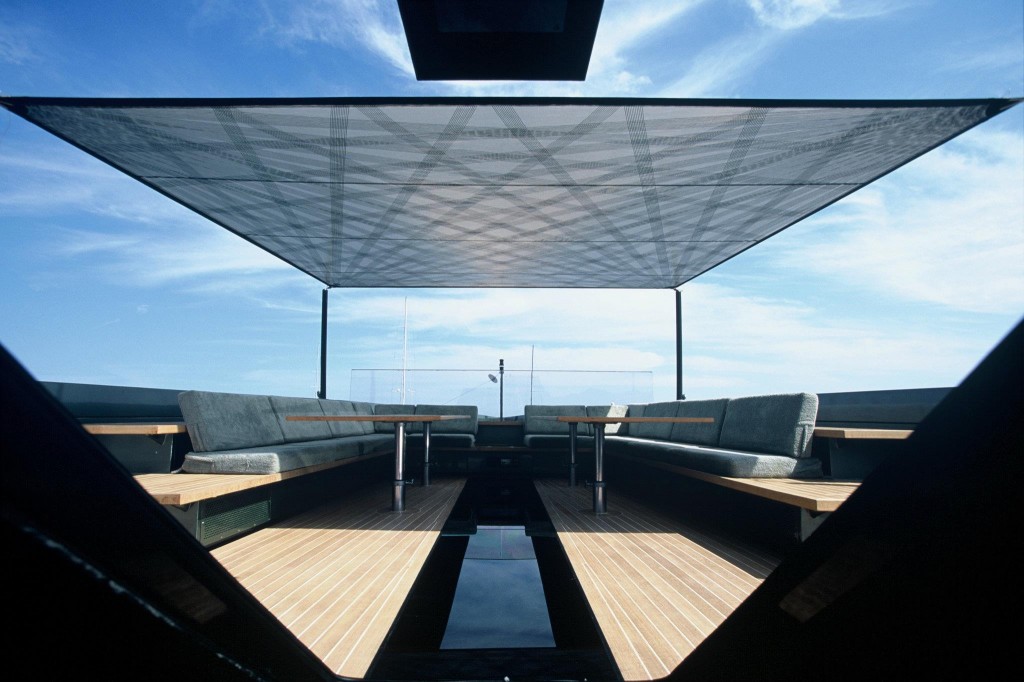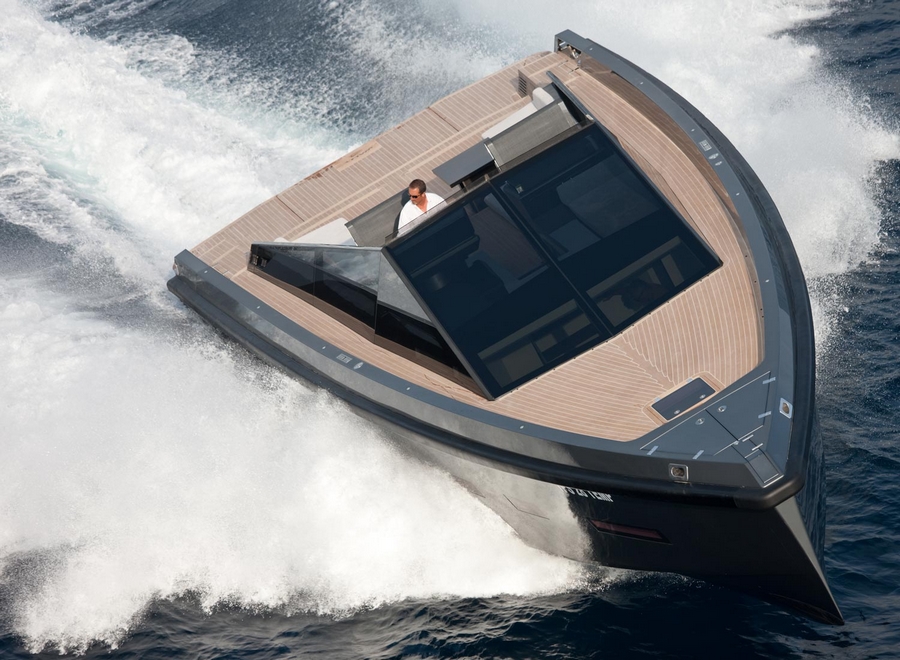 Wally//Power Yachts
The maritime design and manufacture company based in Monte Carlo (Monaco) and founded by wealthy Italian businessman Luca Bassani in 1994, is considered to be one of the premier yacht builders. Marco Tronchetti Provera, Lindsay Owen-Jones, Gianni Agnelli, and Juan Carlos I of Spain are some of the celebrities owners of a Wally.
From the classic Wally//Tender day cruiser to the fastest yacht in the world, the Wally//118, encompassing a revolutionary vertical bow and hull engineering, Wally//Power innovative yacht and power boat manufacturer is a global design icon.
The 118-foot (36 m) luxury motor yacht Wally//118 with a maximum speed of 60 knots (70 mph, 110 km/h) is one of the most noteworthy cutting edge motor yachts produced to date. The yacht is narrow and angular in design with black glass housing, driven by three Vericor TF50 gas turbines generating 5,600 horsepower (4,200 kW), each driving a Rolls-Royce Kamewa water jet, two steerable outboard and a non-steering booster on the centerline.
Intelligent ergonomic design and the finest materials complete the package with living spaces that are comfortable, stylish and contemporary.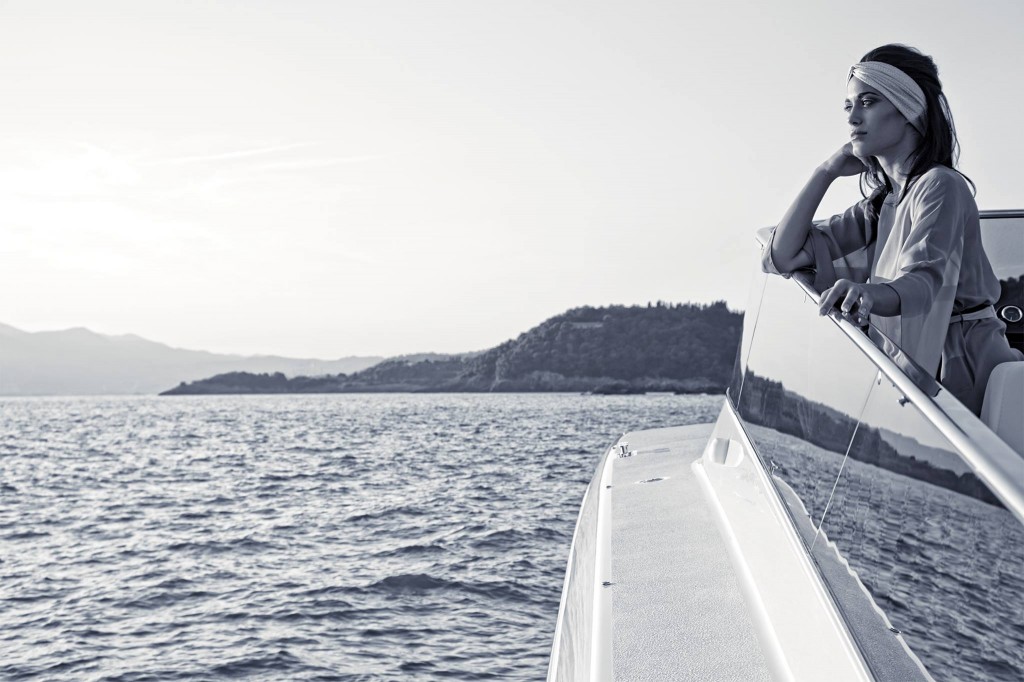 Ferretti Yachts / Ferretti Group
When one given passion continues for over four decades, it becomes history, says Ferretti.
Ferretti Group has always been at the very heights of the pleasure boating world and among the world leaders in designing, building and marketing luxury motor yachts.
Ferretti, Pershing, Itama, Bertram, Riva, Mochi Craft, and CRN are some of the most exclusive and prestigious brands in the nautical world, all being a part of the Ferretti Group's portflio, which includes an extensive range of yachts – flybridge, open, lobster boats, fisherman, maxi and mega yachts.
Ferretti, the Group's historical brand, was established in 1968 and builds flybridge planing and semi-displacement fiberglass motor yachts measuring 15 to 29 meters in length, with an open upper deck and a double helm station, one inside and another outside. The brand features three different product lines: Ferretti Yachts, Ferretti Custom Line and Ferretti Navetta, these last two are part of the Group since 1996
Ferretti Custom Line was created in 1996 to meet the demand for a range of tailor-made yachts larger in size than the Ferretti Yachts range that then produced flying-bridge models between 12 and 25 meters. The Custom Line is a unique range of yachts with all the features typical of fiberglass flying bridge planing yachts over 30 meters in length. There are four models in the Ferretti Custom Line range, each which offer plenty of scope for personalization. All four
models, the 97', 100', 112' NEXT and the 124', provide plenty of living and cabin space coupled with solutions designed to optimize onboard living while ensuring the owner is provided with the highest level of privacy.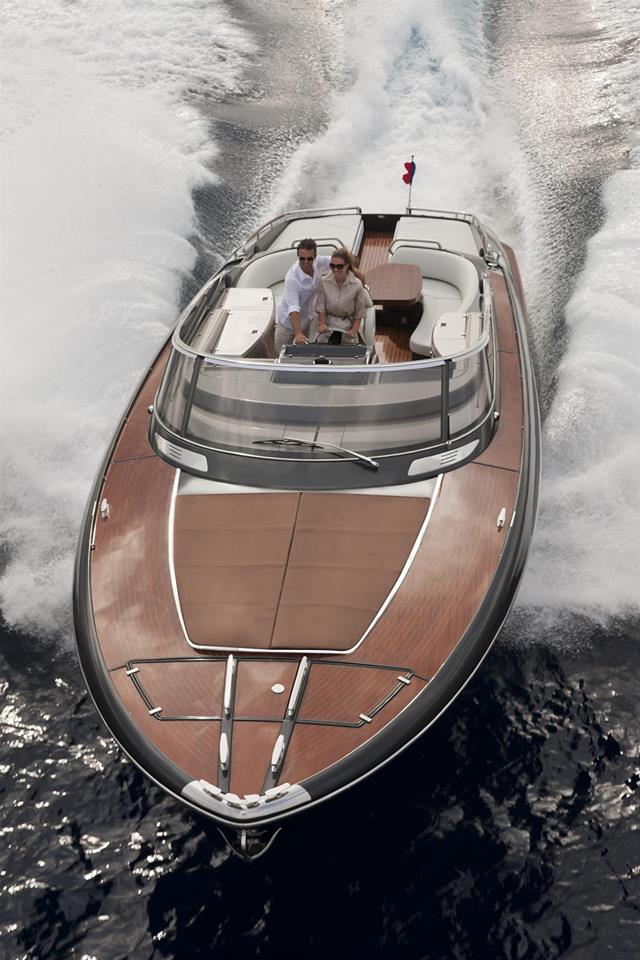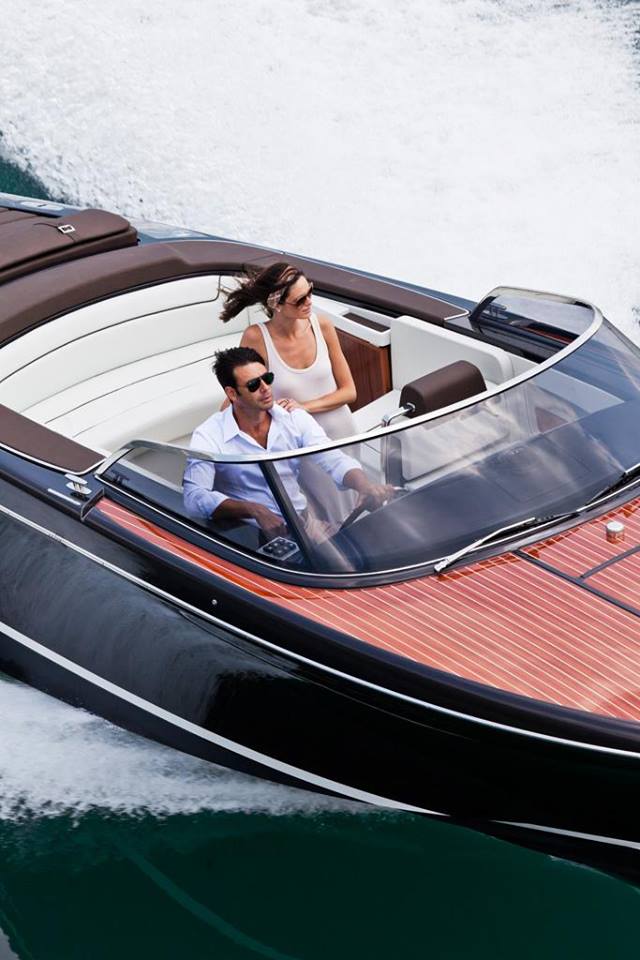 Riva Yachts
Riva, part of the Ferretti Group since 2000, is one of the world's best-known, most exclusive producers of luxury fibreglass yachts ranging from 27 to 122 feet in length both flybridge and open.
Since the '50s, a true gallery of famous people have enjoyed a Riva yacht: from Brigitte Bardot, with her Florida to King Hussein of Jordan, who moored his Super Aquarama in Santa Margherita Ligure; from Anita Ekberg, who purchased a Tritone where she could indulge in her own personal Dolce Vita, to Elisabeth Taylor and Richard Burton, who used a Junior as a tender for their yacht, and the Shah of Persia, who fell in love with the Riva 2000. Lastly, Sofia Loren and Sean Connery, who bought a Rudy three years after giving up filming the famous 007 series. Though growing and evolving, Riva remains a luxury icon.
Riva Yachts currently markets thirteen different models:: Iseo, Aquariva Super, Rivarama Super, Rivale 56′, Sportriva 63′, Virtus 63′, Vertigo 68′, Ego Super 75′, Venere Super 86′, Domino 88′, Miami 92′, Duchessa 122′, and Mythos.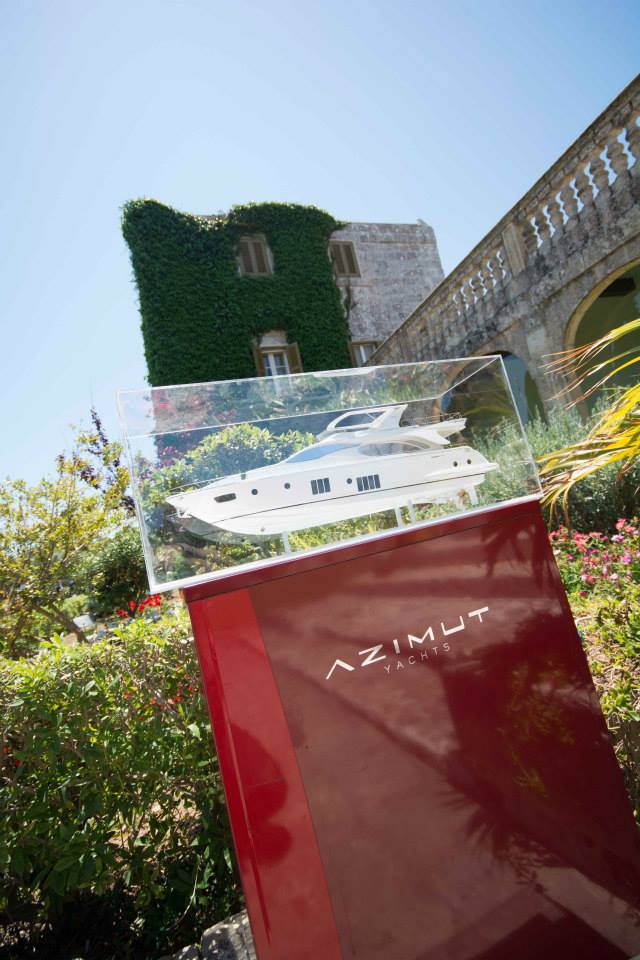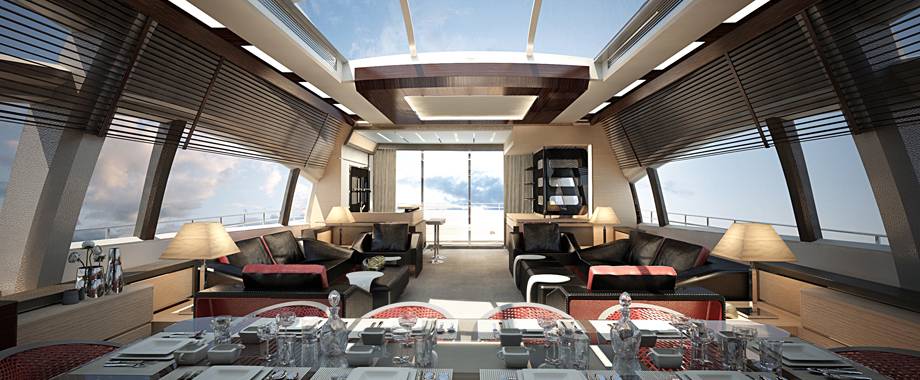 Attention to detail and the excellence of Italian design.
A luxury yacht has value if that value is long-lasting, says Azimut. If its beauty can challenge the seasons. If its style is a source of inspiration for those who are passionate about the sea, and not just a fashion follower. The design of Azimut yachts shapes the Italian essence behind the brand.
Azimut Yachts is the first brand of the Azimut-Benetti Group, which produces yachts from 38 to 120 feet long. Azimut-Benetti is the largest mega yacht production network, Europe's first shipyard and among the world's leaders.
The Group produces in its 8 shipyards, which are located in Avigliana near Turin, Savona, Viareggio, Livorno, Fano in the Marche region, Orhangazi (Bursa) in Turkey and Itajai in Brazil.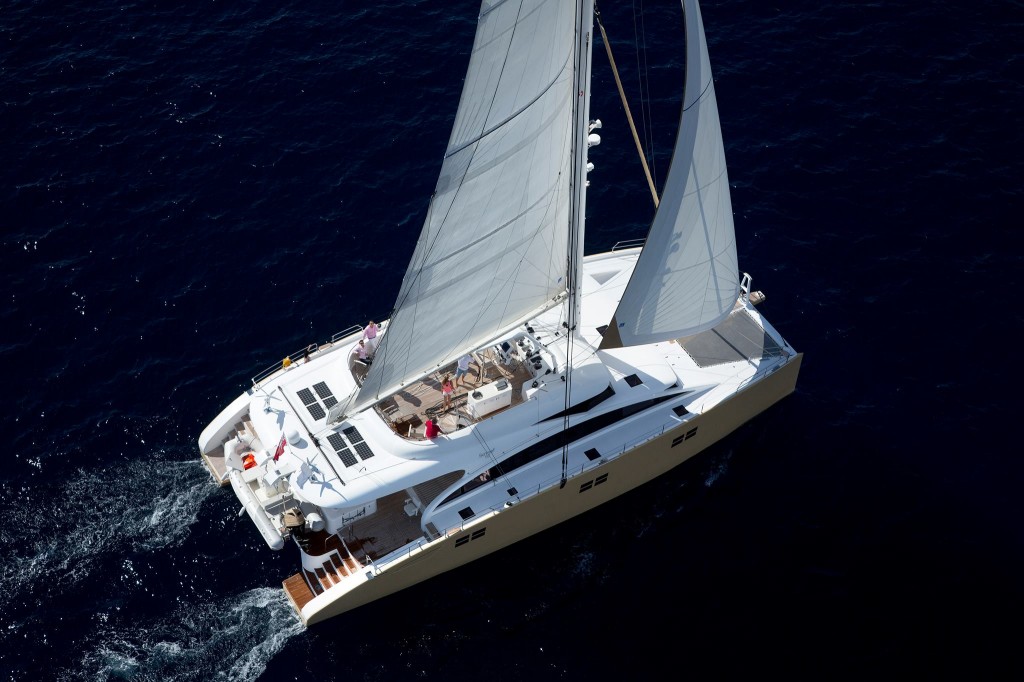 Sunreef Yachts – luxury catamarans/ catamaran-yachts
If you are seeking for the best catamaran-yachts custom made in the world, look at Sunreef's shipyeard.
Sunreef Yachts is the leading designer and builder of luxury sailing and power catamarans and superyachts from 60 to 200 feet. Every Sunreef yacht boasts high-performance sailing, luxurious accommodation, expansive living spaces, and extravagant and innovative design features. The catamarans are designed especially for the clients seeking luxury, comfort, stability and incomparable space.
Established in the 2000, the Sunreef Yachts shipyard is headquartered in the famous seafaring city of Gdansk, in Poland. All Sunreef yachts do regular ocean crossings or perform round-the- world trips. All yachts are first tested in North Europe weather conditions, first delivery means 3,500 miles run through the Baltic sea, the North Sea, the English Channel, Biscay Bay, Atlantic ocean and the Mediterranean. With lots of storage space, comfortable living area, lots of outdoor leisure space, stability and comfort of cruising, as well as homey crew cabins, Sunreef Yachts are ideal charter yachts.
Catamarans are significantly wider than monohulls of similar size. Thanks to that, all spaces prepared for guests on the main and upper decks, including living areas of the cockpit, saloon and flybridge are much larger and offer much better space arrangement. Comparing any of the Sunreef catamarans (both sail and power) to typical monohull vessels of the same size will show, that catamarans offer almost twice the space of the monohull. And that is not only additional square meters the client win but also ability to accommodate additional options not available on monohulls of the same length, for example larger faster and more comfortable tender or jacuzzi (even on a 60 footer).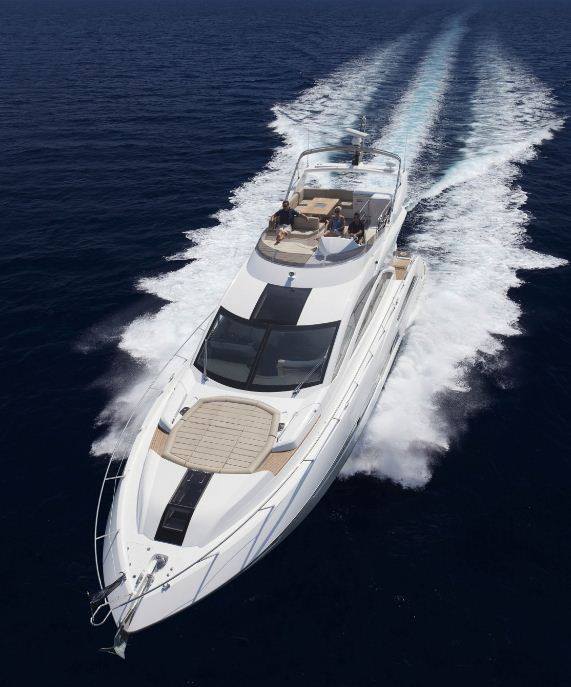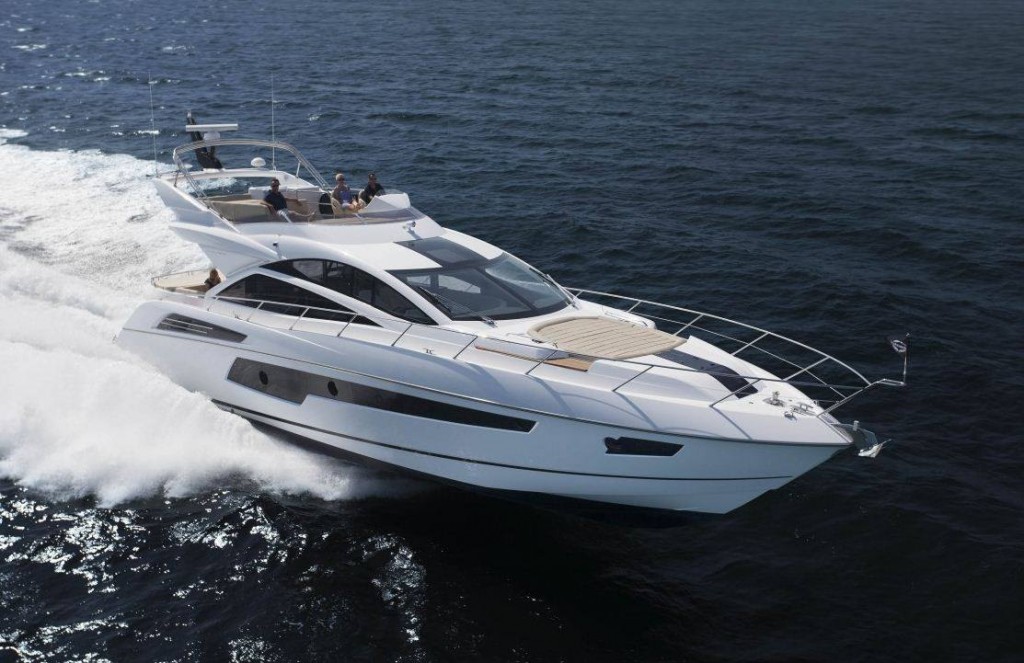 Sunseeker International motor yachts
Widely recognised as the pre-eminent luxury motor yacht brand in the world, Sunseeker build yachts with film star appeal and the ability to turn heads. With a range of motoryachts from 48ft to 131ft, the brand prides itself on continuous design, innovation, and style. From countless design awards to James Bond films the name Sunseeker is synonymous with performance and luxury.
The Sunseeker range constantly set new standards and benchmarks. Never settling for second best, it's this spirit of excellence that has driven Sunseeker to its pre-eminent position in the marine market today. Proudly bearing its name and its British heritage, every generation of Sunseeker motoryachts is quieter and smoother than the last, and the search for ever-better efficiency is ongoing.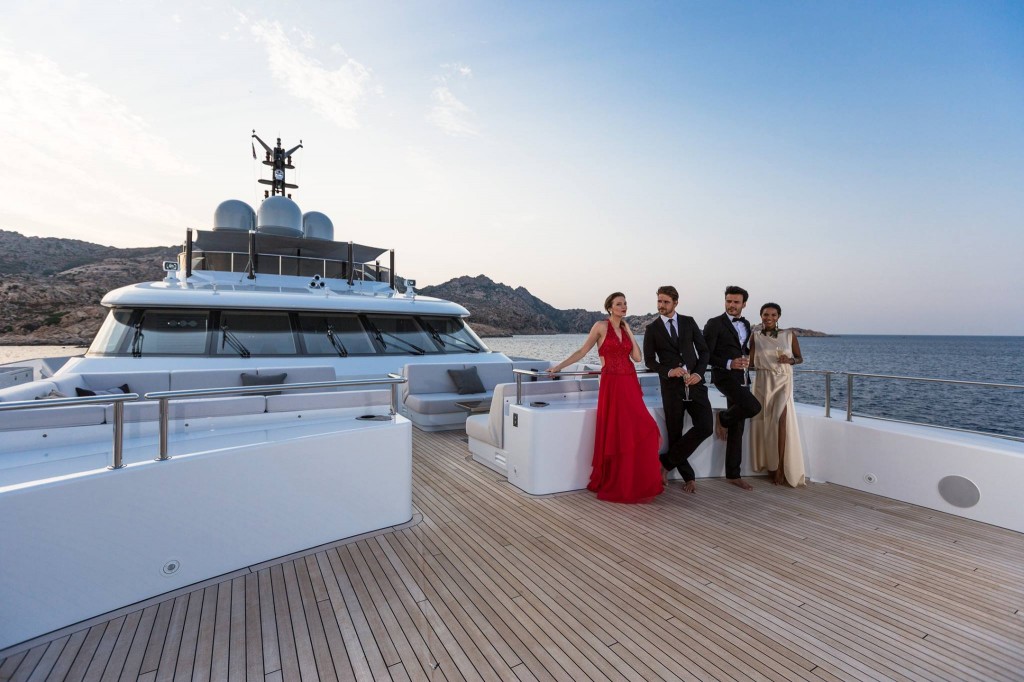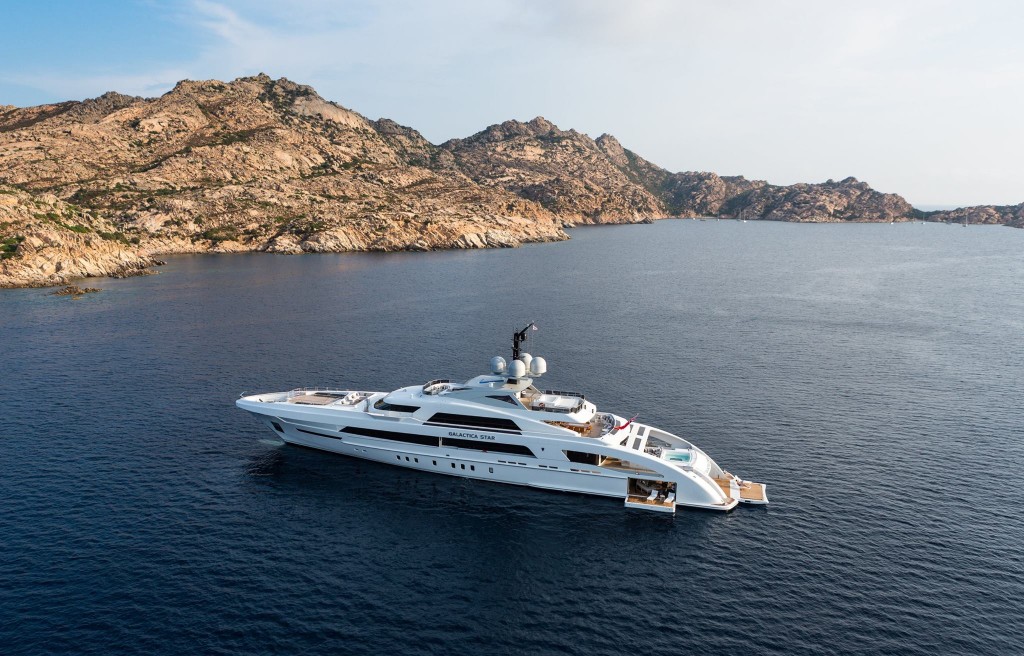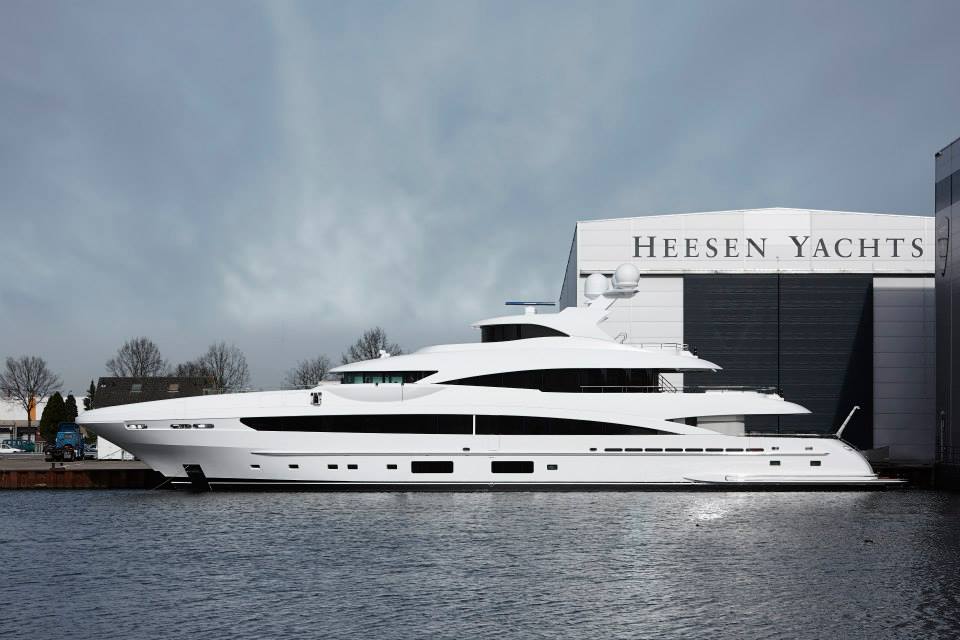 Heesen Yachts
Known for exceptional custom-built yachts between 34 – 75 metres, Heesen Yachts has become one of the world's leading yacht builders.
Heesen Yachts' concept has evolved over 30 years and the experience the shipyard have accrued is unlike that of any other yacht builder in the world. A Heesen is a Heesen because the shipyard says it is dedicated to providing one key principle: "The Performance of Luxury".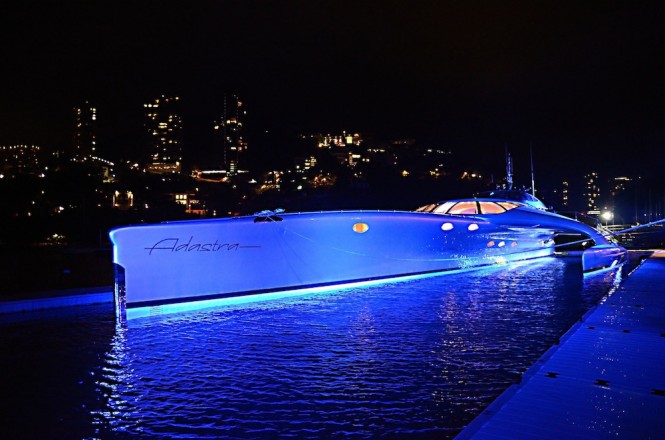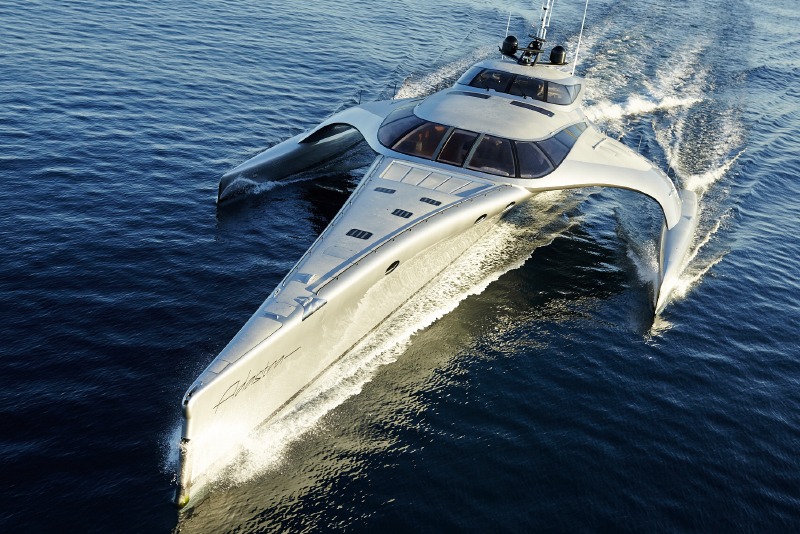 McConaghy Boats/ Trimaran Adastra
Previous high profile superyacht projects from McConaghy Boats include the multi-award winning striking 42.5m trimaran Adastra and Mike Slade's racing heavyweight Leopard 3. The company is now looking to build on this experience and actively market themselves as builders of high quality performance focused carbon superyachts.
Over the last 10 years McConaghy Boats has built over 900 boats with a total value in excess of $120 million.
Adastra took the power trimaran concept further than has ever been attempted before, previous vessels like Earthrace and Cable and Wireless were stripped out record breaking machines.
Adastra is the result of meticulous attention to detail and innovative design to create a yacht that meets the needs of a very experienced ocean voyaging couple and their family, and to provide the level of comfort and style expected in a yacht of this class and size. No effort has been spared in the challenge to produce a beautiful yacht that has exceptionally low fuel consumption and yet provides excellent sea keeping qualities and luxurious accommodation.