Smartwatch from Tokyo-based Veldt makes debut at Baselworld 2016.
Veldt is showcasing two series developed in a collaboration with "Kyoto Denim".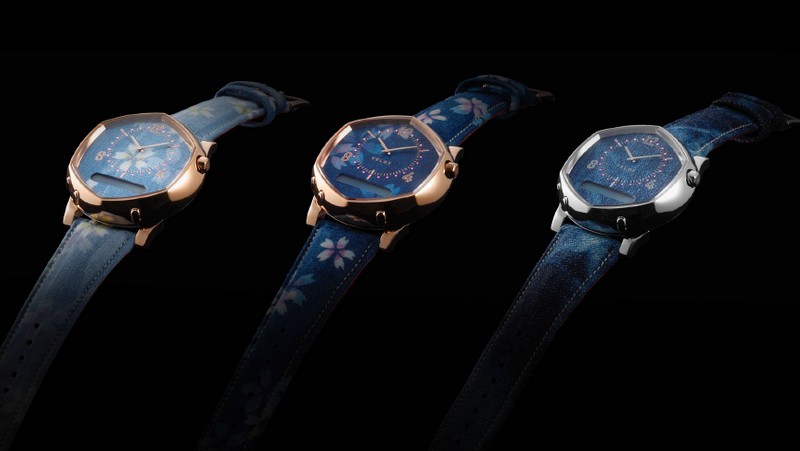 Veldt Serendipity is a premium smartwatch made in Japan that attains the underlying tone of analog watch with a design that blends into the occasion, be it a business or a fashionable outing.The exquisitely designed wrist watch comes with subtly placed LED lights and a small display onthe face of the watch, providing synched information from your smartphone intuitively and beautifully. The watch was designed to reduce digital stress for people that were overwhelmed and felt a lot of time was being wasted by the excessive information on their smartphones.
With the concept of "creating time away from the smartphone screen", the newest model (case diameter 48mm,) comes with the unique MIP (Most Important Person) function that limits the messages displayed on your smartwatch to people pre-registered for display. More free time to look around but still feelconnected to the important people and information in your life, that is what Veldt creators have designed. Also from this model, the watch will be available for both iOS and Android(ver 5.0 or later)operating systems.
The digital functions included are: email, SNS, incoming call entry and other notifications, Activity Level and Sleep tracker, schedule, weather forecast by LED, compass, timer, taxi call service (available inTokyo, Japan only), MIP function.
Smart functions such as activity tracking.etc can easily be accessed from the short-cutbuttons of the watch. The smart function is rechargeable with a continuous battery operation period of approximately 1 week. The watch module runs on an independent battery hence will not stopeven if the rechargeable battery should run out of power. Lightweight, this smartwatch with unisex design is easy to use by both male and female users.
Veldt Kyoto Denim collaboration smartwatch:
Created by a long-established kimono manufacturer in Kyoto, Kyoto Denim is a denim brand thatbrings the art of Kyo-Yuzen and denim jeans together. Each and every pair of jeans is handmade by a skilled kimono dyeing craftsman to give its authenticity and beauty. This time, Kyoto Denimand VELDT teamed up to bring time tested traditional art and innovation together. A collaborationthat combines analog and digital in a whole new way. The Night Blossom model (1,500USD / 1,350EUR) comes with awatch band custom designed and dyed by hand with cherry blossoms. The Indigo Sky model (priced at
520USD / 470EUR) comes with simple denim made watch band.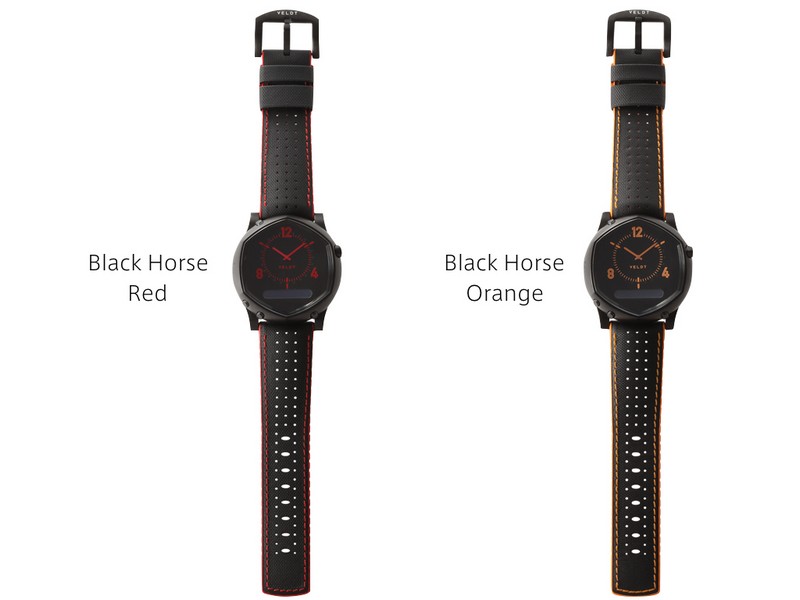 Veldt Matt Black sports model:
Matt Black sports model: This sports model (priced at 960USD / 870EUR) inspired from a black stallion comes in matt black casing with red or orange accent. The watch comes with a rubber watch band for practical wear.